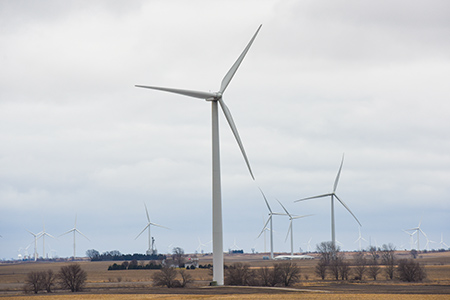 By the time some companies are ready to go public, their names are household words, synonymous with red-hot products, snappy logos or larger-than-life founders. Think Facebook, Visa or Blue Apron.
Then there's Indianapolis-based IEA Energy Services LLC, which is about to go public in a merger worth up to $345 million. Its leaders are the first to admit their company's name might draw blank stares.
"We've kind of flown under the radar in Indiana, that's for sure," CEO J.P. Roehm said.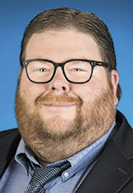 Roehm
What IEA does is build wind- and solar-energy projects around the United States, including the 9,000-acre Benton County Wind Farm north of Lafayette, along U.S. 41. IEA is a big player in a booming industry, but hardly a household name.
Part of the reason might be that it spent most of its 71 years under a different name, White Construction, toiling in the unglamorous business of building roads, excavating sewage lagoons and erecting buildings.
How the company evolved from bulldozing dirt to erecting gigantic wind turbines is a tale of corporate reinvention and plenty of hustle, part of a deliberate effort to keep up with changing times.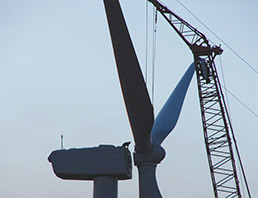 The wind-electricity market took off around the time IEA decided to diversify into the industry in 2004. The company's 2016 revenue was $603 million, triple that of a year earlier. (Photo courtesy of town of Earl Park, Indiana)
In the process, IEA has built itself into one of the nation's largest providers of infrastructure services for renewable energy. It has completed more than 190 wind and solar projects in 35 states, including more than 14 gigawatts of wind-energy generating capacity—enough to power 10 million homes.
These days, IEA is riding a huge wave, fueled by the nation's continuing embrace of wind energy. In 2016, the company rang up revenue of $602.6 million, nearly triple that of a year earlier, $204.6 million. Big customers include huge energy companies, such as Enel Green Power, NextEra Energy and Algonquin Power.
And the company's future, along with the national outlook for the wind sector overall, seems bright. According to a January report from the U.S. Energy Information Administration, wind is expected to keep growing at a steady clip, surpassing hydro this year as the nation's largest renewable-electricity generation source.
That's because hydroelectric projects have remained flat in the past decade, while new wind projects are expected to grow 9 percent this year and 8 percent next year.
It might be fitting for IEA to be based in Indiana, home to more than 1,000 wind turbines, with installed wind capacity of 1,897 megawatts. Indiana ranks 12th among states in production, in part because its flat terrain, especially in northern Indiana, leads to higher windspeeds.
The state's wind sector continues to click along, although it has cooled a bit from its red-hot days of a decade ago, said Douglas Gotham, director of the State Utility Forecasting Group based at Purdue University.
"It's not exploding like it was," Gotham said. "But it's still increasing, maybe 10 percent a year."
And IEA said it expects business to grow, fueled by demand for construction and engineering services to a flurry of wind projects around the country.
"Industry experts, including the U.S. Department of Energy, are predicting significant growth in renewable-energy production capacity over the coming decade," the company said in a recent government filing.
Family affair
Yet IEA has been in the wind business fewer than 15 years, making it both a young player and an old hand at the same time in a quickly growing market.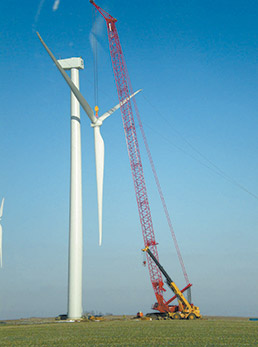 IEA Energy estimates it builds 30 percent of the U.S. wind energy market. The company, which employs about 2,000 workers during peak construction season, has erected more than 7,200 wind turbines. (Photo courtesy of town of Earl Park, Indiana)
IEA traces its roots to 1947, when it was founded as White Trucking and Excavating in Clinton, a small town about 15 miles north of Terre Haute.
Its founder, Herman White, got the business going when he bought a dump truck, which he used to haul coal and gravel. Next, he bought two broken-down bulldozers, and found enough suitable parts on each to make one working machine. He picked up odd jobs hauling and excavating.
A decade or so later, White added more machinery and picked up larger earth-moving projects, such as site development for area industrial customers, including Eli Lilly and Co., Clinton Laboratories and the Newport Army Ammunition Plant.
White died in 1979, and his son, Herman "Buddy" White II, took over. The company changed its name in 1983 to White Construction and broadened its services to include crane and heavy rigging services and industrial plant maintenance. The company entered the power industry in the 1990s, building more than 5,000 megawatts of co-generating gas plants across the Midwest.
Its first serious setback came in the early 2000s, when Houston energy-trading giant Enron Corp. collapsed in an accounting scandal. In response, the entire sector shuddered.
"The economy was down in the post-Enron world," said Roehm, who was vice president of business development at the time. "Much of our construction was in the power business at that time, so our business was down."
Bouncing back
The White family looked around for a way to adjust. The answer, however, did not come from a boardroom strategy session or a high-priced consultant. It came unexpectedly on Buddy White's annual pheasant-hunting trip with business associates out West.
On the way to the hunting grounds in the Dakotas, White noticed a small wind farm going up in western Iowa. He stopped the bus and went over to look. What he saw looked familiar yet intriguing enough to make him pay attention.
"It was road building. It was large foundations, both of which we had been doing for years, both in industrial plants and as part of large bridges," Roehm said. "Those wind turbines take large cranes to put up, and Buddy was like … 'I have one of those cranes.'"
"That's what gave him the spark. He came back and told those of us in the company at the time, 'I've figured out how we're going to reinvent ourselves.' And literally, we started knocking on every door that we could find of people who were building [wind farms] at the time, which were far and few between."
The national wind market was small—equivalent to one good-size project today. But White saw a big opportunity. The company hired a construction director from a turbine manufacturer in 2004 to try to get a foot in the door of an unfamiliar business.
Within two weeks, the company won its first project. Two weeks later, it won another. Three weeks after that, it got its third.
Industry takes off
Although White Construction hustled to get those jobs, it was also reaping the benefits of good timing. The wind industry was just emerging. Wind-farm developers were looking for skilled contractors who could build roads, pour foundations and erect the giant towers and blades.
"It was exactly the right time," Roehm said. "A year earlier would have been too early. A year later would have been too late."
Around this time, White Construction began lobbying the Indiana General Assembly to enact a standard for renewable electricity. Other states had passed laws requiring electricity generators to have a minimum amount of their output, say 10 percent or 15 percent, from renewable sources.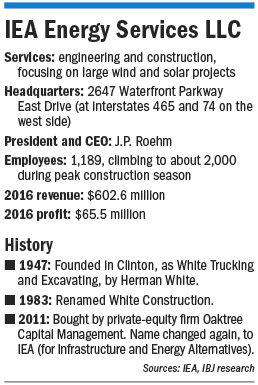 Such a move would have created a guaranteed market for renewable-energy companies, including White. But some environmentalists here said Buddy White and his team showed an unusual dedication to the mission.
"I was impressed by White because they were so passionate about Indiana, so keen to see the state be at the front," said Jesse Kharbanda, executive director of the Hoosier Environmental Council. "You would see White Construction showing up at any kind of event or trade fair where they could showcase their ability to erect wind turbines."
In the late 2000s, Indiana lawmakers came close to setting such a standard. One year, such a move to create a renewable electricity standard of 10 percent by 2018 passed both chambers, only to die in conference committee.
Yet White had an entire country in which to look for business, and it took advantage of a market with few big competitors. The company grew revenue sixfold over the next half-dozen years.
Private-equity buyer
Soon, a private-equity firm, Oaktree Capital Management LP, based in Los Angeles, took notice. Buddy White, who owned 100 percent of the company, had been looking for a way to cash out, and Oaktree, founded in 1995, was looking for a way to beef up its energy portfolio.
Oaktree bought White Construction for an undisclosed price in 2011. In connection with the sale, Oaktree set up a company called IEA (for Infrastructure & Energy Alternatives) with the goal of acquiring companies providing engineering and construction services, with a focus on wind and solar.
Officials from Oaktree did not return several calls to IBJ seeking comment.
Today, IEA's website is full of colorful photos of projects completed, from Texas to Hawaii. The company has about 2,000 employees during the peak construction season. IEA estimates it builds 30 percent of the U.S. wind energy market and has erected more than 7,200 wind turbines.
The company also constructs solar projects and does general engineering, but it counts on wind projects for 80 percent of revenue.
For all its blistering growth, IEA faces its share of risks. Its recent filings spell out dozens of risk factors, such as potential decrease in federal incentives for renewable-energy projects, rising labor costs and the possibility of miscalculating the cost of big projects.
Some energy experts say the wind sector has plenty of challenges to keep even sharp operators on their toes.
"A big challenge is that wind is intermittent," said Phil O'Connor, president of PROactive Strategies, a Chicago energy consulting firm, and former Illinois public service commissioner. "There's not a steady output. So wind generation often depends on energy storage, which is in its early stages."
Despite the challenges, IEA has shown an ability to turn a profit. The company earned $65.5 million in 2016, compared with combined losses of $115 million in the previous two years. IEA attributed much of those losses to its decision to abandon its solar and wind operations in Canada in 2014 and refocus on the U.S. wind energy market.
Headed for Wall Street
For IEA, the route to going public is not the traditional one. The company announced in November it would merge with New York-based M III Acquisition Corp., which incorporated in 2015 and raised $150 million the following year in an IPO. M III is what the SEC calls a "blank check company"—one formed for the purpose of seeking a merger or acquisition.
M III's chairman and CEO is Mohsin "Mo" Meghji. Before forming the company, he was head of strategy for Evansville-based Springleaf Financial, a consumer finance company whose name is now OneMain Financial.
IEA splits its headquarters offices between Speedway and the north side of Indianapolis. After the merger, the firm will remain headquartered in Indianapolis and will be renamed Infrastructure and Energy Alternatives Inc.
Under the deal, IEA and M III will combine through two consecutive mergers. The deal is expected to close by spring. Afterward, Oaktree Capital will own about 34 percent of IEA's common stock.
Roehm, who will continue as CEO, has spent his whole life around the company. His father worked for White Construction for 50 years as a vice president and estimator. Roehm spent summers during high school and college doing odd jobs for the company.
He graduated from Rose-Hulman Institute of Technology in 1997 with a bachelor's degree in civil engineering and went to work full time at White the same year, scouting out projects and negotiating contracts. He was named president and CEO in 2014.
The plan for going public, he said, is to continue to grow, but to diversify so that wind energy will decrease as a percentage of revenue over time.
"The whole point of going public is diversification and continued growth. Growing the business into a nice, midsize general contracting firm located in Indy is something we hope to do over the next several years."•
Please enable JavaScript to view this content.