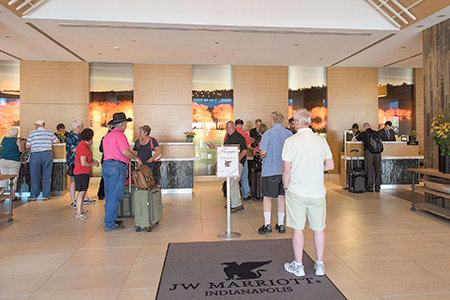 It's understandable if the city of Indianapolis' welcome mat is getting some wear marks.
On Thursday afternoon, Visit Indy reported that a record number of tourists visited the city and spent a record amount of money in 2016—the most recent year for which data has been compiled. 
According to a Rockport Analytics study commissioned by Visit Indy, 28.6 million visitors came to Indianapolis in 2016, resulting in an economic impact of $5.2 billion. That's up from 28.2 million visitors and a $4.9 billion economic impact in 2015.
Visitors to the city in 2016 generated $719 million in state and local taxes, according to the report.
The number of tourism and hospitality jobs in Indianapolis also grew—from 77,800 in 2015 to 80,600 in 2016, according to the study.
Visit Indy CEO Leonard Hoops noted that 2016 marked the sixth consecutive year for record visitor spending and economic impact in Indianapolis. 
"Indy is on an unprecedented run of convention, sports and tourism success, going back to the Indiana Convention Center expansion in 2011 and the Super Bowl in 2012," Hoops said in written remarks. "We've become a 12-months-a-year travel destination, topping $5 billion in visitor economic impact for the first time. And we're confident through our ongoing regional tourism master plan efforts, and our track record of steadfast support from elected and civic leaders over the past four decades, that our best is yet to come."
It takes almost a year to aggregate and tabulate local tourism data, Visit Indy officials said, but it looks like 2017 and 2018 numbers will be at least as strong as 2016's.
"The sheer volume of visitors to Indy on an annual basis continues to soar," Visit Indy Vice President Chris Gahl told IBJ. "Based on future hotel occupancy, the number of conventions and events on the books, and our overall dashboard for future visitation, we anticipate records to again be set in the years ahead."
Visit Indy booked 874,473 future group room-nights (which includes conventions, trade shows, meetings and events) in 2017 for events scheduled to occur as far out as 2028, worth about $1 billion in future visitor spending.
It marks the fourth consecutive year of booking more than 870,000 future group room-nights. Prior to 2014, Visit Indy had never booked more than 815,000 future group room-nights in a single year, Gahl said.
The number of consumed group room nights—those that actually convened in 2017—set a record, with more than 836,600, beating 2016's record of 822,654 and 2012's Super Bowl-fueled mark of 819,305. The groups that met here in 2017 were booked by Visit Indy as far back as 2005.
The city's tourism and hospitality business has been so robust, city officials are considering a new, large downtown hotel project.
Among the major events that contributed to the 2017 increases:
— The city and Indiana Pacers landed the 2021 NBA All-Star Weekend and the city and Indiana Sports Corp. scored the 2022 College Football National Championship.
— Visit Indy worked with the Capital Improvement Board and city officials to win bids to host future conferences and conventions for the American Society for Microbiology (2018), American Wind Energy Association (2021), Fraternal Order of Police Grand Lodge (2021), and Association for Professionals in Infection Control and Epidemiology (2022)
— Gen Con agreed to keep its huge annual convention in Indy through 2022.
In addition to strong convention attraction, the tourism group saw record website traffic to VisitIndy.com. More than 3.3 million people visited the site in 2017. Visit Indy increased its social media audience and connections with 31.9 percent growth on Twitter (110,000 followers), 31.3 percent growth on Instagram (46,000 followers) and 18.6 percent growth on Facebook (142,000 likes).
Visit Indy's annual State of Tourism address—held Thursday in the Indiana Convention Center's Sagamore Ballroom—was expected to attract more than 850 people, including the mayor, city officials, meeting planners and other local and regional hospitality officials.
Please enable JavaScript to view this content.