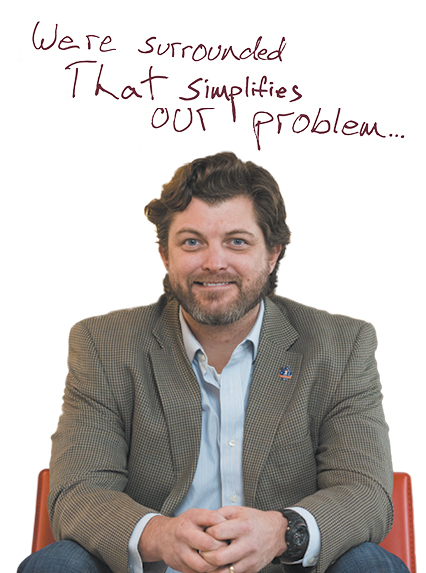 CEO
Hotel Tango Whiskey Corp.
Age: 35
Birthplace/hometown: Albion
Family: wife, Hilary
Education: bachelor's in political science from IPFW, law degree from Indiana University Robert H. McKinney School of Law
Years with company: 4
Getting here: The son of a stonemason (dad) and journeyman electrician (mom), Barnes was inspired by the attacks on 9/11, dropped out of college and enlisted in the Marine Corps. Three tours later, Sgt. Barnes returned to Indy to finish his degree and attend law school. In partnership with some classmates, he opted against the traditional post-J.D. route. Experiments with a homemade backyard still (including "a turkey fryer and some garden hoses") led to friends saying he should do it legally. Thus, the launch of Hotel Tango.
Transitional professional moment: Barnes credits, in part, "a combination of bad grades and a worse economy" as his entrepreneurial motivation.
Recent professional challenge: "Capital restraints," he said, but "I reached out to Indy's finest investors and figured it out." Turns out the investments were wise ones. "We went cash-flow-positive from day one."
Givebacks: Barnes serves as president of the Old Northside Neighborhood Association and raises money for charities, particularly those serving veterans.
On returning to the States: "It's tough when you go through war. It changes your lens quite a bit about how you perceive the world—making adjustments from war, where everything is dangerous and potentially life-ending, to coming back where almost everything is safe, is much harder than folks realize. There's a disconnect in how veterans see themselves and how they interact with the world. Everyone has a different experience and a different way to heal and process."
Favorite place in central Indiana: "Wherever my wife is."
Downtime: flying airplanes, riding motorcycles and playing with his three dogs.•
Check out more 2018 Forty Under 40 honorees.
Please enable JavaScript to view this content.