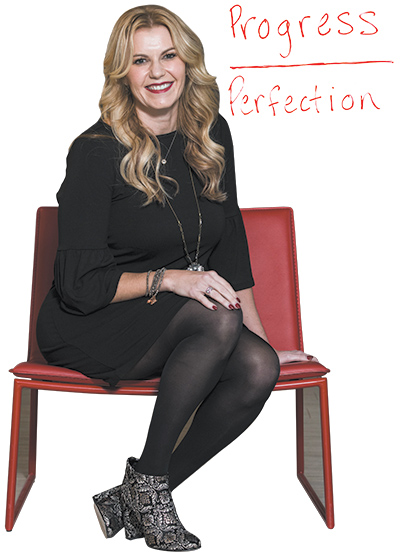 Founder and CEO​
NinjaZone​
Closing in on $3 million in revenue, Wright's twist on gymnastics for kids has spread across the country.
Age: 39​
Birthplace/hometown: Indianapolis​
Family: husband, Jeremy; children, Alex, 12; Bella, 10; Scarlet, 7; and Leo, 5
​Education: majored in sports marketing and entrepreneurship at Indiana University
​Years with company: 3
Getting here: Wright grew up in a gym where her parents coached. She followed in their footsteps, taking over the family business at 21 and, by 26, opening her own, Wright Gymnastics Academy in Center Grove. "I switched my passion from coaching to focus on business and recreational programming," she said. NinjaZone stemmed from trying to find ways to get boys involved. "I knew what the little guys wanted, needed and truly loved. What evolved was the way we delivered it to the public."
Initial response: "When we first started the program, there was an immediate influx of kids," she said of her program, which combines gymnastics, martial arts, obstacle courses and scout-like award levels. "I remember thinking that a new sport comes about around every decade—cheerleading and BMX and skateboarding and cross fit. I couldn't tell anyone that, though. In 2014, they would have thought I was crazy."
Transitional moment: Moving downtown. "My world of influence opened up. I met great friends and neighbors from different walks of life. Stepping out of my box showed me my true potential and gave me confidence in what I had achieved already."
​Major achievements: Growing NinjaZone to 260 locations that license the program.
Recent business challenge: "Making the decision to pause, breathe and focus on getting lean and efficient," she said. "Ultimately, it's not quite as fun, but it's the smarter move."
What's next: "We're building out the competitions, the Ninja Games, with a governing body, Ninja Sports International. Both are on the horizon for the next five years—it's like X-Games meets Super Mario Brothers."
Givebacks: ThroughNinjaZone, Wright launched Ninjas Give Back, which encourages all licensees to give to families in need in their communities. She also offers field-trip education grants to Indy schools with 40 percent or more students on reduced/free lunch. In addition, 3 percent of profits are allocated to employee-chosen charities.
Downtime: "Dancing any chance I get—usually in the car these days."•
Check out more 2018 Forty Under 40 honorees.
Please enable JavaScript to view this content.