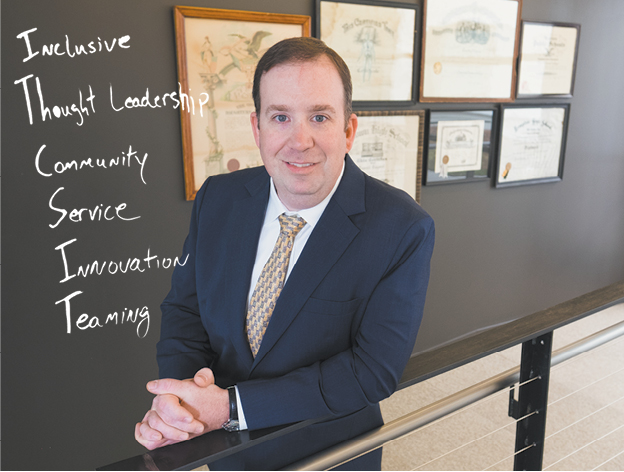 Manager
PwC
Age: 38
Birthplace/hometown: Lafayette, Louisiana/Indianapolis
Family: wife, Amanda; daughter, Isla, infant
Education: bachelor's in science management from Indiana University, master's in management from Embry Riddle Aeronautical University
Years with company: 4
Getting here: "My dad sat me down and asked, 'How are you going to pay for college?' I said, 'Great question.'" The answer turned out to be the Army. "I was always interested in health care and joined the Army's medical department as an enlisted soldier. I went off as a private and, in college, saw a path to becoming an officer." In Iraq, Blohm served as a task force executive officer, flying medical helicopters. His unit flew 3,000 patients on 1,000 missions, earning the Valorous Unit Award—the group equivalent of the Silver Star. "We were very busy," he said. His former commander became his leader stateside when he joined PwC (previously PricewaterhouseCoopers).
Uniform hiring practices: Blohm has since been key in hiring veterans. "They bring a great work ethic," he said, "as well as great skill and life experience—things we want in the business environment. They had to face enormous challenges and so are perfect to adapt to the challenges of business."
Transitional moments: Middle East military deployments
Major achievements: As a commander, Blohm led joint operations between the Army and Navy to conduct helicopter over-water rescue operations in the North Arabian Gulf, employing new hoist rescue methods for the first time in the Army.
Recent challenge faced: "The world of cyber is constantly evolving, and meeting those challenges keeps you agile and constantly learning."
Givebacks: Blohm led the pro bono partnership between PwC and the Veterans Administration in Indianapolis to provide financial literacy to veterans. His team teaches veterans how to maintain a budget and get out of debt, helping more than 1,000 veterans with budgeting in order to support their families and stay on their financial feet. He also serves on the boards of Joining Community Forces Indiana and the Alpha Omicron Education Foundation.
Downtime: woodworking and kayaking•
Check out more 2018 Forty Under 40 honorees.
Please enable JavaScript to view this content.