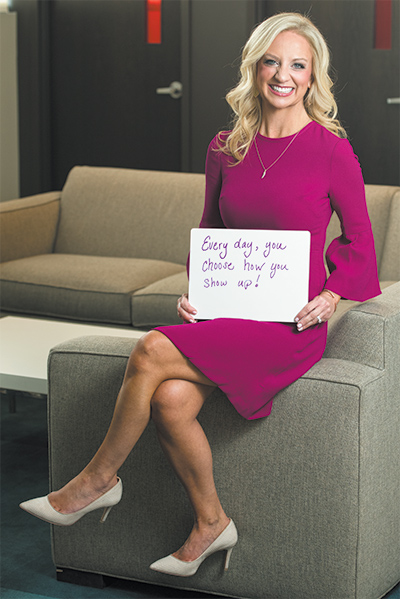 Vice President of Marketing & Brand Excellence
Eight Eleven
Age: 39
Birthplace/hometown: Ladoga
Family: husband, Brent; children, Meryn, 8; and Gage, 6
Education: bachelor's in communications and public relations, minor in marketing from Purdue University 
Years with company: 16
Getting here: Oakley's first job out of college was a marketing and promotions gig with WFBQ-FM 94.7 and "The Bob and Tom Show," where she had previously interned. While working a promotion event, she met her current employers. Soon she was hired as a recruiter, got promoted into sales, and wrote her own job description to head up national recruiting efforts, coupled with national marketing and all company-branded conferences.
Inspirational moment: Taking her leadership team to Tijuana, Mexico, under the Homes of Hope mission. "We pride ourselves on hiring passionate, ethical, good-hearted, servant leaders, but to see your tribe in a vulnerable state around a family that has worked so hard and still lives in poverty, is nothing short of remarkable. It was then that we decided to award our employees that work diligently to perfect their craft, both personally and professionally, on an annual basis by providing this trip for them."
Major achievements: Lots of branding and rebranding, assisting in the opening of 22 branch offices nationwide, and planning and executing close to 30 national conferences.
Recent business challenge: "Brooksource was our launching pad and laid the foundation for Medasource, focusing on national health care technology, and Calculated Hire, focusing on business professionals. While having three tailored service lines to meet our clients' needs is an amazing feat, it was challenging to give autonomy, balance and purpose to each division separately." Thus, the launch of Eight Eleven as a parent company in September 2017.
Givebacks: Oakley founded Julia's Jugstice League, a tribute to her college roommate who died from breast cancer when her daughter was 2. "Initially, it was a Relay for Life team getting girls from college together, but it has escalated to a foundation." Funds are now being raised to offer a full scholarship to Purdue University in her name. Oakley is also a board member for Dream Academy of Indianapolis.•
Check out more 2018 Forty Under 40 honorees.
Please enable JavaScript to view this content.