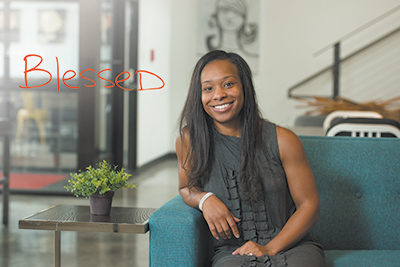 Co-Founder
The Pavilion at Pan Am
Founder and President
317 Events LLC
Market Manager
Lyft
The enterprising event planner turned a downtown ice rink into a hot spot for concerts, food fests and more, with revenue of more than $1.9 million after its second year.
Age: 36
Birthplace/hometown: Jersey City, New Jersey/military brat (including an overseas stint in Japan)
Family: husband, Robert; stepson, Julian, 13
Education: bachelor's in sports management and psychology from High Point University, master's in sports psychology from Ball State University
Years with The Pavilion: 3
Getting here: Luft loved basketball. But she said at 5-foot, 1-inches tall, "playing pro was not an option." Sports did lead her to her career, though, via an internship with the New Jersey Nets, where her work in promotion included organizing a block party for Stephon Marbury's summer basketball camp. "It opened my eyes to what was possible." She turned a later internship with All Access Promotions into a full-time job as director of events, then started her own company in 2011. She also worked as portfolio manager with Southern Wine and Spirits before rebranding Image First as 317 Events. She signed the lease for the former skating rink at Pan Am Plaza in 2015, transforming it into The Pavilion at Pan Am.
Transitional moment: Leaving her first job to start her own company. Former Indianapolis Colt Jeff George was one of her first clients, asking her to handle events for his foundation. "That was the vote of confidence I think I needed," she said.
Major achievements: "Planning and hosting my own wedding reception at The Pavilion. We hosted close to 100 events last year, including concerts with 311, Tiesto and Gin Blossoms. However, none of them felt better than being able to showcase my own venue to my close family and friends." 
Recent challenge: Fulfilling some of the riders that artists attach to their contracts. "I won't disclose the artist, but it's not an easy task to find 100 pieces of fried chicken at 3 in the morning."
What works: Three things make an event go, Luft said. "Food, drink, and music. The biggest mistake you can make is underestimating the importance of those."
Givebacks: Luft regularly discounts her facility to not-for-profits. She's also set to join a charitable board that will be announced in March.•
Check out more 2018 Forty Under 40 honorees.
Please enable JavaScript to view this content.