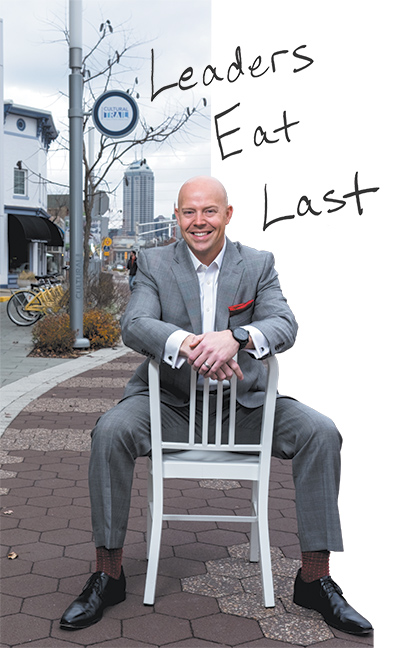 Commissioner
Indiana Department of Revenue
After working as an English teacher and earning his law degree, Krupp back-and-forthed to New York City before settling back in Indiana. At the Department of Revenue, he's instituting a new IT system that will cut down amended-return processing time from six months to a couple of weeks.
Age: 39
Birthplace/hometown: Rockledge, Florida/Plymouth, Indiana
Family: wife, Rachel; children, Coleman, 4; and Cassius, infant
Education: bachelor's in speech communication and theater education from Purdue University, law degree from Indiana University Robert H. McKinney School of Law
Years with DoR: 1
Getting here: "In college, my vision of being a theater director and actor morphed into teaching," Krupp said, "which didn't work out to be everything I thought it would be." So he tried law school. He left his job with a New York City firm to work as deputy director and counsel for the Indiana Division of Family Resources, retuned to the firm, then came back as general counsel for the Indiana Bureau of Motor Vehicles, which preceded his current position.
Transitional moment: Returning home to Indiana to help the Division of Family Resources with "a failed IT project that prompted a re-do. … I returned to the private sector but I always knew I would eventually find my way back to civil service."
Major achievements: "Rebuilding the foundation of the [Department of Revenue] to place an immediate emphasis on public service," including replacing an IT system responsible for processing millions of tax returns and distributing more than $18.5 billion in revenue each year. "Over the next few years, as we implement 65 tax types, the new system will promote voluntary compliance, more user-friendly access, and even better processing times."
Recent business challenge: "Corporate revenues have been lower than the original forecast, due in part to increased refunds processed by the Department of Revenue," he said. "Folks turned to me looking for answers, asking me why did this happen. I felt a personal obligation to do two things—try to come up with possible answers to the first part of that question and build trust and confidence that the agency hadn't made any mistakes. We have collaborated with the State Budget Agency to accomplish both."
Givebacks: Krupp volunteers with Special Olympics and serves on the board of the Boys & Girls Club of Zionsville.
Downtime: Collecting unique sports memorabilia.•
Check out more 2018 Forty Under 40 honorees.
Please enable JavaScript to view this content.