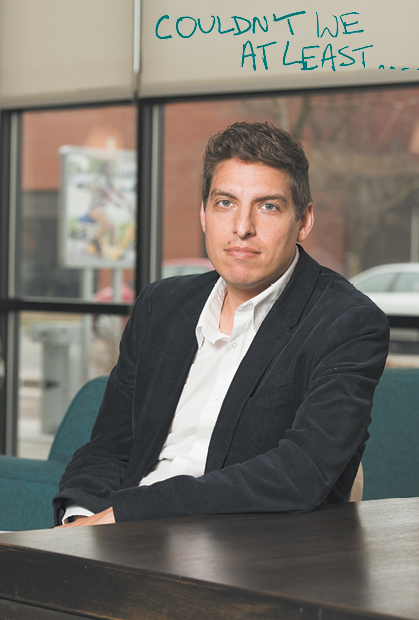 President
Achieve
Age: 39
Birthplace/hometown: Aviston, Illinois
Family: wife, Elizabeth; children, Paige, 9; and Blair, 6
Education: bachelor's in criminal justice and biology from Southeast Missouri State University, master's in philanthropic studies from Indiana University
Years with company: 10
Getting here: After college, Feldmann landed a position with the Muscular Dystrophy Association in Central Indiana and, while working there, attended grad school. He led external works for Learning to Give and, after eight years, left to form Achieve.
Transitional moment: "The first time we released research for the Millennial Impact Project [a multiyear study comprising the largest body of data and analysis on how U.S. millennials interact with causes], we received a call from the Financial Times newspaper. I had no idea how to work with the media or even if the study would be useful. That was the moment I realized this is an important study for helping so many understand how and why we engage with causes."
Philanthropic inspiration: "When you see pain or challenge, when you see an issue, your brain says, 'That's wrong. I should do something.' Your brain isn't saying, 'Give all of your money immediately or give 100 hours.' The first thing is standing up and showing you care—connecting with people who have shared beliefs. Every action matters in the process of getting involved in an issue."
Conference calling: The first MCON conference filmed at the Case Foundation offices in Washington, D.C., drew more than 2,500 people—virtually. The digital conference later added an in-person audience with Indianapolis as the first site. Attendance has risen to more than 20,000 live and online.
Major achievements: Being named to the Ad Council Public Issues Board. "What an opportunity to help a remarkable group inspiring the public everywhere to get involved—and Smokey Bear is pretty cool!"
Givebacks: Feldmann serves on boards for the Lilly Family School of Philanthropy at Indiana University, the Ad Council and Learning to Give, as well as on the corporate faculty of the Points of Light Corporate Institute. Turning down a board request doesn't mean he can't help. "I don't have to be on your board. Let's have a conversation once in a while."•
Check out more 2018 Forty Under 40 honorees.
Please enable JavaScript to view this content.