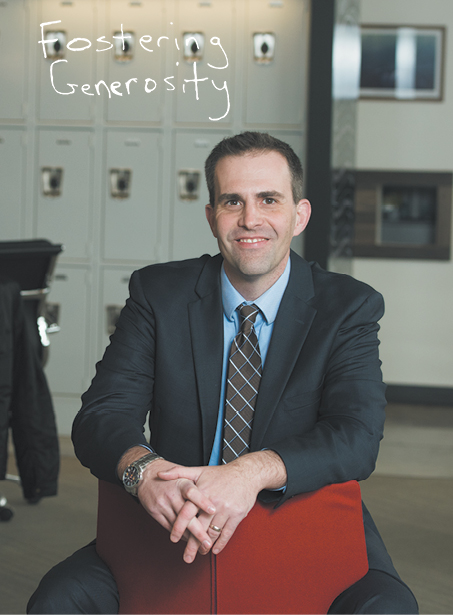 Karen Lake Buttrey Director
Lake Institute on Faith and Giving
Assistant Professor of Philanthropic Studies
Indiana University Lilly Family School of Philanthropy
Helping religious leaders to be more effective, King and his team have attracted more than $4 million in grant support as they work with hundreds of congregations and faith-based not-for-profits around the country while also researching, teaching and training here at home.
Age: 38
Birthplace/hometown: Anniston, Alabama
Family: wife, Lauren; children, Audrey, 8; Kathryn, 6; and Andrew, 4
Years with school: 3-1/2
Education: bachelor's in history, Samford University; master of divinity, Duke Divinity School; doctorate in religion, Emory University
Getting here: King served as pastoral resident at Wilshire Baptist Church in Dallas, then coordinator of church starting at Cooperative Baptist Fellowship, Atlanta. He was assistant professor of Christian history at Memphis Theological Seminary before joining the Lake Institute.
Inspirational moment: "Coming to Lake Institute … It has been a gift to serve our local and national community in translating research on giving into practical tools that can sustain families, organizations and communities."
Major achievements: Picked as one of 10 Young Scholars in American Religion by the Center for the Study of Religion & American Culture, named one of America's 25 Most Influential Philanthropy Experts by Philanthropy Media, and penned the forthcoming book "Seeking to Save the World: The Evolution of World Vision, American Evangelicalism, and Global Humanitarianism."
Recent challenge faced: "Due to increased demand for our training programs, our current staff could not handle all the good opportunities presenting themselves. We have worked to develop an adjunct faculty to assist us in our work that we can deploy nationally while maintaining the expected quality of our instruction and materials."
Working across the religious aisle: "The polarization in our culture can make it more difficult," he said. "But there's a passion for working across faith traditions toward common goals and that's the only way change can really happen. Here in Indianapolis, those we work with have a higher level of ecumenical and interfaith engagement."
Givebacks: King serves on IUPUI's Holocaust Remembrance Task Force, volunteers at Zionsville Presbyterian Church, and was the youngest member ever asked to serve on the board of the Cooperative Baptist Fellowship.•
Check out more 2018 Forty Under 40 honorees.
Please enable JavaScript to view this content.