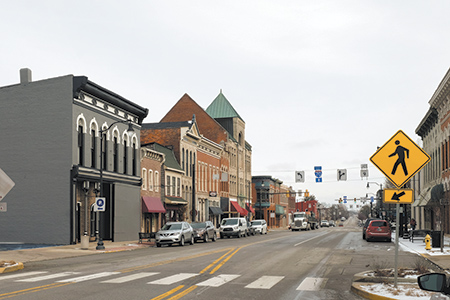 In the historic shops around Greenfield's downtown square, you can buy a slice of pizza, get a haircut, and do your banking. It's a throwback to another age, with handsome, century-old buildings and wide sidewalks, befitting a small city of just 21,000 people.
But the city is also home to several major employers, and one of the largest, Eli Lilly and Co.'s Elanco animal health headquarters, is keeping Greenfield on pins and needles these days.
Since October, when Lilly announced it was reviewing whether to sell or spin off Elanco, city leaders have been wondering what the future holds for the city's economy.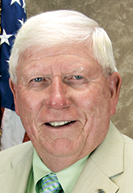 Fewell
"We would certainly hate, at any time, to have a worldwide headquarters go away from our city or not be a part of our city," said Mayor Chuck Fewell. "Elanco is a great corporate partner."
Elanco makes a vast array of vaccines, antibiotics, food additives and other health products for livestock and pets. It employs 6,250 people worldwide, including about 775 at its Greenfield corporate campus in Progress Park, a business and life sciences park about three miles north of downtown.
Many of those jobs are high-paying research and management positions, the kind of jobs prized by cities for supporting other businesses in town, from grocery stores and restaurants to banks and furniture outlets.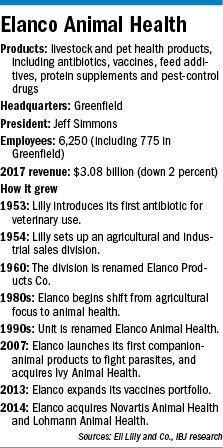 If Lilly were to sell or spin off Elanco, there's no guarantee the operation would remain in Greenfield, where Lilly has had a presence since it built research laboratories there in the late 19th century. Elanco has been based at Progress Park since 2010, spread out in five buildings over 20 acres in a location highly visible from Interstate 70. Before that, it was about five miles away, near U.S. 40 and Meridian Road.
A sale could conceivably uproot the company if the buyer wanted to consolidate operations elsewhere.
Such a move would leave a big hole to fill at Progress Park, developed about a decade ago by Indianapolis-based Browning Investments.
But the city is hardly languishing. Last year, a Chinese auto-parts manufacturer, BeijingWest Industries Co. Ltd., chose Greenfield as the site of its first U.S. production facility, an $80 million plant that is expected to employ 441 workers by the end of 2021.
And one of the city's largest industrial employers, Keihin North America Inc., a manufacturer of vehicle engine management and climate-control systems, installed $15 million in new machinery last year. The plant now employs about 900 people.
Other big employers include Hancock Regional Health (625 employees); Covance, a contract research organization that develops drugs (750); and Indiana Automotive Fasteners, an auto-parts maker (600), according to the Hancock Economic Development Council.
"We're seeing a great deal of growth, in manufacturing especially," said Nolan "Skip" Kuker, the council's executive director. "We're attracting good, stable businesses."
But whether Elanco will remain in that category remains up in the air.
In a conference call with analysts last month, Lilly CEO David Ricks said his study of strategic alternatives for Elanco was moving ahead, and the company would likely announce a decision by July.

In the meantime, Elanco is struggling. Its revenue dipped 2 percent last year, to $3.08 billion. Analysts say it is losing market share to major competitors, including Zoetis and Bayer. The downturn came just as Lilly was expecting a big boost in sales and profits, helped by its $5.4 billion purchase of Novartis' animal health division in 2015.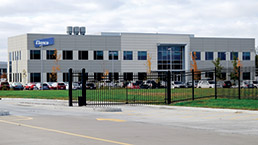 Elanco moved to Progress Park in 2010, where it occupies five buildings over 20 acres just northwest of the State Road 9 exit off Interstate 70. (IBJ file photo)
Sales fell due to competitive pressures in the industry. Elanco leaders are forecasting 2018 sales to be "flat to slightly up." But they say new and recent launches will gradually turn the business around.
"We expect 2018 to be the year of a kind of transition as we continue to evolve our product mix against headwinds," Elanco President Jeff Simmons told analysts.
Yet analysts don't see an imminent turnaround.
That could mean Lilly would hold onto the business for now, Alex Arfaei, an analyst at BMO Capital Markets, wrote in a note to clients.
"Unless the growth and profitability of Elanco improves meaningfully … we doubt the Elanco split/spin would make sense," he wrote.
Kurt Kemper, an analyst at Hilliard Lyons, told clients in October that, if Elanco stabilizes in the next nine months, an initial public offering would unlock value, "given the public market's appetite for animal health assets."
But last month, he turned pessimistic, writing that Elanco had "disappointed yet again," especially in sales of pet medicines, which fell well short of his estimates.
But Jeffrey Holford, an analyst at Jefferies, noted that Lilly included numerous detailed slides about Elanco's performance in its earnings webcast last month. "This [is] a good sign that separation plans may be moving ahead," he wrote.
While Greenfield leaders hope for the best, the city's economy keeps plugging along.
The median housing price is $126,500, above the state average of $125,600. The poverty rate is 12.7 percent, below the state average of 14.1 percent.
"Housing starts are way up," Kuker said. "The price of housing is up."
And more housing is on the way. Indianapolis-based Justus Cos. is developing an apartment complex with 260 high-end units, with hike-and-bike trails. The development would be built near Elanco in Progress Park.
"They're high-end, real nice apartments," Fewell said. "We're looking forward to that."
For Greenfield officials, trying to read the tea leaves could be an exhausting exercise. Kuker at the economic-development council said he's not spending much time thinking about it.
"The sale of a private entity that may or may not happen is all hypothetical," he said. "We don't know if anything will occur."•
Please enable JavaScript to view this content.