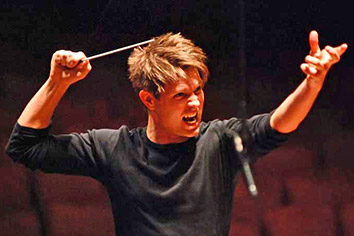 The federal age-discrimination lawsuit filed by a longtime bassoonist against the Indianapolis Symphony Orchestra has been settled.
John Wetherill, 63, filed the lawsuit in March against the Indiana Symphony Society Inc., the not-for-profit that oversees the ISO. The 17-page complaint alleged years of age discrimination and harassment by ISO music director and conductor Krzysztof Urbanski, and said ISO leadership knowingly allowed the behavior to occur.
Wetherill, who joined the ISO in 1989 and was the principal bassoonist at the time the lawsuit was filed, alleged that the now-35-year-old Urbanski had been discriminating against Wetherill and other musicians older than 40 as part of a "move out and replace" strategy since 2012.
In response to the lawsuit, the ISO defended its conductor and leaders, and described the claims made by Wetherill as "outlandish" and "baseless."
Attorneys for the ISO and Wetherill filed a joint agreement to dismiss the case Feb. 12, but the details of the settlement were not disclosed.
Wetherill had requested back pay for lost wages, compensation for other damages such as emotional distress and mental anguish, and attorney's fees and court costs. But the joint agreement filed with the federal court says each party will "bear its own costs and expenses, including attorneys' fees."
Barnes & Thornburg LLP partner Terry Dawson, who represents the orchestra, declined to comment on the case. An ISO spokesperson also declined to comment.
It's unclear whether Wetherill is still employed by the ISO, but the organization's website suggests he is no longer a musician there. His name has been removed from the musician page, and his former profile page is no longer available.
Wetherill declined to comment.
In his complaint, Wetherill alleged that "a number of older musicians resigned during the period from late 2012 and thereafter as a result of Urbanski's 'move out and replace' plan and action."
Urbanski joined the orchestra as music director in 2011 under a four-year contract, which was renewed in 2013 to extend through the 2017-2018 season. The on-the-rise conductor earned nearly $496,000 in compensation in 2016, according to the orchestra's tax filings.
The ISO argued in court documents filed in May that most of its musicians are older than 40 and that the only musician to be removed from the orchestra under Urbanski's leadership was 25 years old. The orchestra acknowledged that musicians have retired since 2012, but said musicians retired before 2012 as well.
Wetherill claimed his problems started in May 2012, when Urbanski gave him a handwritten note asking to meet one on one. During that meeting, Urbanski criticized Wetherill for how he played two notes months earlier, asked Wetherill about other musicians and "was threatening" toward him, the lawsuit said.
Wetherill said similar meetings occurred with seven other musicians, all older than 40, and appeared to be part of a plan to "move out older musicians and replace them with younger musicians."
The ISO acknowledged that Urbanski regularly gives musicians handwritten notes and has meetings with them, but said "any such meetings have been without regard to (and unrelated to) age and certainly without regard to (and unrelated to) some fictitious 'move out and replace plan.'"
The orchestra also said that new musicians audition behind a screen, so their ages are unknown.
In October 2013, Wetherill said he met with Daniel Beckley, vice president and general manager for the orchestra, and during the meeting he was encouraged to step down to second chair "in order to nurture a younger player into the principal chair."
Wetherill became principal chair in 2000 and receives additional compensation for that position and his seniority in the orchestra. He declined to step down to second chair.
The ISO confirmed that the discussion about Wetherill stepping down did occur, but "vehemently denies the discriminatory motive Plaintiff has fabricated to support his specious claims and advance his bias against Mr. Urbanski."
Wetherill said he then sent emails to Beckley in October 2013 and February 2014 complaining about age discrimination, but no actions were taken to rectify the situation.
The ISO confirmed that Beckley received two emails from Wetherill but denied any age discrimination occurred. The orchestra did not deny that Urbanski regularly critiques musicians but argued it has never been based on age.
In December 2014, Wetherill said he discussed the ongoing issues with then-orchestra CEO Gary Ginstling, who "admitted that things were done wrongly by" Urbanski and Beckley. But the ISO denied that claim in its response, describing the allegation as "baseless and irresponsible."
Ginstling is no longer with the orchestra. He announced in June that he was leaving the ISO to become executive director of the National Symphony Orchestra.
At the end of October 2015, Wetherill filed an age-discrimination charge with the Equal Employment Opportunity Commission and followed up with a supplemental charge for discrimination and retaliation in March 2016.
The EEOC has the right to litigate claims itself but more often issues a "right-to-sue letter"—a document signaling that the agency has finished processing the charge and that the complainant can move forward with a lawsuit. Wetherill said in his complaint that he received his right-to-sue letter in December 2016.
Please enable JavaScript to view this content.