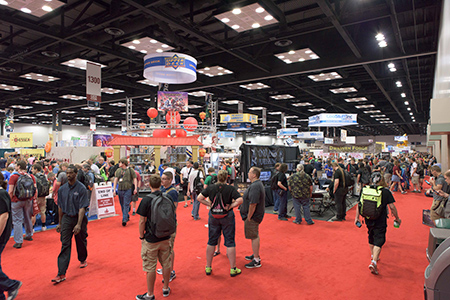 Coming off its first sellout of attendee badges in its 50-year history, Gen Con is experiencing a 6 percent year-over-year increase in its badge sales compared to this time last year, said organizers of the mammoth gaming convention.
Badge sales were so robust last year, the event held in the Indiana Convention Center and Lucas Oil Stadium didn't have any on-site ticket sales. That was a first for the convention.
Convention badge sales, which began on Jan. 14, are selling at a record pace. Gen Con organizers again expect to stop badge sales in the early summer if the trend continues. 
Last year's convention sold out of four-day attendee badges in early July, and all single-day badges the week prior to the mid-August show, marking the first year the convention sold out of those badge types. Initial 2018 sales are trending toward a sell-out of all attendee badge types in July.
Last year, Gen Con recorded 207,979 turnstile visits, a 4 percent increase over 2016. Those visits came from roughly 60,000 unique attendees. Visit Indy estimated the event's local economic impact at more than $71 million last year. Hospitality experts think the economic impact could hit $75 million this year, which would make it one of the biggest—and possibly the biggest—conventions that Indianapolis will host this year.
"Following a historic Gen Con 50, many wondered how attendees would respond to the 2018 show," Gen Con President David Hoppe said in a statement. "We're happy to report that this year's interest has surpassed last year's record numbers.
"With additional organizational effort, we expect to support even more attendees while still preserving a world-class attendee experience," Hoppe said. "With the combined passion of our fans and the foresight and cooperation of our partners in Indianapolis, we're eager to continue our convention's growth in Indy."
For the second consecutive year, Gen Con will offer programming on the field level and in the exhibit halls of Lucas Oil Stadium, as well as throughout the Indiana Convention Center, at an outdoor presence on Georgia and South Streets, and through hundreds of ticketed events at numerous hotels.
Gen Con officials told IBJ in 2016 that the growth of the show is a big reason why it expanded into Lucas Oil Stadium. Gen Con is one of the first conventions to expand to the massive stadium, and Visit Indy officials said it has been an important test to prove the viability of the 63,000-seat venue as an adjunct to the convention center.
Gen Con recently announced an agreement with the city of Indianapolis to extend its commitment to host the event here through 2022. Gen Con will return to Indianapolis on Aug. 2-5 this year, Aug. 1-4 in 2019, July 30-Aug. 2 in 2020, Aug. 5-8 in 2021, and Aug. 4-7 in 2022.
This year, Gen Con officials said, the convention's exhibit hall will feature more than 500 exhibiting companies. Gen Con expects to host more than 15,000 ticketed events in 2018.
Please enable JavaScript to view this content.