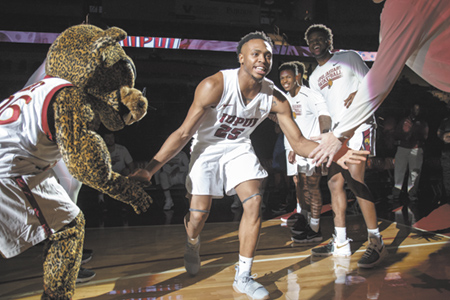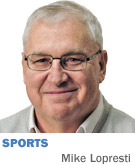 See that IUPUI senior out there clapping his hands before the opening tip? The one sprinting up and down the court, and seeming to have a fine time doing it? Pretty spry, isn't he?
For an old guy.
In college-basketball years, Ron Patterson is ancient. He turned 25 last month, and by IUPUI's count, only five other Division I players are older. Patterson's 10.9 average, by the way, makes him the nation's leading scorer among the over-25 set.
As for how his teammates treat him, well …
"I get called 'Old Head,' a lot," he said. "They're always telling me I need Icy Hot on my knees. At least I don't look like I'm 25, losing hair."
But really—25?
"I'm kind of shocked I'm still playing."
Before we get to why he's still out there on a college court, let's put this in perspective.
By the time LeBron James was Patterson's age, he had scored more than 11,000 points in the NBA. Kobe Bryant had won three championships. Bob Knight was head coach at Army. Seven players on the Pacers' roster are younger than Patterson.
The long journey will be over for him soon. The road started at Broad Ripple High School, zigged one year to a prep school, zagged to Syracuse University for two seasons, then led him back home to IUPUI. Senior Day is Feb. 25. And boy, is he ever a senior.
Yeah, the body lets him know how long it's been. "After games," he said, "I'm hurting." So why is he still out there, going at it so hard?
Here's one reason.
"I think it makes me younger. I'm 25, but I'm hanging around young guys like 18 or 19. It sort of makes me feel like a kid again. Joking around off the court, it brings me back to my young self. But on the court, I take it personal and serious.
"I think some young guys think, 'Oh, I've got next year.' For me, there's not going to be next year. So I like to give them everything I've got, and I want them to give it to me."
Here's another.
"It's been a dream for a long time. Ever since I started playing basketball, I thought this is what I wanted to do for the rest of my life."
Here's a third.
"I think I took it for granted [going to college]. I thought I was going to come in and just play and play, and it didn't go like that. I think a lot of young kids today are that way. They were told probably the same things I was told. As I stayed around the game, I learned everybody has got to put their work in."
But here's the biggest.
"I've got a 4-year-old son that keeps me going. I want to make this my job one day, so I want to keep going for my family."
Ronald Lee Patterson III is not far from kindergarten, and when his father is off playing basketball, his grandmother or mother are tending to him. It is the quest to make a living at the game—be it in Europe, Asia, somewhere—that keeps Patterson on the move.
His body shows the passage of time, and not just the muscles that might hurt. Across his chest is a large tattoo: Steve. That's for a high school teammate and close friend he lost to cancer several years ago. Patterson's father died nearly two years ago. And then there's his son. A lot on a college athlete's plate.
"I think fatherhood, there's no book for it," IUPUI Coach Jason Gardner said. "There's no easy way in raising kids. Going to class, being on the road traveling, practices, games, and when it's all said and done, he has a little son. I think that's a lot to balance as a young man, and Ron does a great job doing it.
"As you get older, things become more important, things become less important. I think you start looking back on things, of how you can change, what you can do better. I think that he's done that. Just the conversations you have with him, how he talks to the players, how he goes about his business, you can just tell the way he carries himself that he's an older kid that has been around the block, and gets it."
So Patterson does his work and plays his games and raises his son, and as Gardner mentioned, "Those are all things the young guys have to see."
Patterson's birthday was last month. No big deal, since he's starting to get to that age where you stop counting. "I've celebrated a lot of birthdays. It's just another one. I'm going to try to stay 25 for the rest of my life."
Good luck with that one.
There's not much of a generation gap in the locker room, where he is the elder statesman. They all pretty much like similar music. Any differences? "Maybe the cartoon shows they were probably watching when I came to college," he said.
But life has had time to teach him a few things, and that sets a man apart in a room heavy with teenagers.
"It's hard being a full-time dad, being a full-time athlete in D-1 and going to school. It's tough. You just push through it," Patterson said. "I think they're overwhelmed with basketball and school. If they came in my world, they wouldn't know what to do. It takes a lot to walk in my shoes."
There is another goodbye in Patterson's world this season. It's the last year for Broad Ripple, and he has often been back to see the final games of his old high school—where he remains the career leader in scoring and 3-pointers.
"It is tough, but I think my records are going to stand. I feel pretty good about that. Won't be anybody to break it," he said. "Everybody thinks about George Hill from Broad Ripple. But they have to think about me, too."
IUPUI is 10-17. Short of a Cinderella run in the Horizon tournament, its season will end next week. Patterson will then have graduation, the search for a basketball job, raising a son … in general, the rest of his life. College basketball will finally be over.
"To see him grow as a kid and now a man—how hard he fights, how bad he wants it—you just want kids like that to make it so bad," Gardner said.
Ron Patterson's thoughts as he heads for the door?
"It's been a long ride. Basketball has kept me going. When I wanted to quit, when I wanted to give up, I just always looked at my son. Basketball took me a lot of places. I met a lot of people. It took me everywhere I wanted to go, and I think it's going to continue to take me."
And then he headed home to see his son.•
Lopresti is a lifelong resident of Richmond and a graduate of Ball State University. He was a columnist for USA Today and Gannett newspapers for 31 years; he covered 34 Final Fours, 30 Super Bowls, 32 World Series and 16 Olympics. His column appears weekly. He can be reached at [email protected]
 
Please enable JavaScript to view this content.