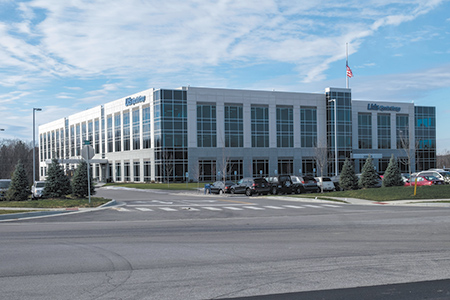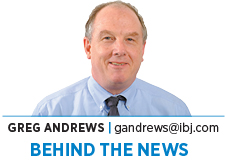 Lids Sports Group moved into a beautiful new $22 million headquarters in Zionsville just two years ago. Is the struggling cap retailer going to need that space much longer?
That's one of the key questions in the wake of the Feb. 13 announcement by its parent company, Nashville, Tennessee-based retail conglomerate Genesco Inc., that it's putting Lids up for sale.
The announcement could lead to myriad outcomes, including the sale of Lids to a private-equity firm that would keep the business intact, or a decision by Genesco to hold onto it after all.
But some analysts are buzzing that the likeliest outcome might be its sale to a larger and fast-growing competitor, Fanatics Inc., which has its headquarters split between Jacksonville, Florida, and San Mateo, California. Such deals often involve consolidation and cost savings. That might not be kind to Lids and its approximately 470 headquarters employees.
A Fanatics spokesperson did not respond to inquiries from IBJ. But it's hard to overlook the company as a prospective suitor, given that it and Lids are the two big players in the highly fragmented $15 billion market.
Fanatics, unlike Lids, is on a tear these days. The privately held company—an online-only retailer of sports jerseys, caps and other gear—grew sales to $1 billion in 2015, $1.4 billion in 2016 and $2.2 billion last year, according to The Wall Street Journal.
Last fall, it scored a $1 billion investment from the Japanese conglomerate SoftBank Group that boosted its valuation to $4.5 billion. Other investors in the round included the NFL and Major League Baseball.
Lids operates more than 1,200 stores, with most focusing on caps but some also selling a broader assortment of fan merchandise. It's on a different trajectory, with Piper Jaffray projecting sales in the fiscal year that ended last month of $778 million, down 20 percent from two years earlier.
The profit line tells an even more brutal story. After the company booked $86 million in pretax earnings in fiscal 2013, that figure fell every year since but one. Piper Jaffrey estimates it earned just $13 million in the latest fiscal year.
Analysts say Lids has been hurt by declining mall traffic, increased online competition and a disappointing NFL season, marked by a decline in TV viewership and political controversies over players' kneeling during the national anthem. NFL-related merchandise accounts for about 15 percent of Lids' sales.
Despite Lids' problems, its brick-and-mortar presence would help Fanatics sell more merchandise, said Steven Marotta, senior analyst with CL King & Associates. He said the evidence is clear that physical storefronts, in addition to selling goods themselves, help drive online sales.
"The fit is actually pretty good," Marotta said of Fanatics and Lids. "In the long run, omnichannel is going to win over anything that is single channel."
Lids on its own has a respectable e-commerce business, thanks to hefty investments in its shipping and warehousing capabilities, including installing a robotic picking system that shrinks order-turnaround times.
But it doesn't have the scale or relationships that Fanatics boasts. Fanatics has signed agreements with U.S. sports leagues that give it exclusive rights to sell and make licensed merchandise. It also has agreements to manage e-commerce sales and operations for international soccer clubs like Manchester United and Real Madrid.
SoftBank Vice Chairman Ron Fisher told analysts on a conference call in December that those agreements help protect Fanatics from getting squashed by Amazon.
"The thing that was very clear to us is that it was a different e-commerce model," he said. "What they had is these very long-term relationships, with the 15-, 20-year exclusive relationships. That's something Amazon can't take away."
Genesco decided to seek a buyer for Lids after getting pressure from a pair of activist investors that argued the company's shares were undervalued.
One analyst estimates Lids would fetch $250 million. Another is more pessimistic, arguing that, based on its deflated profits, it might garner only $60 million.
The low end would be humbling for Genesco, given that it acquired the then-481-store chain for $177 million in 2004.•
Please enable JavaScript to view this content.