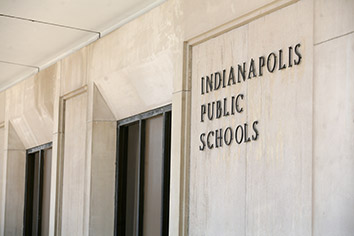 Local business and community leaders have formed a political action committee,named "Vote Yes for IPS," to support the upcoming May 8 primary referendums to raise money for Indianapolis Public Schools.
Two questions will be on the ballot. One seeks a tax increase to support capital plans, including school safety enhancements, improved facilities and upgraded classroom technology. The other seeks an increase to fund teacher raises and expand special-needs services.
The requests would raise about $725 million over eight years, which is less than the initial proposal of nearly $1 billion. The school board scaled down the request in order to gain more public support for the sizable tax increase.
The tax impact is expected to be $17.70 per month for an owner of a home with a market value of $123,000, which the district says is the median home value within the district. Only property owners within the district would be taxed.
The political action committee is led by Ice Miller partner Lacy Johnson, Center for Leadership Development chairman Thomas King, and longtime IPS employee and community advocate Patricia Payne. The treasurer of the group is IPS school board Vice President Venita Moore.
Late last month, the MIBOR Realtor Association took the rare step of opposing the referendums, saying property owners "have not been given enough detail or clarity."
Please enable JavaScript to view this content.