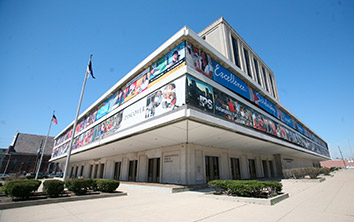 Indianapolis Public Schools is backing off on its plan to ask voters in May to support a major tax hike to pay for the city's schools, instead deciding to work with the Indy Chamber to revise its proposal and delay the referendums until November's election.
Officials announced the decision Monday night.
The district had been receiving little support as well as criticism from voters on its plan for capital and operating referendums. First, IPS proposed collecting almost $1 billion over the next eight years from taxpayers.
But after receiving criticism about the size of the request, including from a member of the Indiana State Board of Education who called the plan "the most nonchalant billion-dollar tax increase ever approved by anyone," board members decreased the amount by $211 million, to $725 million. The proposal got another blow when the local Realtors association came out against it.
IPS Superintendent Lewis Ferebee announced his support of moving the referendums to November, and said he would be able to work well with the Indy Chamber to go over the details of the proposal and build community support.
Ferebee also said the delay means the district "will have to make some uncomfortable reductions" in its budget as the result of its current financial situation. IPS says the district is facing a projected $45 million operating deficit next year as the result of an overall decrease in revenue from state and federal sources.
Critics of the proposal point out that the district saw only a tiny decrease in state funding from fiscal 2017 to 2018 on a per-student basis, and will see a nearly 1 percent increase from 2018 to 2019, to $7,725 per pupil.   
Indy Chamber President Michael Huber proposed a "fast-paced but rigorous analysis" of district operations and finances, which he predicted would likely produce "validation of a lot of findings." He said the district could benefit from "additional eyes brought from the business community."
Huber said "there's no question one of the reasons we were so motivated to do this is, we were receiving great pushback" on the prospect of a tax increase. He said he privately raised concerns months ago but those conversations with Ferebee sped up in recent weeks.
IPS Board President Michael O'Connor said the reversal was "my fault" and that he "was wrong" about what the community would support.
"We all agreed it was a good time to hit pause, clear the deck a little bit," O'Connor said. "They always say hindsight is 20-20. As an organization, we've been clear about the trajectory of our finances and running some operating deficits. We think everybody hears us, living in our world."
Board member Kelly Bentley said Ferebee's administration "needs to take the lead on engaging the community."
"I don't know if we've done that very well," Bentley said. "Hopefully, this is an opportunity to start over with that. I don't want this to be driven completely by the Chamber."
Please enable JavaScript to view this content.