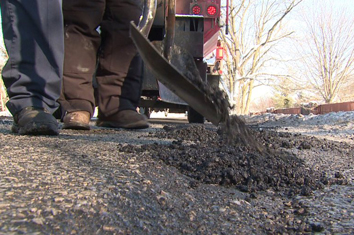 The Indianapolis City-County Council on Monday night unanimously granted final approval to spend $14.5 million in emergency funds to fix the city's crumbling roads.
But members also said the state Legislature should do more to fund road projects and repairs.
The proposal will allow spending $13 million in county option income tax revenue that was returned to Indianapolis in 2016 from the state. It calls for spending about $1.5 million from the Department of Public Works budget that was left over from projects that cost less than expected.
Mayor Joe Hogsett called for the use of the emergency funds after tens of thousands of complaints came in about the condition of city streets that had been littered with potholes after a rough winter with rapid changes in weather. DPW Director Dan Parker has said this winter has created a larger-than-usual number of potholes because of frequent freeze-and-thaw cycles.
"Indianapolis works best when it works together, and tonight's unanimous City-County Council road funding vote was yet another example of the progress that can be made when elected leaders put people before politics," Hogsett said in a statement.
"With this bipartisan vote, residents will continue to see progress as we work to repair our roadways. And thanks to responsible fiscal planning over the last two years, all of this will be possible without postponing planned 2018 infrastructure projects," he said.
Council members also called for state legislators to invest more in the city's roads. Democrat William Oliver said it's "embarrassing" that the 150 members of the Indiana General Assembly each day drive down Capitol Avenue, which has been particularly problematic for potholes.
"That's where the money is at and they won't give it up," Oliver said. "They're driving through potholes to get to work themselves. I wish those over at the Statehouse would listen. We're in dire need of help and we look to them to supply us with that help."
Parker has said the emergency funding would allow the city to follow through on existing resurfacing projects that the city had already planned to do this year.
The $13 million comes from $52 million in local option income tax revenue that the state returned to the city in 2016 specifically to address local road funding. That money had been sitting in reserve funds for cities. The other $39 million from those funds has already been included in the city's transportation budget to spend on other road projects over the next few years.
Under the proposal, about $9.5 million of the new funds would go to resurfacing streets in a way that should last several years, the city said. Around $2.9 million will be spent on personnel costs for the DPW, such as overtime and additional labor. About $525,000 will be spent on private contractors who are out repairing roads, and nearly $132,000 will be spent on supplies like asphalt.
Council members also amended the proposal on Monday night to require the DPW to report to the council additional information about the repairs later in the year, including the number of potholes repaired and strip-patching done, the cost of that work, the amount of overtime paid, a budget plan for work to be done in the future, and the identification of contractors paid to do the work.
Please enable JavaScript to view this content.