Just two sites—Pan Am Plaza and a city-owned parking garage on Illinois Street—jump out as prime locations for the mega-hotel Visit Indy wants downtown to meet growing demand from conventioneers, hospitality industry observers say.

A "request for information" the city's Capital Improvement Board issued in January specified that the hotel should have at least 800 rooms and be adjacent to the Indiana Convention Center or accessible to it via weather-protected and climate-controlled pedestrian access. A project of that magnitude would be larger than all Indianapolis hotels except the 1,004-room JW Marriott.

The RFI went to 40 local and national firms, but just three developers responded by the March 1 deadline. CIB so far has not revealed their names or what they propose.

But observers say Pan Am Plaza and the Illinois Street parking garage are particularly well located for the new hotel—though both sites have challenges.

In 2007, Indianapolis-based Browning Investments and a Milwaukee developer proposed building a 44-story hotel on Pan Am Plaza, which is across Capitol Avenue from the convention center.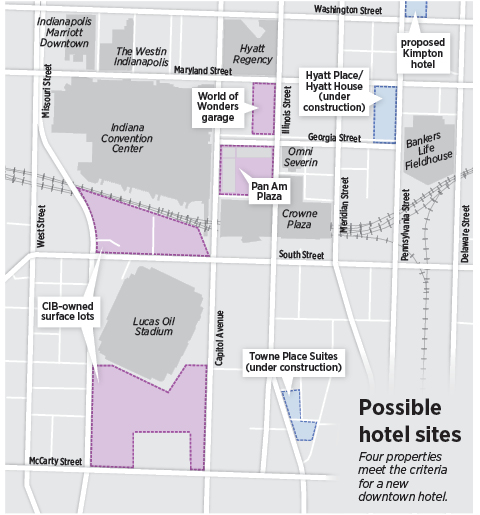 But a city selection committee instead chose to back a $450 million, JW Marriott-anchored hotel complex near White River State Park proposed by Merrillville-based White Lodging Services and Indianapolis-based REI Investments Inc.

Kite Realty Group Trust bought Pan Am Plaza in 2008 and has expressed interest in building a hotel there The Indianapolis-based company in 2014 floated plans that never materialized to construct two hotels, residential units and restaurants spread across two towers as tall as 20 stories each.

Real estate observers say the 12-story Pan Am office building on the plaza likely would need to be razed to accommodate a large hotel.

Further complicating matters are that the office building is owned by Sacramento, California-based Coastal Partners LLC but the parking garage below the plaza is owned by New York-based Dali Associates LP.

Neither Kite Chief Operating Officer Thomas McGowan nor Jamie Browning, Browning Investments' vice president of real estate development, responded to inquiries from IBJ about whether they responded to the January RFI.

"Pan Am would be a great site. It's just a question of money," said Mike Wells, president of REI Investments, which did not respond to the RFI.

"Do the demolition and then the hotel, that's a big number. It's a tough assignment for somebody."

The RFI notes that the only publicly owned properties meeting the specifications are surface lots north and south of Lucas Oil Stadium—which is connected to the convention center via a climate-controlled tunnel—and Circle Centre's World of Wonders parking garage, which stretches from Georgia to Maryland streets along Illinois Street.

Pan Am Plaza and the World of Wonders garage are clearly more attractive sites than the surface lots near the stadium, said Mark Eble, a managing director of research firm CBRE Hotels.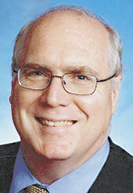 Eble
"If you were coming to Indianapolis and to a convention, where would you rather be?" he asked. "The street retail is activated on the north side of the tracks and not so much on the south side."

Real estate observers say that, unless a hotel tower could be constructed on top of the World of Wonders garage, at least part of the structure would need to be demolished to make way for a hotel. Eliminating the entire eight-floor garage would wipe out 1,500 parking spaces and a row of prominent restaurants, including Steak n Shake to the north and Mikado to the south.

City and tourism leaders said they have no favored site for the hotel. They said the RFI showed the three publicly owned sites in the RFI simply to educate out-of-state developers where public land sits in relation to the convention center.

"We're interested in making something happen somewhere, in a way that makes financial sense for taxpayers," said Thomas Cook, Mayor Joe Hogsett's chief of staff.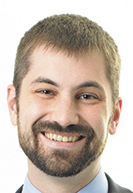 Cook
Hospitality industry officials are confident downtown could support the additional hotel. They are buoyed in part by a Visit Indy study indicating downtown could absorb the 800 rooms and more, if the project were accompanied by construction of a 45,000- to 60,000-square-foot ballroom. The ballroom could be part of the hotel project or built elsewhere adjacent to the convention center.

"[The convention center] needs additional ballroom space—particularly for the south campus, since it has poor access to existing ballrooms," a study from Mineola, New York-based HVS concluded.

Downtown hotel occupancy has been hovering above 70 percent since the JW Marriott debuted in 2011, and stood at 72.3 percent at the end of 2017, according to the latest report from CBRE Hotels.

Downtown's occupancy was far lower, 64 percent, when the JW Marriott opened in 2011.

"Two years of research has clearly shown the need for additional hotel rooms," Visit Indy Vice President Chris Gahl said. "We could sustain what's already in the pipeline and this 800- to 1,000-room hotel."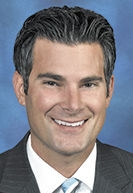 Gahl

Projects in the pipeline include the 316-room dual-branded Hyatt Place and Hyatt House rising across Pennsylvania Street from Bankers Life Fieldhouse; the 146-room extended-stay TownePlace Suites by Marriott under construction two blocks east of Lucas Oil Stadium; and a 197-room dual-branded Hampton Inn and Homewood Suites by Hilton planned on the site of the Bethel African Methodist Episcopal Church at 414 W. Vermont St.

In addition, a 130-room Kimpton hotel is scheduled to open in early 2020 in the 16-story One North Penn building at the northeast corner of Washington and Pennsylvania streets.

CIB officials had 45 days from the RFI's March 1 deadline to follow up with the developers and request more information.

The new hotel could open as soon as 2021.•