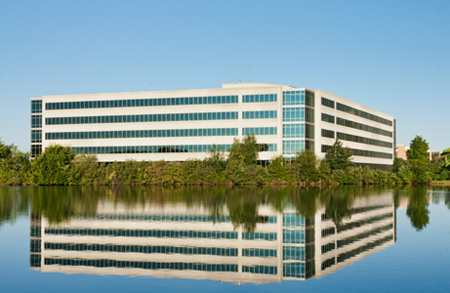 College Park Plaza, a five-story office building on the northwest side of Indianapolis, has been acquired for $16.35 million.
Onward Investors LLC announced Monday that it sold the building at 8909 Purdue Road, near North Michigan Road and Interstate 465, to Little Rock, Arkansas-based Tempus Realty Partners.
Eden Prairie, Minnesota-based Onward Investors acquired the 180,637-square-foot building in February 2015 for $14.3 million from Los Angeles-based Griffin Capital Essential Asset REIT Inc.
After buying the building, Onward made several improvements, including site paving and lobby renovations. It also added a conference room center, kitchen, breakroom and Canteen micro market.
The property, which is 86 percent occupied, is home to Republic Airways Holdings Inc., Bindley Capital Partners LLC, Reminger Co. and Sedgwick Claims Management Services Inc.   
The building was designed by Indianapolis-based CSO Architects and developed in 1998 for drug wholesaler Bindley Western Industries Inc., which was later acquired by Ohio-based Cardinal Health Inc. It features an average floor size of 37,000 square feet and has 775 parking spaces.
Onward Investors has been active in the Indianapolis market in recent years.
It acquired the historic 130 E. Washington St. tower in 2015 for $9.3 million and this month leased four floors of the 12-story building to Angie's List.
It also acquired a two-building River Road office complex in 2016 for $21.9 million. The property near I-465 and Keystone Avenue contains 228,220 square feet.   
Please enable JavaScript to view this content.