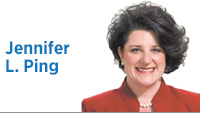 For Indiana, trade is a no-brainer.

Trade is a vital and essential component of the U.S. and global economy. It fuels growth, supports jobs and provides Americans access to affordable goods and services.

The U.S. Department of Commerce has indicated that, in the past 20 years, trade-related jobs in the United States have grown three times faster, compared to other U.S. job markets. As of 2014, trade supported 41 million U.S. jobs, with 14 million of them associated with the North American Free Trade Agreement. This means one in five jobs in this country is connected to the export and import of goods and services.

Additionally, the Commerce Department reports that small and medium businesses alone constitute 98 percent of exporters in the United States. The export of manufactured goods reached nearly $1.3 trillion in 2016, accounting for approximately 60 percent of all U.S. exports, while U.S. exports of services reached $750 billion. This resulted in 10.7 million American jobs supported by export.

It is clear American consumers and businesses benefit from trade, and our local chamber of commerce is paying attention. It's the primary reason Indy Chamber created a new role last year: director of international programs. The chamber recruited expert Jennifer Pearl to assist the central Indiana business community with international trade partnerships. According to a recent Brookings Institution study, our region has more than 100,000 jobs supported by exports and foreign investment.

American farmers and ranchers also depend on exports, with one in three acres in this country dedicated to producing exports. In 2016, $135.5 billion worth of U.S. agricultural products were exported around the world. An estimated $43 billion worth were exported to our neighbors, Canada and Mexico. It is important to note that, while the United States might be the world's largest economy, 80 percent of the world's purchasing power and 95 percent of its consumers are outside our borders.

The state of Indiana is a leader in so many ways, and I am encouraged that Lt. Gov. Suzanne Crouch is standing up for what's right for Indiana and what's best for Hoosier workers. As Indiana's secretary of agriculture and rural development, Crouch recently tweeted about free trade, making it clear trade deals should be crafted "in a way that continues to benefit Indiana farmers, workers and businesses."

Indiana is a top producer, from hogs to even spearmint. We outpace many other states in the amount of food we grow and raise. In 2015, we exported more than $4.5 billion worth of agricultural goods. So many people depend on Hoosier workers to feed and fuel them.

The governor and lieutenant governor know how important it is to our economy to maintain strong global partnerships and relationships. In 2017, Indiana exported more than $37.8 billion worth of products—ranking it 11th in the country for the value of goods we sold to other countries.

We cannot deny that trade has created new opportunities for all Hoosiers and individuals across the country. While there might be issues and concerns with our current trade policies, we should focus on updating our agreements rather than walling ourselves off.•


Click here for more Forefront columns.

__________

Ping is a principal at Bose Public Affairs Group and former chairwoman of the Marion County Republican Party. Send comments to ibjedit@ibj.com.