Tech company Genesys Telecommunications Laboratories Inc. announced Wednesday it would donate $50,000 to support the city of Indianapolis' growing summer youth employment initiative, Project Indy.
Genesys, which acquired Indianapolis-based Interactive Intelligence Group Inc. for $1.4 billion in 2016 in the second-largest tech company sale in the state's history, said it wanted to support the city's tech sector by boosting the youth pipeline.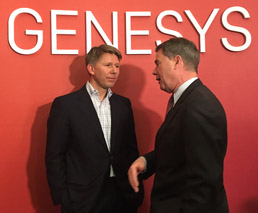 Todd Pedersen of Genesys Telecommunications Laboratories Inc. (left) discusses the firm's donation to Project Indy with Mayor Joe Hogsett. (IBJ Photo/Hayleigh Colombo)
"The talent pipeline continues to be incredibly important to us," said Todd Pedersen, Genesys' vice president of corporate affairs. "Adding value early on is going to help all the tech ecosystem in Indy over a period of time. We feel like no matter what they're doing, just getting those first skills early on, that they can build on, gives them a vision for what is possible in the future."
The donation is the largest single gift in Project Indy's short history. Hogsett started the initiative in 2016. Last summer, it supported about 2,000 teens and young adults in summer jobs.
For this summer, Hogsett set a goal of supporting 3,000 youth workers.
Project Indy's primary goal is to connect young people with employers. In some situations it provides financial support for subsidizing the jobs.
Pedersen said the company wanted to give back to the community, and "the mayor had a call of action for Project Indy."Hogsett told reporters Wednesday morning that "Genesys responded to that call with unequivocal enthusiasm."
"Indianapolis is better equipped than ever to provide avenues of achievement for every child in our community," he said.
Hogsett spokeswoman Taylor Schaffer said Genesys' gift would support "everything from actually helping to subsidize jobs to data collection and communication."
It also means the tech company will serve as the title sponsor for the 17th annual Mayor's Celebration of Diversity luncheon, which Hogsett last year transformed into a fundraiser for Project Indy.
Schaffer said the Project Indy effort, which is funded by federal money, grants and corporate donations, is trying to bolster participation by "reaching teens where they are."
"We are focused on expanding and reaching more teens," Schaffer said.
So far this year, Project Indy has about 1,500 new students signed up for the program, not counting those who will return to the program for a second or third year. This time last year, Schaffer said it had less than 500 new sign-ups.
Students end up working at a wide variety of private-sector and not-for-profit employers, including the Sheraton Indianapolis, the Indianapolis Zoo, the Children's Museum of Indianapolis, and "a ton of parks locations."
The program is aimed at "at-risk youth, giving hundreds of local young people job experience, useful skills and safe and productive alternatives to crime and gangs over summer months."
Please enable JavaScript to view this content.