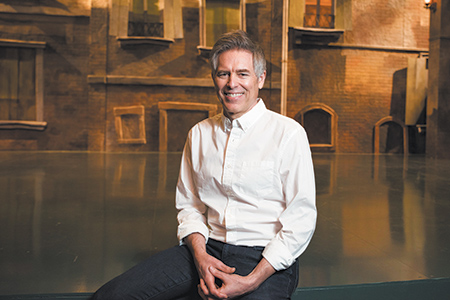 Kansas-native James Still made his first trip to Indianapolis in 1991, when he was invited to the Bonderman National New Youth Playwriting Symposium, a mouthful of a national contest then-housed at the Indiana Repertory Theatre.
One production led to another, and when a Pew Charitable Trust grant program surfaced a few years later that encouraged artist residencies, Still and the IRT's Janet Allen went for it, landing Still the title of the theater's first playwright-in-residence—a role he was to assume for three years.
Allegedly.
Twenty years—and 20 full productions—later, Still, 58, not only continues to hold that now-institutionalized position, but his relationship with the IRT has led to its largest institutional gift in the theater's history. In 2017, John and Sarah Lechleiter gave $2.5 million in honor of the playwright, officially naming the job The James Still Playwright-in-Residence.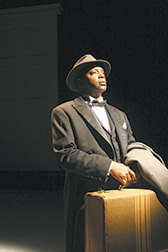 This season—partly in honor of the anniversary and partly because of Still's track record of support from donors and audiences—the IRT is staging two productions of Still plays. On the mainstage, it's offering the local premiere of "Appoggiatura" (through March 31), about an American abroad seeking to escape from loss. On the upper stage, it will revive his one-man historical play "Looking Over the President's Shoulder" (March 27 to May 6), which was sparked by research he conducted at the Indiana Historical Society. It concerns Alonzo Fields, a butler who served at the White House for 21 years.
Playwright-in-residence is an amorphous job title, one that can differ from theater to theater and writer to writer.
Some such relationships involve a regional theater paired with a homegrown writer. Other times, it means a visiting writer dropping in to become part of the theater team for a concentrated period of time or for a particular production period.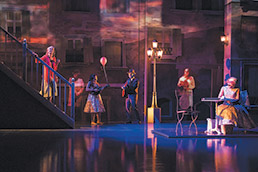 The IRT is staging productions of two Still plays this season: "Appoggiatura," (through March 31) and "Looking Over the President's Shoulder" (March 27 to May 6). (Photos courtesy of the Indiana Repertory Theatre)
In Still's case, the job evolved over the years and has involved far more than just helping his own plays come to theatrical fruition.
"On a given day," said Janet Allen, "James might be doing senior staff functions—talking to the marketing department about an idea we are working on, helping with a piece of grant writing … . He might also be helping with line production work—that is, giving notes to a director."
He also mentors playwrights. "He's really been in the trenches and helpful to early-career writers," Allen added.
The "residence" part of "playwright-in-residence" doesn't mean what many think it means. Still does not live in Indianapolis. Rather, he calls Los Angeles home.
"Honestly, people are surprised that I don't live here," he said. "They think they see me all the time. It's like cramming a month's worth of work into the time I'm here. It's non-stop.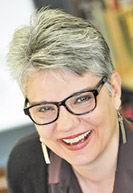 Allen
"For me—and this is just my own work habits—I feel like, were I to move here, I might stop writing. I care so much about lots of things going on at the IRT that I would be spending more time doing those things rather than writing."
"One of the things we discovered when we did a feasibility study in 2014 for the current capital campaign—and we were told this by some significant donors—was that if James asked, they would dig deeper," Allen said.
"That," she added, "was a lovely moment."
Among those enamored with Still were John and Sarah Lechleiter. The philanthropic couple were unavailable for comment for this story, but at the time of the gift announcement, Sarah Lechleiter said, "He makes us think, laugh, cry and feel. He enriches our lives. John and I are thrilled to celebrate James and his 20th season."
Still said not everyone understands what it means that the Lechleiters' donation named the playwright-in-residence for him.
"This doesn't mean I'm going to be it in perpetuity," he said. "It means that the position will go on. That's the biggest success of my residency. Other writers will benefit from this after I'm not here."
In addition, The Lacy Foundation and the Margot L. and Robert S. Eccles Arts and Culture Fund made contributions to the IRT in honor of Still's anniversary, a portion of which will go to commissioning a play on a topic of the playwright's choosing.
That choice could be just about anything.
He is known here primarily for his history plays, including "April 4, 1968: Before We Forgot How to Dream," "And Then They Came for Me: Remembering the World of Anne Frank" and "The Heavens are Hung in Black."
But Still's writing history also includes such varied work as the "Little Bear" and "Little Bill" series for children's television and an adaptation of "The Velveteen Rabbit" for the IRT's youngest audiences. At the other end of the spectrum, he penned the play and film "The Velocity of Gary" about an AIDS-stricken former adult-film star.
Not everything he writes is a fit for the IRT. And that's just fine with both Still and Allen.
"He's got plays that I think are just not the right mix for our audience and theater," Allen said. "Sometimes that's subject matter and sometimes it's degree of difficulty."
For instance? "It took a long time to get to 'Appoggiatura.' It's hard and it requires three virtuoso musicians. I'm very interested in doing his play 'Widow Lincoln.' It's utterly producible. We just have to find the right mix [of a season] for it. It's about Mary Lincoln 40 days after the assassination. It's not exactly cheery."•
Please enable JavaScript to view this content.