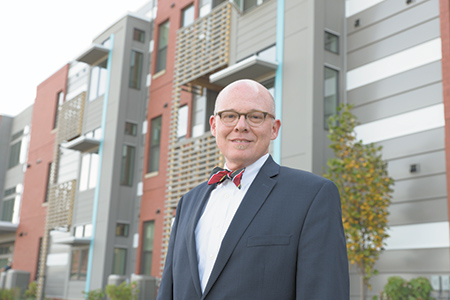 Bill Taft, leader of the influential Indianapolis office for the Local Initiatives Support Corp. since 2005, has been promoted.
Taft, 54, was named senior vice president for economic development for LISC National, the organization announced Thursday.
In his new role, Taft will lead the expansion of LISC's economic and workforce development efforts across the country. He will continue to work from the Indianapolis office and "be engaged in expanding economic development work locally, as well as across the country," LISC officials said in a written statement.
"I look forward to continuing this important work in this new role," Taft said."Indianapolis has been a leader in economic and workforce development, and I am excited and committed to expanding these efforts into neighborhoods nationwide."
Taft will continue to lead the Indianapolis office until a new executive director is named. A committee has been formed, led by members of the LISC Indianapolis local advisory board, to conduct an internal and external search to fill the position. Tedd Grain, who's been deputy director of the Indianapolis office for four years, confirmed to IBJ that he has applied for the post.
Taft has spent most of his career resuscitating urban Indianapolis neighborhoods—from Fountain Square to the near-east side.  Before coming to LISC, Taft helped kick-start the revitalization of Fountain Square as president of Southeast Neighborhood Development Inc. from 1991 to 2005. Before that, he was executive director of Main Street Richmond.
Since its founding in 1992, LISC Indianapolis has invested more than $260 million to leverage almost $958 million of investment in urban neighborhoods.
Those include investments in affordable housing, small businesses, community facilities, charter schools, commercial corridor revitalization, and green spaces. Many of those investments were made as part of initiatives including the Great Indy Neighborhoods Initiative, Fostering Commercial Urban Strategies, Centers for Working Families, and Great Places 2020.  
Taft also has held leadership roles with the LISC Institute for Comprehensive Community Development, the Super Bowl Legacy Leadership Committee, the Coalition for Homelessness Intervention and Prevention, and the Indianapolis Housing Trust Fund.
In 2016,he received the Michael A. Carroll Award from IBJ. The honor is given annually to recognize the community leadership qualities demonstrated by the late former deputy mayor and Lilly Endowment executive.
Taft was named a national LISC program vice president in 2014 and began overseeing programs in Chicago, Minneapolis-St. Paul, and Duluth, Minnesota.
The Michigan City native majored in history and political science at Cedarville University in Ohio and earned a master's degree from Ball State University's College of Architecture and Planning.
Taft's wife, Joanna Taft, is active in education and community development circles. She was the founding executive director of the Harrison Center for the Arts and the founding board president of Herron High School.
Please enable JavaScript to view this content.