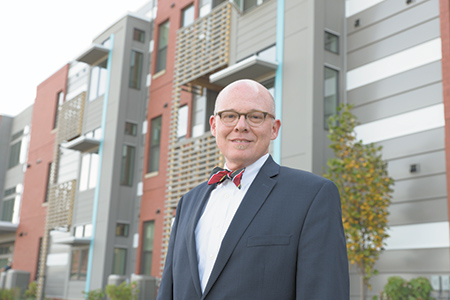 Never let it be said that Bill Taft, Indianapolis executive director for the Local Initiatives Support Corp., doesn't practice what he preaches.
Taft, 52, has spent most of his career resuscitating down-at-the-heels urban Indianapolis neighborhoods—from Fountain Square to the near-east side. Throughout that crusade he, his wife, Joanna, and their three children have lived in the same home in the now-trendy Herron-Morton Place neighborhood.
But when they settled there, "trendy" was the last word anyone would have used to describe the blighted, crime-filled area.
"The kitchen was gutted to the studs when we moved in," Taft recalled. "We camped in a couple of rooms. People said, 'You're not going to live in that neighborhood with kids, are you?' There were more vacant than occupied houses, and you heard gunfire every day."
Today, after decades of community organizing and targeted investments, Herron-Morton has gone from shooting gallery to showplace. Prices for some of its residences are north of $1 million. Quite a change from 1991, when the Tafts bought their fixer-upper for $30,000.
Now, after a career of working to turn around struggling urban neighborhoods block by block, Taft is embarking on perhaps his biggest challenge yet, a LISC-led program called Great Places 2020 that aims to resuscitate six beaten-down corridors of Indianapolis within four years. Three already are chosen: Englewood Village (East Washington Street at Oxford Street), Maple Crossing (East 38th Street at Illinois Street) and River West (West Michigan Street at King Avenue).
More than 50 partner organizations have committed $105 million to the effort, including $50 million from New York-based LISC—funds that will help leverage additional private investment.
"If we are going to thrive in the future, the strength of our city is probably not going to be our suburbs," Taft said. "Because you can drive a mile across the county line and find newer infrastructure, cheaper taxes, better schools and less crime. But those surrounding counties don't have real, walkable, urban neighborhoods that offer the potential for the high-quality urban lifestyle that young people increasingly want."
Taft's lifelong commitment to urban neighborhoods has earned him the distinction of being the 23rd recipient of IBJ's Michael A. Carroll Award, given annually to a man or woman who has demonstrated the former deputy mayor's qualities of determination, humility and service. Carroll was among six people killed when two small planes collided over southern Marion County on Sept. 11, 1992.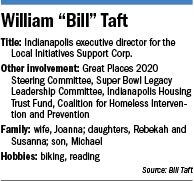 In the trenches
Before coming to LISC, Taft helped kick-start the revitalization of Fountain Square as president of Southeast Neighborhood Development Inc. from 1991 to 2005. Before that, he was executive director of Main Street Richmond.
Taft also has held leadership roles with myriad other organizations, including the LISC Institute for Comprehensive Community Development, the Super Bowl Legacy Leadership Committee, the Coalition for Homelessness Intervention and Prevention, and the Indianapolis Housing Trust Fund.
"His impact is so large it's difficult to measure," said Mark Nottingham of Herron-Morton-based Nottingham Realty Group. "He's done a great job of making it possible for other people to improve the city, through funding or connecting them to the right neighborhood partners. He finds people who want to invest and empowers them to do it, and he's the best in the city at that."
Taft has worked in older neighborhoods since his days growing up in Michigan City, where he spent his high school and college summer vacations helping to rehab old houses. He majored in history and political science at Cedarville University and then earned a master's degree from Ball State University's College of Architecture and Planning.
When he came to Indianapolis in 1991 to take over the presidency of SEND, the organization's prime goal—revitalizing the decrepit Fountain Square neighborhood—seemed like a fool's errand.
"This was a neighborhood where there was almost no commercial activity in the commercial district," Taft recalled. "The Fountain Square Theatre building was empty except for a thrift store in half of the first floor. The basement was full of water. The upper floors were full of pigeons."
Under Taft's guidance, SEND—which raises some $2 million annually from private contributions, foundations, and government grants and contracts—plowed more than $30 million into Fountain Square.
Initiatives included renovating and selling 120 homes to first-time buyers, making emergency repairs to another 600 residences, and helping 30 neighborhood businesses expand. Taft also worked to attract development and new residents.
"The southeast side is still largely a low-income neighborhood, and it still has a lot of substandard housing and other challenges," Taft said. "But now it has a strong 'downtown,' if you want to look at the Fountain Square area that way, and it's attracting new people who want to live there."
In 2005, Taft took over leadership at the Indianapolis office of LISC, the largest community development corporation in the United States. Supported by a long list of corporate, government and private donors, from the Cummins Foundation to the city of Indianapolis, it spent more than $15 million on Indianapolis neighborhoods in 2015 alone.
The idea is to help neighborhood-based groups in depressed areas to organize, decide how they want to change their circumstances, make practical plans to accomplish those goals, and implement them. In other words, create lasting change from the inside rather than out. LISC uses its funds primarily as seed money to help draw new residents and commercial development.
"Since his days at SEND, there are few individuals who have had as great an impact on the development of the city," said Jeffrey L. Sparks, senior fellow at the Indianapolis think tank Sagamore Institute.
Sparks said Taft and his wife, Joanna—the founder of Herron High School and director of the Harrison Center for the Arts—are among the most influential couples in Indianapolis.
"You can find them on most Sunday afternoons on their front porch, hosting neighbors," Sparks said. "This is where I started my conversations on community development with Bill."
Daunting challenges
For years, LISC has worked to revive the near-east side, a sprawling area that comprises some 21 neighborhoods, many of which fell on hard times after factories that used to provide good-paying jobs in the area closed or moved.
"It's a negative spiral that some neighborhoods have been in since the 1960s," Taft said. "We're trying to turn the curve on that spiral and get it to head back up again."
The idea is to use LISC seed money to leverage investments from private and not-for-profit sources. When interest increases, housing (and commercial property) prices rise, creating a virtuous cycle that draws more investors and more residents. But the work takes patience—areas that declined over decades aren't able to turn around overnight.
"The Holy Cross neighborhood, the Cottage Home area, Woodruff Place—those are now desirable places where people are spending a lot of private money to invest there," Taft said. "But when you get farther east, there are still blocks that are really struggling."
Not that there haven't already been major achievements. For instance, in conjunction with the 2012 Super Bowl, LISC worked with near-east-side residents to develop the Near Eastside Legacy Initiative, which included construction of the $11 million, 27,000-square-foot community center on the campus of Arsenal Technical High School.
LISC kicked in $16.5 million, which helped draw another $140 million.

Great ambitions
The Great Places 2020 initiative promises to accelerate that progress. The Englewood Village target area is the neighborhood that encompasses a former factory for P.R. Mallory at 3029 E. Washington St. Purdue University gave the area a big boost this month when it announced it would house its new STEM-focused Purdue Polytechnic High School in the building.
The Great Places 2020 name plays off the urban planning group Project for Public Spaces' declaration that a great city needs at least 10 great places. The six targeted areas would add to the five great spaces Indianapolis already has—Broad Ripple, Mass Ave, Fountain Square, Irvington and downtown.
The challenges facing all three of the already-identified neighborhoods are daunting. The median household income in Englewood Village is $21,990, just 55 percent of the median for Marion County overall.
It has little commercial activity beyond a bank branch, a strip center and a few underused storefronts.
Maple Crossing, at 38th and Illinois streets, already bustles with traffic and boasts a drugstore, gas station and other retail businesses. But the homicide rate is 300 percent higher than the city average, and the median household income is $23,789.
Taft spends much of his time pushing Great Places 2020 forward—calling or writing stakeholders and meeting face to face.
The LISC offices are in the west wing of City Market, which Taft, an avid cyclist, often bikes to. Evenings are spent with his wife, Joanna, a powerful force in education, the arts and neighborhood development in her own right.
The couple's two daughters, Rebekah and Susanna, both work in urban development, and their son, Michael, a junior at Covenant College in Georgia, is also leaning in that direction. All three attended Herron High School
"My life is very entangled between personal and private," Taft said. "At dinner, we're talking about neighborhoods and art and schools and people we work with in common."
The couple's many supporters say they have improved Indianapolis not necessarily by signing big checks but by encouraging neighborhood residents to find their voices and by helping businesspeople see the potential of investing in areas they've long overlooked.
"Bill and Joanna have probably started or played a role in many of the efforts now held up as Indianapolis successes, from the redevelopment of Fountain Square to the Super Bowl Legacy Project," said Katy J. Brett, executive director of Renew Indianapolis, a community land bank.
"Yet their most lasting impact may be the way they have cultivated new leaders and how their work has encouraged people to live in core Indianapolis neighborhoods. They are connectors."•
Please enable JavaScript to view this content.