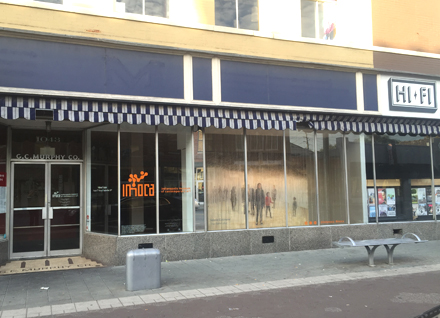 More than a year after vacating its base of operations in Fountain Square, the Indianapolis Museum of Contemporary Art has secured a new long-term location in the Holy Cross neighborhood on the city's near-east side.
IMOCA announced Tuesday that it will lease 2,300 square feet in the former Ford Motor Co. assembly plant on East Washington Street being rehabilitated by Indianapolis-based TWG Development.
The museum's space at 1301 E. Washington St. will be able to accommodate several galleries and offers room for educational programming and events. The museum plans to be open in the assembly plant development in summer 2019.
"After conducting a feasibility study in 2017, with generous support from the Lilly Endowment, IMOCA is thrilled to partner with TWG Development on its new location," IMOCA Executive Director Paula Katz said in a media release. "IMOCA has been working in the Near Eastside for the past two years via community engaged arts projects and public art and could not have found a more perfect community to place its new gallery.
The museum vacated its home base in Fountain Square's Murphy Arts Center building in late 2016 to make room for the expansion of the neighboring music venue Hi-Fi, as well as reconfiguring other areas of the bustling venue.
At the time, Murphy Building co-owner Larry Jones had proposed relocating IMOCA to his Circle City Industrial Complex property on Brookside Avenue, which houses artist studios and small businesses. Katz said the museum would explore all of its options and make a careful decision before moving forward.
TWG plans to redevelop the 160,000-square-foot assembly plant building by converting the ground level into a mix of office and retail space, with market-rate apartment units on the top three floors.  
In 2017, TWG agreed to buy the 103-year-old building for $1.65 million from Indianapolis Public Schools, which had been using it for storage.
Please enable JavaScript to view this content.