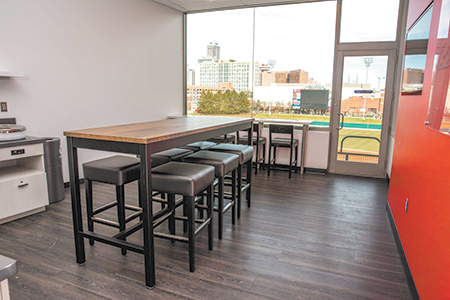 Suite holders at Victory Field this season will be treated to a major renovation of the private rooms as part of an ongoing $6 million upgrade to the aging ballpark.
Debuting in 1996, the Triple-A baseball stadium helped rejuvenate a once-sleepy downtown by attracting more visitors to the city's core. More than two decades later, it still consistently ranks as one of the top draws in the minor leagues.
But the venue is beginning to show its age and needs updating to keep pace with the changing expectations of fans, team officials said.
A 20-year lease extension the Indianapolis Indians signed in April 2016 with the stadium's owner, the city's Capital Improvement Board, calls for CIB to contribute $6 million toward improvements over three years.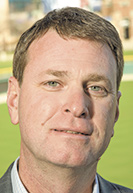 Lewandowski
The renovations began last year with a $2.6 million replacement of the sound system and scoreboard, in addition to the installation of new ribbon boards. The Indians covered a $600,000 overage on the project.
This year, workers have renovated 24 of the 29 suites for the upcoming season, which begins at home April 6, at a cost of $2 million. CIB is slated to spend another $2 million next year to possibly offer new seating options in an area behind home plate near the press box.
"We had made some carpet replacements and annual maintenance, but this is the first time we've done a complete overhaul," Indians General Manager Randy Lewandowski said of the suite improvements. "We knew things were getting a bit dated, and [the lease renewal] afforded us an opportunity."
Suites down the first-base and third-base lines have been renovated. But the team left untouched five suites in the center of the park that are targeted for the $2 million conversion next year. Both Lewandowski and CIB President Melina Kennedy declined to provide more details about next year's plans.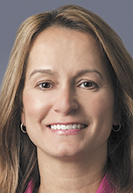 Kennedy
"We didn't want to spend money in these areas knowing there might be something larger coming down the road," he said. "That's what we're in discussions about with the CIB now."
In 2017, the Indians led Minor League Baseball in attendance for the second straight year, hosting 70 games and welcoming more than 641,000 fans through the turnstiles.
Kennedy and CIB want to ensure the park continues to be a major downtown draw.
"The idea was to make sure that we were maintaining a really superior experience for the fans and the people who visit," she said. "Part of that is making sure the facility is updated and providing a great fan experience."
Last year's strong attendance translated into a 7.4 percent increase in ticket sales from the prior year. Tickets accounted for $5.5 million of the team's revenue of nearly $14.8 million, an increase of 7.9 percent from the previous year.
The higher revenue helped the Indians, an affiliate of the Pittsburgh Pirates, increase profit 8.7 percent, to nearly $2.2 million.
Suite-rental revenue declined 3.2 percent in 2017, to $1.2 million. But team executives are encouraged that it could increase this year.
All of Victory Field's full-, half- and quarter-season suites are booked for 2018, and single-game suite rentals are up 15 percent over 2017, the team said, due in part to the improvements.
"There's a desire to increase revenue," said J.J. Cooper, executive editor of Baseball America. "Obviously, these are businesses. Once one team, two teams or three teams show that something works, it's a copycat system."
What is considered normal at most ballparks today—high-definition video boards and LED-lit scoreboards—were unheard of when Victory Field opened 22 years ago.
The park still ranks as one of the best in Triple-A, though it's since been surpassed by a handful of newer stadiums, most notably by BB&T Ballpark in Charlotte, North Carolina, Cooper said.
"There are more expectations now," he said. "For a 20-year-old ballpark, Wi-Fi didn't even exist then. It's an expectation nowadays."
The Indians in 2014 spent $636,000 out of their own pocket for a new wireless communications and Wi-Fi system, and $275,000 to expand and improve the venue's third-base-line gift shop and main-level ticket office.
Expectations are higher, particularly at the minor-league level, because the fan experience often is more important than whether the parent club is fielding a winning team.
Victory Field's suite holders will be treated to upgraded finishes, including new paint, flooring, lighting and ceilings, in addition to expanded serving space, new furniture and two 42-inch televisions. Mobile charging stations also have been added.
The paint schemes in the suites feature bolder colors, such as black, red and white, to showcase the Indians' colors, Lewandowski said.
"It's just a much more vibrant look," he said.
CIB's decision to invest $6 million in Victory Field bodes well for Visit Indy, the group charged with promoting Indianapolis.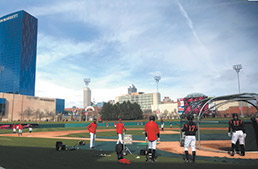 The Indians begin their 2018 season April 6 against the Columbus Clippers at Victory Field. The team has been working with the Capital Improvement Board to make improvements at the stadium. (Photo courtesy of the Indianapolis Indians)
"Having Victory Field downtown is critical, in that it plays into our walkable destination package," Visit Indy Vice President Chris Gahl said. "All of our stadiums are within steps of our hotels. That gives us a competitive edge when we market Indianapolis."
Unlike the city's other professional sports teams, the Indians get no tax subsidies and pay the city $500,000 annually to lease the facility.
The Indiana Pacers and Indianapolis Colts each receive multimillion-dollar annual subsidies. The Pacers pay $1 a year to lease Bankers Life Fieldhouse; the Colts pay $250,000 to play in Lucas Oil Stadium.
Since Lucas Oil Stadium opened in 2008, the Indianapolis Colts have received a $3.5 million annual subsidy from the city in addition to having all game-day expenses paid.
In 2014, CIB agreed to spend $160 million over 10 years on subsidy payments and stadium improvements for the Pacers in exchange for a lease extension through the 2023-2024 season.
The Indians averaged 9,159 fans per game last year and hope this year to average 10,000 during the warmest months, or "in the meat of the season," Lewandowski said.
Many visitors to the ballpark have no idea how old it is—a testament to the investments by both the team and CIB. "The greatest compliment we can get is that people are astounded when we tell them we opened in '96," he said.•
Please enable JavaScript to view this content.