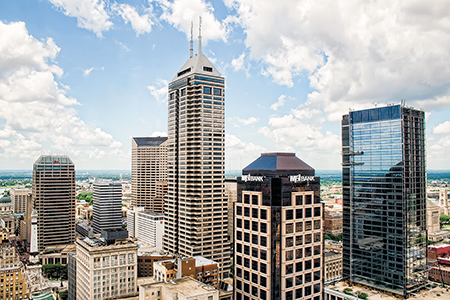 How does Indianapolis stack up in the HQ2 sweepstakes, based on the criteria the Seattle-based goliath said were most important in its RFP? IBJ pored over that seven-page document, did some digging and reached some conclusions.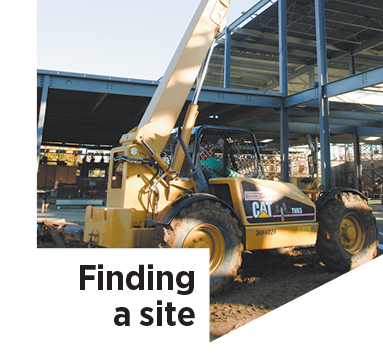 Desire: A 100-acre site with access to mass transit and within 30 miles of a population center, 45 minutes of an airport, and two miles of an interstate.
Upshot: The former GM stamping plant site meets the criteria, but officials say they offered multiple sites.
Key points:
◗ GM site is 103 acres already zoned for redevelopment. City plans $27 million in infrastructure improvements.
◗ Distance to Indianapolis International Airport is 18 minutes; distance to Interstate 70 is less than a mile.
◗ IndyGo bus lines run on the north and south boundaries of the site.
◗ Another possibibility is 130 acres surrounding Indianapolis International Airport's old terminal, along I-465 and a bus route.
Comment: Abbe Hohmann, Site Strategies Advisory LLC president, said of the GM stamping plant: "That's the most obvious site. There are probably a few other opportunities downtown, but you would have to get creative."
---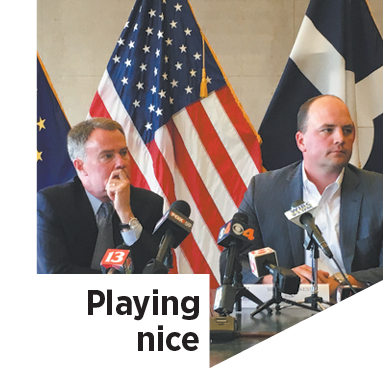 Desire: elected officials eager and willing to work with the company
Upshot: Central Indiana has a long history of stable, cooperative leadership.
Key points:
◗ Fishers Mayor Scott Fadness and Indianapolis Mayor Joe Hogsett joined together on the Amazon submission.
◗ Gov. Eric Holcomb and the Indiana Economic Development Corp. have been lauded by companies for quick response times and flexibility.
◗ The Democrat-controlled City-County Council appears to have regained order, but it took several weeks of inner-party fighting among Democrats to settle the issue of who would serve as president of the legislative body.
◗ General Assembly is controlled by Republicans with supermajorities but will need a special session to finish work this year.
◗ State lawmakers failed this year to pass a hate-crimes bill or lift a ban on light rail in Indianapolis, issues some thought would be important to Amazon.
Comment: "We've got a unified front," Fadness said.
---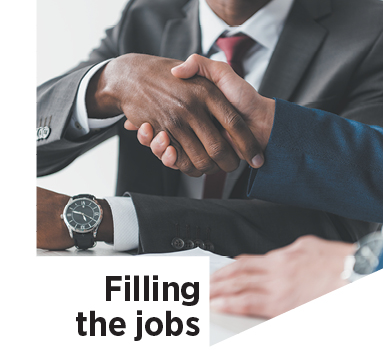 Desire: a metro area with more than 1 million people and ability to fill 50,000 jobs
Upshot: Population: check. Available workers: big question mark.
Key points:
◗ The population of the Indianapolis-Carmel-Anderson metropolitan statistical area was 2 million in 2016. The population of Marion County was 932,000.
◗ The February unemployment rate was just 3.4 percent. Only about 50,000 people actively seeking jobs are unemployed. About 62.8 percent of working-age adults are participating in the economy.
◗ A 2016 statewide survey found 45 percent of companies reported underqualified applicants as the reason for their jobs in Indiana going unfilled (Indiana Chamber of Commerce).
◗ The region's population is growing slowly—only 2.8 percent since 2010.
Comment: "If I'm Amazon, what I really worry about is the capacity of the local human capital supply chain to keep filling my company," said Michael Hicks, Ball State University economist.
---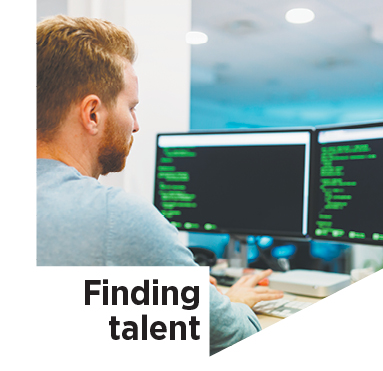 Desire: ready supply of software development engineers
Upshot: Software jobs have been growing faster in Indiana than in the rest of the country.
Key points:
◗ Indianapolis has about 35,000 tech workers overall, CBRE reports, including nearly 11,000 software developers and programmers.
◗ The job count at tech companies is up 68 percent since 2006, Forbes reports, led by 1,700 percent growth at Internet-based businesses and 8,100 new jobs in custom programming and systems design.
◗ Indiana added 8,787 software jobs from 2014 to 2016, according to Software.org: the BSA Foundation. That's a 32 percent increase, marking the second-fastest growth clip in the nation.
◗ Tech firms have repeatedly named a shortage of tech talent as one of the industry's biggest problems in the region.
◗ Software programmers earn an average of $78,000 in Indianapolis, compared to $100,000 nationally, CBRE reports.
◗ Indianapolis is the top bang-for-your-buck tech market in the country, with a high-quality labor pool and low labor costs, CBRE reports.
Comment: "One of the things … our general tech ecosystem we see here in central Indiana is maybe a lack of depth or experience at that mid-level to high-level senior executive. By bringing in a larger corporation, you might be able to bring some of that talent in here and maybe they break off and go into some of these other companies," said Fishers Mayor Scott Fadness.
---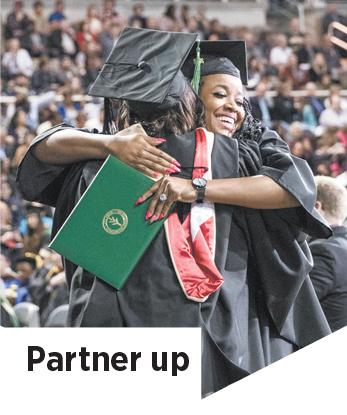 Desire: a strong university system willing to create workforce partnerships
Upshot: Indianapolis has a disproportionate number of colleges and universities within an hour's drive.
Key points:
◗ Indiana University, Purdue University, IUPUI, Ball State University, Rose-Hulman Institute of Technology, Butler University, University of Indianapolis, Marian University, Franklin College, Indiana State University, Wabash University, DePauw University, Martin University, WGU Indiana and Ivy Tech Community College have campuses in or just outside the metro area.
◗ Purdue and Rose-Hulman consistently rank among the top engineering schools in the nation.
◗ The Legislature just passed two bills that Gov. Eric Holcomb said will help align the university and workforce development programs with employer needs.
Comment: "If there is an Amazon main campus, we would contemplate co-location of classes, of research opportunities, of creative partnering that would allow our students and faculty to go back and forth and establish an Amazon presence on the IUPUI campus," said Bill Stephan, vice president for engagement at Indiana University.
---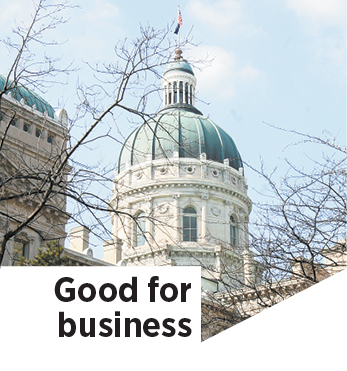 Desire: a business-friendly tax structure
Upshot: Indiana has ninth-best business-tax climate (Tax Foundation).
Key points:
◗ Since 2002, Indiana has eliminated the corporate gross receipts tax, inventory tax, inheritance tax, sales tax on cloud-based software and a "throwback rule" that taxed income earned in another state but not taxed there.
◗ Since 2011, the state has been reducing the corporate income tax rate gradually from 8.5 percent to 4.9 percent, which it will hit in 2022.
◗ Sales tax—at 7 percent—ties with three other states for the second-highest rate in the country, but no local taxes are tacked on.
◗ State surplus is nearly $2 billion.
Comment: "One of the things businesses like when it comes to tax and fiscal policy is consistency and as much certainty as possible. And Indiana provides that," said Kevin Brinegar, Indiana Chamber president.
---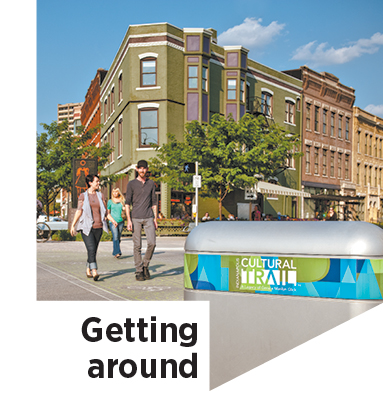 Desire: diverse transit and transportation options for commuting employees living in the region
Upshot: Mass transit is improving; commutes are short.
Key points:
◗ Rush hour adds only about 15 minutes of extra time in Indy, the third best among 189 cities ranked by TomTom.
◗ City residents approved a tax increase to boost bus service, and rapid-transit routes are in the works. Bus service does not extend to suburbs.
◗ The League of American Bicyclists named Indianapolis, Carmel and Zionsville bicycle-friendly communities. However, key thoroughfares near the GM stamping plant are not bike friendly.
◗ Amtrak runs through Indianapolis on its three-day-a-week route between Chicago and New York City. The Hoosier State train runs the other four days between Indy and Chicago.
◗ The Indianapolis Cultural Trail, which connects downtown neighborhoods, has earned rave reviews nationally.
◗ Plans are in the works for a pedestrian bridge connecting the GM stamping plant to White River State Park.
Comment: "Our objective is to provide frequent, reliable service to as many people, places and jobs that we can within our budget." said IndyGo spokesman Bryan Luellen.
---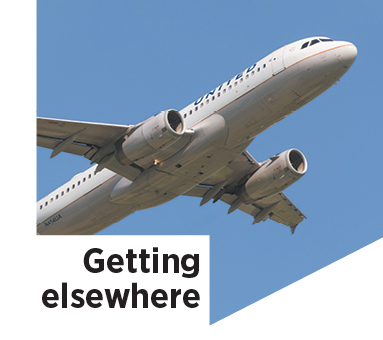 Desire: offers direct flights to Seattle, San Francisco and Washington, D.C.
Upshot: Indianapolis International Airport just added another Seattle flight.
Key points:
◗ By June, Indianapolis will offer two daily nonstop routes between Indianapolis and Seattle (one available now by Alaska Airlines and a Delta flight to begin in June).
◗ City offers nonstop flights to 51 destinations overall.
◗ IND voted Best Airport in North America by Airports Council International five of the last six years and Best Airport in America by readers of Conde Nast Traveler the last three years.
◗ Airport is set to launch nonstop service to Paris, its first direct flight to Europe.
Comment: "We now have a record-breaking number of destinations via a nonstop flight, and 400 destinations with only a one-stop connection—and Hoosiers can reach all major hubs on the West Coast," said Indianapolis Airport Authority Executive Director Mario Rodriguez.
---
Desire: highly educated labor pool
Upshot: Only eight states have a lower educational attainment rate than Indiana.
Key points:
◗ About 41.9 percent of Hoosiers have a degree or workforce certification, compared with 46.9 percent nationwide.
◗ Hamilton County is Indiana's most highly educated county. Boone County ranks third and Marion County ranks sixth.
◗ The attainment rate in Indiana is improving more quickly than in other states (Indiana Commission for Higher Education).
◗ Indiana has the 11th-highest number of bachelor's degrees awarded and 18th-highest number of master's degrees awarded in the country (statemaster.com).
Comment: "We must accelerate our rate of improvement to close the achievement gap and meet Indiana's goal of 60 percent of Hoosiers completing education beyond high school by 2025," said Indiana Commissioner for Higher Education Teresa Lubbers.
---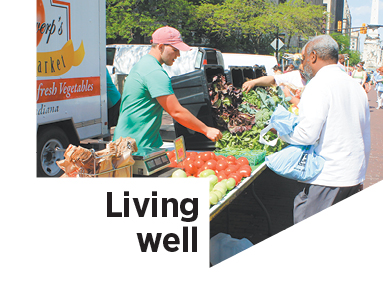 Desire: a place employees will enjoy living, have recreational opportunities and an overall high quality of life
Upshot: City and state rank well in cost of living but poorly on crime and overall quality of life.
Key points:
◗ Indiana ranks third-worst in the nation for quality of life, according to U.S. News & World Report, based on environmental issues, social measures, voting rates and participation in community events.
◗ Indy ranks 85th of 103 cities for cost of living—meaning food, housing and more are cheap here.
◗ Indianapolis is ranked 12th-most dangerous city in America, up from 13th a year ago, by 24/7 Wall Street.
◗ Money magazine named Fishers its 2017 Best Place to Live.
Comment: "The redeveloped downtown area boasts a number of restaurants and boutiques and a popular farmers' market every Saturday that was recently voted one of Indiana's best," said Money magazine.
---
IBJ file photos and photos courtesy of Shutterstock, Ivy Tech Community College and Visit Indy
Please enable JavaScript to view this content.