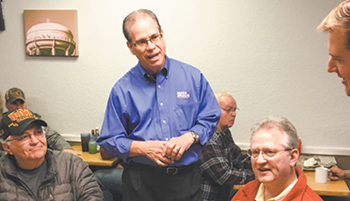 Republican U.S. Reps. Luke Messer and Todd Rokita and former Republican state lawmaker Mike Braun are fighting to take on Democratic incumbent Joe Donnelly in the fall to become Indiana's next U.S. Senator. IBJ spent time with all three GOP candidates to learn more about their personalities and backgrounds. Next week, IBJ will detail where each candidate stands on key issues facing Congress, like taxes, immigration and education.
"With my private-sector experience and a fruitful three years in the Statehouse, I've learned so much and know how it works in the real world. I know just enough about government, and if you're a quick learner, it's not that hard to know how that works."
Mike Braun typically wakes up about 6 a.m. and hits his first campaign stop by 7:30 or 8.
He travels to six or seven counties and tries to end the day in Zionsville, Muncie or Lafayette—all cities where he has family who'll put him up. He tries to avoid hotels.
An early night ends about 9 p.m., but sometimes the 64-year-old is traveling until midnight.
His longest day was in March, when he set his alarm for 3:45 a.m. to be in Avon for a breakfast event at 7. Luckily, he said, there was a good turnout.
All that travel is how Braun hopes to increase his name recognition. He has never run for statewide elected office and has limited political experience.
He's billing himself as the Washington, D.C., outsider, similar to President Donald Trump's strategy when he ran for office in 2016.
"With my private-sector experience and a fruitful three years in the Statehouse, I've learned so much and know how it works in the real world," Braun said. "I know just enough about government, and if you're a quick learner, it's not hard to know how that works."
Braun grew up in Jasper, then left his hometown only briefly to attend Wabash College and Harvard Business School. He has known his wife, Maureen, since grade school, but the two didn't start dating until the end of high school. They got married in 1976 after Braun graduated from Wabash.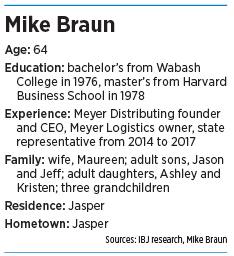 While at Harvard, Braun assumed he would take a job on Wall Street in investment or management consulting, but instead he returned to Jasper.
In May 1981, he started working for what was then Meyer Body Inc., a Haysville-based company partially owned by Braun's dad.
In 1995, Braun acquired the company, and by 1998, he started expanding. He moved Meyer from Haysville to Jasper and the company became known as Meyer Distributing.
From the time Braun joined in 1981 until 1998, Meyer had 15 employees. By 2008, Meyer had grown to 300 employees and had become a regional distributor.
During the Great Recession, when Braun said his competitors were struggling and often bought by Wall Street companies, Meyer perservered.
"When all the smoke cleared in early '09, all my competition was gone," Braun said. "And the phone starts ringing off the hook. … In that rare moment when everybody was trying to survive, there was a huge opportunity unforeseen to grow the company nationally, and I chose to do that."
Since 2008, Meyer Distributing and sister company Meyer Logistics have grown to 850 employees with 65 locations in 35 states.
Braun often tells stories about his company on the campaign trail and regularly talks about the health care plan he created for his employees.
In 2008, Braun met with insurance underwriters and agents to discuss rising costs. After learning what a high profit margin the industry received, Braun created a different option that involved switching to a high-deductible plan that increased employee engagement in health care decisions and allowed them to shop around for the best plan.
The result? Braun says his employees haven't had a health insurance cost increase since.
Although commonplace now, the move was unusual at the time.
"It's not complicated," Braun said. "You gotta have the guts to do it."
Mike Ackerman, president of Jasper-based Ackerman Oil Inc., said Braun is known in the community for tackling problems rather than "kicking the can down the road."
"He is not afraid to embrace new ways of thinking to address opportunities and issues," Ackerman said.
Braun isn't involved much in his company's day-to-day operations, but is still CEO, and expects to remain in that role unless U.S. Senate rules prohibit it.
Jasper Chamber of Commerce Executive Director Nancy Eckerle said Braun and his wife are respected in the community for being smart business leaders.
"They're always looking out for the betterment of what can be best for Jasper," Eckerle said. "They're just a wonderful team, a great family, and Mike is just a very good person."
It wasn't until 2004 that Braun dipped his toe into politics by joining the Greater Jasper School Board, but Eckerle said most people knew Braun had a desire to get involved someday.
"I think people learned to really respect him there because he's really conservative," Eckerle said.
Braun served on the school board until 2014, when he decided to run for state representative.
"I was always kind of an armchair politician just because I was disappointed and frustrated by the output," he said.
By 2012, Braun's kids were grown, and his two sons had started working for Meyer, so it seemed the right time to take the plunge.
During his time at the Statehouse, the Legislature approved a road funding bill that increased Indiana's gas tax 10 cents a gallon—a move Braun's opponents have criticized him for. But Braun stands by the decision.
"When your overpasses are falling in and your main charge as a state representative is to do something about it, I think it was clear," he said.
He's proud of his three years in state government, especially his role in passing a regional infrastructure bill that gives local governments another tool for funding projects.
Braun resigned as state representative in November to focus on his U.S. Senate campaign. "If we don't change the dynamic in D.C.," he said, "we're going to keep floating down the course of calamity as opposed to actually fixing it."•
#Read the profile of Todd Rokita
Please enable JavaScript to view this content.