Republican U.S. Reps. Luke Messer and Todd Rokita and former Republican state lawmaker Mike Braun are fighting to take on Democratic incumbent Joe Donnelly in the fall to become Indiana's next U.S. Senator. IBJ spent time with all three GOP candidates to learn more about their personalities and backgrounds. Next week, IBJ will detail where each candidate stands on key issues facing Congress, like taxes, immigration and education.
"The politics stuff has never been what's driven me. It's always the policy. ... It's not that you're in office that makes you elite. It's how you behave in office and what your record is."
In fall 2013, on a late night amid the federal government shutdown, Indiana's 4th District Rep. Todd Rokita bid on a 1984 Jaguar XJS on Ebay.

And somewhat to his surprise, he won.

"I won it for cheap," he said.

Rokita enjoys working on classics like the XJS as therapy. So he took this particular project to Washington, D.C., and occasionally spent his nights tinkering on it with other congressional leaders.

"I sleep in my office. … A lot of us who do that end up being together at night," Rokita said. "And working on the Jaguar was one of the things we did."

Rokita said the vintage car's complicated electrical system, called Lucas Electrics, challenges his mind and can spark new ways of thinking.

"OK, I can solve Lucas Electrics; now let's get onto Medicaid," he said.

The Republican has restored old vehicles for years. His most recent project is the 1974 Volkswagen Thing—the actual vehicle—that he drove during law school at Indiana University in Indianapolis in the 1990s.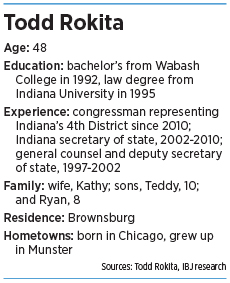 He tracked down the vehicle in Texas through its serial number.

"I'm in the middle of restoring that back to original condition," Rokita said. "This campaign has put a stopper on it."

It's been an intense primary for months, and Rokita's campaign has become known for attacks on the other GOP hopefuls.

But Rokita said he has a softer side that voters don't know—the side that enjoys fixing those vintage cars, flying airplanes and spending time with family, including his 10-year-old son, Teddy, who has a rare neurogenetic disorder called Angelman syndrome.

"He's got a huge heart and that does not always show," said state Sen. Erin Houchin, R-Salem, who has known Rokita nearly 20 years.

Rokita grew up in heavily Democratic northwestern Indiana, but the 48-year-old said his family was never into politics.

It wasn't until he attended Wabash College in the late 1980s and early 1990s that he learned about conservative principles and started getting involved with politics.

After graduating from law school in 1995, Rokita practiced with Epstein & Frisch and volunteered on Republican campaigns. "I lost every campaign I touched as a volunteer," Rokita said.

But once he started working at the Indiana Secretary of State's Office in 1997, he became fascinated with trying to make government run more efficiently. He helped the office transition to new technology that allowed it to operate using the same state budget as it had in the 1980s.

In 2002, with term limits prohibiting Sue Anne Gilroy from seeking re-election, Rokita ran for secretary of state.

After three ballots and five hours of voting at the state GOP convention, he beat then-Vanderburgh County Commissioner Richard Mourdock; Mike Delph, who was an aide to U.S. Rep. Dan Burton at the time; and then-Marion County Coroner John McGoff.

In the general election, Rokita beat then-Bloomington Mayor John Fernandez despite being outspent 2-to-1. At 32 years old, he was the youngest secretary of state in the nation.

Rokita's statewide profile grew. He regularly traveled throughout the state, making it a point to stop in each county at least once a year.

"You can call any county chairman and ask them if they've met Todd Rokita or if he's been involved in the county and they'll say yes," said Jeremy Snelling, who has known Rokita since working on that 2002 campaign. "He puts in the miles."

Rokita also earned a reputation for tough enforcement of securities laws and implementation of what was then Indiana's new voter-identification law, a statute opponents challenged all the way to the U.S. Supreme Court.

The high court upheld the law in 2008. And now, at campaign stops, Rokita likes to tell the story of his defense of the law to demonstrate his willingness to fight.

"Guess what happened afterward? I only got sued four times," Rokita said with a laugh at a recent Harrison County GOP dinner.

After his stint as secretary of state, some political observers predicted Rokita would run for U.S. Sen. Evan Bayh's seat in 2010 or for governor in 2012. Instead, he ran for Indiana's 4th District congressional seat in 2010. The district includes Boone, Clinton, Hendricks, Morgan, Lawrence, Montgomery and Tippecanoe counties.

Rokita lived in Brownsburg at the time and he and his family still do today.

The race wasn't easy. U.S. Rep. Steve Buyer, who served the district for 18 years and wasn't seeking re-election, endorsed state Sen. Brandt Hershman, R-Lafayette. State Sen. Mike Young, R-Indianapolis, also ran, along with 10 other Republicans.

But Rokita won handily and then beat Purdue University biologist David Sanders that fall. He has held the seat ever since and likely would have easily won re-election again this year. But he decided he could better serve Indiana in the U.S. Senate.

"I think there's a higher use for my name ID in this state," Rokita said. "There's a higher use for all this traveling that I've done for a decade in the state."

Even though he's been involved in politics for 16 years, Rokita said he's actually a bad politician. "The politics stuff has never been what's driven me," he said. "It's always been the policy."

And that's why Rokita said he's part of the solution in D.C., not part of the problem.

"It's not that you're in office that makes you elite," he said. "It's how you behave in office and what your record is."•
#Read the profile of Mike Braun