Delta Air Lines Inc. is in line for up to $5.5 million in state economic development incentives when it launches its nonstop flights between Indianapolis and Paris on May 24—but earning the money will require some work.

The airline can collect the full $5.5 million only if it sells enough tickets.

"It's a signal of our confidence in the route," Delta spokesman Morgan Durrant told IBJ. "We're confident that it's going to do well."

Under the terms of the contract between Delta and the Indiana Economic Development Corp., the state will pay the airline up to $3.5 million this year, and up to $2 million in 2019, based on the number of passengers the flight attracts.

It's almost the opposite of the deal IEDC offered United Airlines in 2014 when United launched nonstop Indianapolis-to-San-Francisco flights. Under that arrangement, the state offered United up to $1.5 million to protect the airline from lower-than-expected revenue.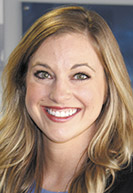 Gras
Neither Durrant nor IEDC spokeswoman Abby Gras would reveal specifics about how the Delta deal came together. But a redacted copy of the incentives contract gives some insight into what it will take for Delta to earn the full amount.

The two-year deal awards Delta $55 for each passenger who boards the flight ($110 per round trip) during the first year, and $35 per passenger boarding ($70 per round trip) the second year.

The structure "aligns the incentives with both parties' goal—to fill the flights and ensure the long-term success of the route," Gras told IBJ in an email.

Delta plans to use a 211-seat Boeing 767-300ER to fly between Indianapolis International Airport and Charles DeGaulle Airport. The aircraft size is specified in the contract.

Based on the 211 seats and assuming a seasonally fluctuating schedule of three to seven flights a week, IBJ calculations show Delta would have to fill about 58 percent of available seats in year one and about 52 percent in year two to earn the full incentive amount.

Those calculations also assume Delta sticks to its planned flight frequency. A contingency allows the airline to eliminate winter flights in the second year of the contract if the flight's winter-season revenue falls below an agreed-upon minimum the first year. (The amount of that minimum was redacted from the publicly available version of the contract.)

According to the U.S. Bureau of Transportation, the average load factor—the proportion of filled seats—for U.S. flights is expected to be 84.5 percent in 2018.

One aviation business expert said Delta wouldn't have agreed to the incentives deal if it didn't think the arrangement would be advantageous.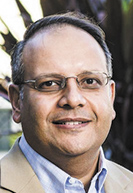 Abdelghany
"I'm sure they have done the math," said Ahmed Abdelghany, professor of operations management at Embry-Riddle Aeronautical University in Daytona Beach, Florida.

Delta already knows how many passengers start their flights in Indianapolis and fly either to Paris or through the city on their way to another destination, Abdelghany said. So Delta can assume that many of those passengers would opt for the nonstop service.

One disadvantage the airline will have to overcome here, he said, is the fact that Indianapolis is not a hub airport.

In other words, he said, "this flight will only depend on local traffic generated from Indianapolis." In contrast, a Delta hub such as at the company's headquarters city of Atlanta can draw passengers whose flights originate in another city. That gives Atlanta a wider market from which to draw customers for any given destination.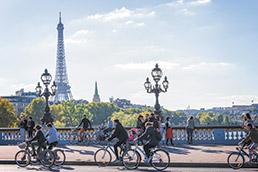 Landing nonstop flights to Paris was a breakthrough for airport officials, who've long sought service to Europe. (Photo courtesy of Delpixel/shutterstock.com)
Similar service

But Delta does have experience launching flights like this.

Over the last decade or so, Delta has beefed up its international flight network—and over the past few years, that's included flights that originate at smaller airports.

"This is sort of the next step in our evolution," Durrant said. "Things have developed such that we can start these flights from cities like Indianapolis."

Offering nonstop flights to Europe from non-hub U.S. airports is a way Delta can distinguish itself, Durrant said. "You look at what our large competitors are doing, and it's not quite this."

Delta established nonstop service between Pittsburgh and Paris in 2009, bolstered by a two-year, $9 million incentive agreement. That service continues on a seasonal basis, this year running from May 24 until Sept. 3.

In May 2016, Delta added nonstop Paris flights at Raleigh/Durham International Airport in North Carolina. Once that flight proved successful, Durrant said, the airline looked at where it might launch similar service. Indianapolis was one of the cities that rose to the top because of its healthy business community, its mix of business and leisure travelers, and the mix of passenger destinations.

Another factor that might help Delta fill its Paris flights: Indianapolis is served by multiple airlines, none of which has an overwhelming market-share dominance.



In 2017, Southwest Airlines had the top market share at Indianapolis International Airport, capturing 32.98 percent of passenger traffic. Delta had the second-largest market share, at 22.34 percent, but was virtually tied with third-place carrier American Airlines, at 22.28 percent. United Airlines, Allegiant Air, Frontier Airline and Alaska Airlines Inc. are among the other carriers serving Indianapolis.

That dynamic, Abdelghany said, might help Delta win customers with its Paris service. If Indianapolis passengers are using another airline to fly to Paris now, they might be persuaded to switch to Delta's nonstop flight.

Full-court press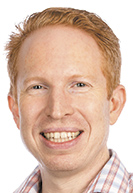 Kaplan
This logic also makes sense to Seth Kaplan, managing partner of the aviation industry publication Airline Weekly.

Indianapolis "is very much up for grabs in terms of corporate travel share among airlines, and sometimes something like the Paris flights—having the only nonstop service to Europe—can help an airline capture more than its natural market share," Kaplan told IBJ in an e-mail.

"I wouldn't be at all shocked to see British Airways or American launch flights to London at some point to take that advantage away from Delta, particularly if they believe Delta's flights look successful and are likely to be around for the long term," he said.

For its part, the airport, along with state and local partners, is doing what it can to promote the flight.

The airport has launched a full social media campaign, and it worked with Delta to assign flight number 500 to the outgoing flight—a subtle nod to the famous Indianapolis auto race. Gov. Eric Holcomb, who will be on a European trade mission in late May, plans to return home on Delta Flight 501 from Paris on May 25.

"It's going to be really important for us to prove the success of Indianapolis-to-Paris," said Marsha Stone, the Indianapolis Airport Authority's senior director of commercial enterprise.

Stone said the airport is also highlighting the flight as part of Delta's larger network. "We're not just promoting Paris. We're promoting the fact that this is a great way to connect to the rest of the world."

From Indianapolis, Stone said, Paris can be a one-stop connection to destinations throughout Europe and Africa.

Though supporting the Paris route is a top priority now, Stone said the airport continues to work on adding additional international flights.

The reality is, she said, landing international service can take years of effort. "We're most definitely working on conversations with other carriers, and not just Europe—Asia, Mexico … but those are very long-term conversations."•