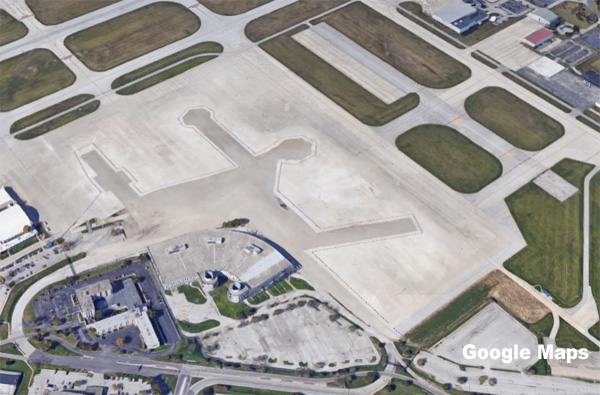 Global tech firm Infosys plans to build at the Indianapolis International Airport former terminal site the kind of expansive, college-campus-like training facility it is known for in India and launch a national training hub here that would attract trainees and visitors from other U.S. cities.
The company's leaders are joining Vice President Mike Pence, Gov. Eric Holcomb and Indianapolis Mayor Joe Hogsett for a 1:15 p.m. announcement Thursday to detail the plans, which include adding 1,000 more jobs than originally projected last year. That brings the company's total planned employment in the Indianapolis area to 3,000.
Infosys wants to create in Indianapolis "an American version of what their corporate culture is in India, which is to have these training centers and campuses," said a source with knowledge of the firm's negotiations with Indiana officials.
The campus will be smaller, however, than some of its locations across the world.
Holcomb, who has developed personal relationships with executives of the India-headquartered outsourcing company, had to convince Infosys officials to build an American version of their training campuses in Indianapolis, rather than in one of the other U.S. cities in which it is planning expansion, the source said.
That happened in a series of meetings between Holcomb, state economic development officials and Infosys executives, some of which occurred during trips to Infosys locations in India made by both Holcomb and state Commerce Secretary Jim Schellinger.
"The governor's office has been aggressively and masterfully spearheading this effort," the source said. State officials "had toured the campuses. They asked: 'What can we do to position Indianapolis and Indiana to be 1A? Let's talk to them about whether they'd be willing to make their first transformative capital investment here.'"
The Infosys campus in Mysore, located in the country's southwestern state of Karnataka, can handle thousands of trainees at one time in its dormitories and is known for offering a luxurious experience. 
There's the giant movie theater in a building resembling Spaceship Earth at Epcot Center in Disney World. There's also a swimming pool; multiple food courts; a recreation center that features a gym, yoga, meditation and an athletic track; and many other amenities.
"Globally, they're known for huge capital investments and having big campuses," according to the source. Thursday's announcement "is going to be saying, 'We can do that in the U.S. and we believe this site presents the opportunity to start making the types of investment here that will be as expansive and immersive.'"
Holcomb got Mayor Joe Hogsett's office involved in the pitch, too, and city officials presented the former airport terminal location as a "unique opportunity to give them the canvas upon which they could do the types of development they have done in India."
The source did not give details on possible incentives, but the announcement is likely to include incentives from both the state and city. Previously, IEDC had already offered Infosys up to $15,250 in conditional tax credits for each job the company creates and up to $500,000 in training grants—which could add up to $31 million.
Infosys first announced in May 2017 that it planned to open a tech and innovation hub in Indianapolis that could lead to the hiring of 2,000 high-skill employees by the end of 2021. The Indiana hub was the first of four Infosys said it would open in the United States that will employ a total of 10,000 workers. Others so far are slated for Rhode Island, North Carolina and Connecticut.
The deal marked the second-largest jobs commitment IEDC had received since the agency was established in 2005. The largest deal was Honda's pledge to create 2,067 jobs when it opened a plant in Greensburg in 2006.
Infosys has already leased 35,000 square feet of space on two floors of OneAmerica Tower where it has about 150 employees. The company said it will add more space or facilities as it ramps up employment.
In August, Infosys announced a five-year partnership with Purdue University to provide classes and training for up to 10,000 potential employees.
Infosys, which employs 200,000 people around the world, said the Indianapolis operations will focus on technologies like artificial intelligence, machine learning, user experience, emerging digital technologies, cloud and big data. Infosys clients include key industries such as financial services, manufacturing, health care, retail and energy.
Please enable JavaScript to view this content.