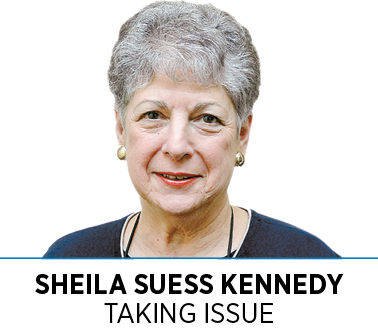 What are the attributes or amenities that make a city "livable"? Ask that question and you get answers like clean air and water, smooth streets(!), good public transit and affordable housing. Public safety is important. But virtually everyone who responds will also include the importance of a city's culture—its museums, libraries and arts.
Indianapolis can claim a thriving arts community—especially the performing arts. Just this spring, both the Phoenix Theatre and The Cabaret moved into improved permanent facilities.
There is also a new, distinctive addition to our local theater scene. Summit Performance aspires to produce "top quality theatre exploring the lives and experiences of women." Its inaugural production, "Silent Sky," will start June 28 at the new Phoenix, which was designed to encourage the development of new performing arts companies.
That describes Summit, which comes as women are claiming an equal place in America's public life. From the women's marches, to #metoo, to the number of women running for public office, America is experiencing what some have dubbed a "third wave" of feminism.
Tumultuous times tend to produce exploratory arts outlets. Art satisfies a need to engage with the changes we are experiencing and make sense of disruption. When done well, the arts provide a way to come to terms with an ever-changing and often-intimidating world; they help us recognize and appreciate the truths and passions of others—and perhaps better understand ourselves.
Until very recently, social structures have ensured that females have very different life experiences than their male peers. Theater is an ideal place to explore those differences. Theatrical performances can remind us all that beliefs about "a woman's place" are increasingly inapplicable to humans whose actual, biologically determined differences from males are pretty superficial.
At some point, Americans will become more comfortable with the reality that women and men are just human beings with different plumbing, and that we should be seen as the individuals we are. Women's voices, after all, are human voices, some weak, some strong, some wise, some not.
The young women who have embarked upon this new effort understand that polemics rarely make for effective theater; they know that preaching isn't art. They also understand Indianapolis; Summit's approach to creating a feminist theater is thus practical. It begins with employing women of diverse backgrounds as the playwrights, theatrical designers, artisans, actors and staff who they hope will create high-quality theater productions centered on social issues of the moment.
They plan to use these productions as springboards to inspire a dialogue about issues through performance talk-backs, guest speakers and town hall discussions. It not only aspires to be a pillar of quality entertainment and a cultural hub, but also to serve as a necessary forum for women's voices.
Such a mission raises nagging questions. Those of us who have lived here most of our lives can attest to the fact that Indianapolis is a far more cosmopolitan city than it used to be. On the other hand, we're Hoosiers—we remain culturally conservative. Whether a feminist theater venture—no matter how "non-preachy" and professional—will be able to generate the financial and community support it needs to survive is an open question.
Are we there yet?•
__________
Kennedy is a professor of law and public policy at the School of Public and Environmental Affairs at IUPUI.
 
Please enable JavaScript to view this content.