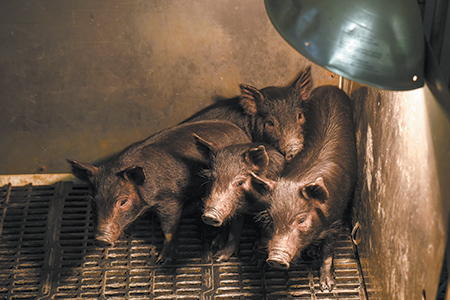 At breakfast time, the miniature pigs at CorVus Biomedical LLC's farm in Crawfordsville get served a special mix loaded with more fat and cholesterol than a dozen All-American Slams at Denny's.
The food looks like brown sugar and smells like fruit punch, making it irresistible to the pigs, who devour it quickly. The goal is to fatten them in just a few months, using an extreme version of the typical Western diet.
"It's like eating a 60-egg omelet every day," said Michael Sturek, the startup's co-founder and chief scientific officer, scratching a pig named Freddie in a stainless steel, indoor pen.
The high-fat diet causes the pigs to develop heart disease, high blood pressure and high blood sugar. That makes them ideal for a wide variety of diabetes and obesity research for different drugs and devices, and even new types of bariatric surgery.
These Ossabaw miniature pigs are prized by medical researchers because their hearts mimic the human heart—and because they have a genetic mutation ideal for research into diabetes and related complications.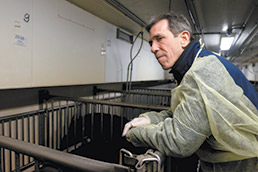 CorVus co-founder Michael Sturek has bred the breed since 2002.
This spring, CorVus built a 12-acre farm in rural Montgomery County, about seven miles northwest of downtown Crawfordsville. The company's goal is to breed and sell Ossabaw pigs to researchers around the country.
The CorVus farm has about 140 pigs, including a breeding colony of 30 adults, making it the largest commercial production colony of Ossabaw pigs in the United States, said Sturek, who is also a professor and chairman of the Indiana University School of Medicine's Department of Cellular and Integrative Physiology, and a professor in Purdue University's Weldon School of Biomedical Engineering.
But the young company wants to grow. The short-term goal is to produce about 250 pigs a year and, over time, set up a contract research organization, doing extensive medical research for outside clients, and ramp up production to 1,000 pigs a year.
"I joke around that we could have a sub-sub-medical specialty called swine interventional cardiology," Sturek said. "We are pretty good at doing angioplasty in pigs and putting in coronary stents and those sorts of things. That's where more revenue is generated."
Animal experts believe Ossabaw pigs were brought to America beginning in the 1500s from the Canary Islands, off the northwestern coast of Africa, by Spanish and Portuguese explorers.
Over the centuries on the islands, the pigs had to adapt to a food cycle that provided little to eat during several months of the year. As a result, they naturally developed a propensity for obesity and prediabetes as a survival mechanism to cope with periods of starvation, Sturek said.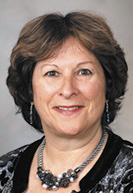 Lerman
Sturek's team believes the coping mechanism and genetic mutation could provide the key to a cure for diabetes and long-term complications, like heart disease.
Broad reach
CorVus' customers include researchers at the Mayo Clinic, University of Illinois, Indiana University, University of Missouri and Texas A&M University.
"The pigs are quite useful," said Dr. Lilach Lerman, who directs the Mayo Clinic's renovascular disease research laboratory. "We've purchased a couple of dozen to research vascular disease on the kidney and heart. We had excellent results and published a paper. I expect we will buy more."
The University of Missouri's Biomedical Science Histopathology Lab recently placed an order for 80 Ossabaw pigs from CorVus to help it study heart failure.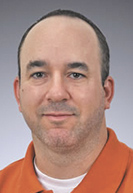 Emter
The pigs' hearts and coronary systems are remarkably similar to those in human beings, "making them an ideal pre-clinical model for cardiovascular disease," said Craig Emter, lab director in the Department of Biomedical Science at the University of Missouri.
Although the farm is new, Sturek and his partners have been studying the Ossabaw pigs for decades. In 2002, they acquired their first batch: 26 from Ossabaw Island, off the coast of Georgia.
But he found it tough to find a place for the pigs in Indianapolis. "Pigs and schools of medicine don't mix too well in terms of a production facility, a breeding colony," he said.
However, he soon discovered that Purdue University, home to a School of Agriculture and an animal sciences department, had acres of land available outside of West Lafayette. So he struck a deal to put the pigs there, equally owned by IU and Purdue.
The small operation bred and sold a few hundred pigs a year, under Sturek's supervision, ringing up about $275,000 a year.
But Sturek was interested in setting up his own shop, under license to Purdue and IU.
Purdue spokeswoman Cynthia Sequin said the university was willing to have Sturek take over the operation under his own company. She noted the pig population has grown to more than 100, nearly quadruple the original 26.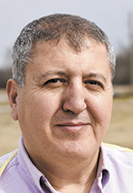 Alloosh
"Sturek is the researcher who originally brought the pigs to Indiana for research and has been working with the pigs for the past 16 years," Sequin said in an email. "Sturek had a desire to found his own company and make the pigs available for other researchers with similar diabetes-type research interests."
Off the ground
Sturek launched CorVus in 2013 with two partners: Dr. Mouhamad Alloosh, an anesthesiologist and associate professor at the IU School of Medicine; and James Byrd, a research technician, also at the medical school.
The three have a combined 70 years of experience working with pigs and published more than 100 papers in medical journals. They talk about pigs with a passion only fellow researchers could probably appreciate.
"The beauty of pigs is that their systems are very similar to humans," Alloosh said. "Their heart rates and blood pressures are the same as humans."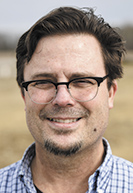 Byrd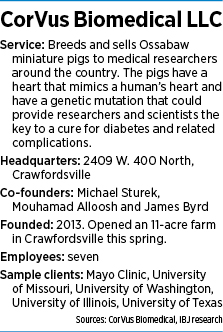 Byrd added: "Valves, implants and stents that are made for humans fit our pigs to a T. We don't have to scale down the devices for a rodent or scale them up for a farm pig. The Ossabaw pigs are the perfect size."
To get their new company off the ground, the partners chipped in about $130,000 in personal funds, and got a bank loan of about $800,000. About a year ago, they found land on a quiet road off Interstate 74, about an hour northwest of downtown Indianapolis, surrounded by farms and a few houses.
Then they got to work, building four modular units to house the pigs. The units resemble double-wide trailers, with electricity, running water and heat. Inside, they contain an assortment of pens that range in size from 24 square feet to about 100 square feet.
The buildings include dozens of pens, a small clinic for examining the pigs, a food prep area, an office, and a garage. Plans call for two additional modular units, and a large building to hold a laboratory and surgical suites, where researchers can perform X-rays and do medical procedures.
Then they began trucking in the pigs from West Lafayette, a few at a time, and got them accustomed to their new home.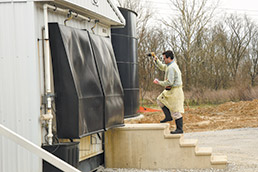 CorVus co-founder James Byrd and other workers wear paper gowns, gloves and plastic boot liners when they go inside the modular units where the pigs live.
Down on the farm
The life of the research pig is a sterile existence, confined to pens and laboratories. The pigs are never permitted outside, Sturek said, to minimize the chance of catching or spreading disease. Visitors are required to dress in paper gowns, lab gloves and plastic boot liners.
During a recent visit, a worker hosed down the pens to clean out the droppings and other debris, which is pumped into a large waste-storage unit.
Although many of the pigs are fed the high-fat diet, others in a control group receive a lean diet, with nutrients and vitamins. The pigs are fed once a day, typically two to three pounds a day, usually midmorning.
Inside the modular units, the pigs squealed and scampered about when visitors entered. They ranged from newborns to adult breeders more than 5 years old.
In one pen, a large sow named Mags rested, while six newborns scampered around in an adjacent pen. Above each pen, on the wall, the company had posted tags with the names of each pig, its gender and the names of its parents.
The sows can produce two litters a year after a gestation period of about four months. Each litter typically produces about four piglets.
At 6 weeks, the newborns are weaned and placed in nearby pens. They are sold as early as 2 months old. The average lifespan of a research pig is less than two years.
Sturek's operation—first at the universities, and now at his company—has provided live pigs or pig tissues to 140 researchers, who use them for a range of studies, from heart disease and obesity to blindness and reproductive problems.
IU, a large end-user of the pigs, has implanted coronary stents in the pigs and conducted CT imaging.
And then, there is the breeding aspect, which requires just the right medical touch, Sturek said.
Would that include turning the lights down low?
"Yes," he said. "And some Barry White music."•
Please enable JavaScript to view this content.