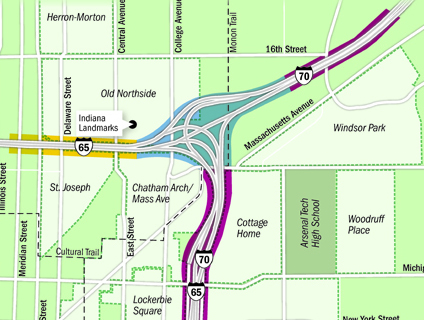 Some residents say a newly released Indiana Department of Transportation traffic analysis doesn't address the issue they're most concerned about—the quality-of-life impact that interstates 65 and 70 have on their downtown neighborhoods.
On Thursday, at a public meeting, INDOT released what it calls a system-level analysis of downtown interstate traffic patterns. The document, which analyzes seven concepts for addressing downtown interstate traffic, grew out of community concerns about INDOT's plan to reconstruct the north-split interchange, where I-65 and I-70 come together on the northeast side of downtown.
The seven concepts range from simply maintaining existing interstate infrastructure to reconstructing the north-split interchange to transforming existing stretches of the interstate into boulevards and/or tunnels.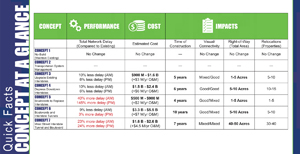 INDOT's analysis of these concepts focuses on things like traffic counts, projected costs and timelines, and how various options would affect traffic during busy drive times. (Click image at right for larger view of the study analysis of the concepts.)
But that doesn't go far enough, said Marsh Davis, president of not-for-profit preservation group Indiana Landmarks. "This is more than a transportation issue," Davis said.
Indiana Landmarks, whose Old Northside headquarters is within shouting distance of I-65, is part of the grassroots coalition that had advocated for alternatives to INDOT's proposal from last year for north-split reconstruction.
Davis doesn't dispute INDOT's claim that the north split is outdated and needs to be fixed to address urgent structural and safety issues. But he said he wants to see more study of alternative options.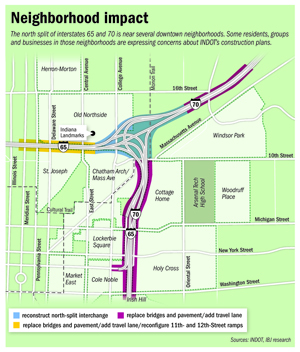 INDOT is still working to determine exactly how the north-split project will look, but in announcing the project last fall the agency described preliminary plans to reconstruct the interchange, as well as adding lanes of traffic to adjacent stretches, widening some bridges and replacing others. (Click on image at right for larger view of INDOT's original proposal.)
Of the seven concepts reviewed in INDOT's study, Davis said he most favors Concept 1, which calls for making needed repairs to the interchange as it currently exists. This, he said, would buy time while a wider study of options could be done.
"I really believe there are so many great thinkers in this city who, if brought together, would offer some fresh insight," Davis told IBJ after Thursday's public meeting.
Davis was among several attendees who told INDOT they want a study that goes beyond facts and figures to include things such as quality-of-life and economic concerns.
"All you're looking at strictly are numbers," one attendee told INDOT.
"I don't have an answer for you," INDOT spokesman Andy Dietrick responded to the man, adding that quality-of-life factors can be difficult to quantify for study.
As part of an environmental analysis that will inform final design features, INDOT is considering a variety of impacts, Dietrick said. The analysis will look at possible impacts to historical and cultural resources and environmental impacts, among others.
However, Dietrick said, INDOT's analysis does not delve into quality-of-life or economic impacts—it's not something that's part of INDOT's process.
Paul Knapp, CEO of the downtown firm Young & Laramore Advertising, said he sees a disconnect between what citizens want and INDOT's focus as an agency.
Knapp is part of the Rethink 65/70 organization, which formed several months ago to advocate for alternatives to INDOT's proposed plan.
"It's insane not to be addressing the economic impact," Knapp told IBJ. "We have an opportunity to make a tremendous positive move."
The seven traffic concepts in INDOT's study are "an interesting exercise but are mainly beside the point," Knapp said. "The main issue is, what is INDOT going to do with the north split?"
INDOT has said it expects north-split construction to begin in 2020. "In the time frame we have, it needs to be reconstructed to fit the infrastructure that's there," Dietrick told the group.
Please enable JavaScript to view this content.