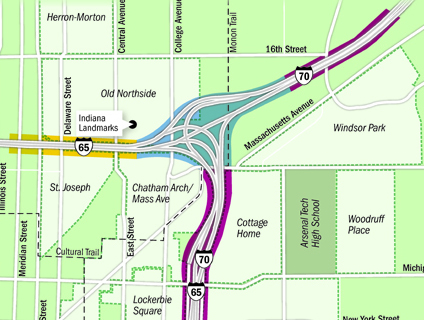 The Indiana Department of Transportation says it has not yet decided among possible options for its Interstate 65/70 north-split construction project in downtown Indianapolis, but a study released Thursday seems to all but rule out some of the seven options that received scrutiny.
The study, which INDOT calls a system-level analysis, looks at downtown traffic patterns and seven different ideas for addressing them, ranging from maintaining existing interstate infrastructure to reconstructing the north-split interchange to transforming existing stretches of the interstate into boulevards and/or tunnels.
INDOT says the nearly 50-year-old north-split interchange south of 16th Street and east of College Avenue is at the end of its useful life. For safety and structural reasons, work on the interchange needs to begin before 2021. INDOT's budget for the north-split project is $250 million to $300 million.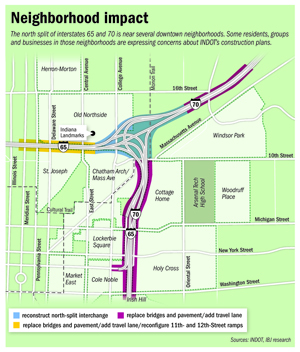 In September, INDOT publicly announced its preliminary plans, which included reconstructing the north split but also adding lanes of traffic, widening some bridges and replacing others. In January, after word of INDOT's plans began to spread, a grass-roots coalition of residents and organizations voiced concerns and asked INDOT to consider alternative designs. (Click image at right for larger view of INDOT's original proposal.)
This new study is a result of that community input, INDOT says. 
At a media briefing Thursday morning to preview the study, an INDOT contractor involved with the project would not directly answer a reporter's question about which options are feasible enough for future consideration.
"I think you can judge that just as well as I can," said John Myers, the transportation practice planning director at HNTB, the engineering firm contracting with INDOT on the project.
Myers characterized the study as a "fact-finding study" that does not make specific recommendations. 
But according to the system-level analysis, several of the seven concepts under consideration would either take many years to implement, cost billions of dollars to implement and/or worsen traffic congestion.
As an example: One option, based on suggestions from local residents, includes replacing portions of downtown interstates with low-speed boulevards featuring traffic signals and landscaping. The study indicates this option would be the least costly to build, at an estimated cost of $500 million to $900 million. 
But, Myers said, the study also shows that this option would significantly increase traffic delays. Morning rush-hour delays would increase 40 percent over existing delay times, he said, and afternoon rush-hour delays would increase 145 percent.
Other options include building some combination of boulevards and tunnels. The boulevards would carry local traffic, with the tunnels designed for through traffic.
Those concepts, Myers said, could cost between $1.6 billion and $5.5 billion to build and take up to 10 years. They would also require extensive engineering work to determine project feasibility—for instance, the depth of the water table in the target areas.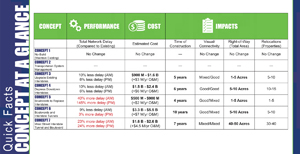 The full study will be posted at 2 p.m. at www.northsplit.com. Project representatives will also present study highlights at a Thursday afternoon meeting with the north split project's community advisory committee. (Click image at right for larger view of a summary of the study's findings.)
The committee includes dozens of local government entities, major downtown employers, community groups, downtown neighborhood groups and others with an interest in the project.
A separate meeting which is open to the general public is scheduled for May 23. Details of that meeting's time and location are expected to be posted Thursday afternoon on the www.northsplit.com website.
Here is a summary of the options that were studied:
— Concept 1: Maintain existing downtown interstate infrastructure with no upgrades. Cost of maintaining the I-65/I-70 "inner loop" is estimated at $437 million over the next 30 years.
— Concept 2: Manage existing downtown interstate traffic either by diverting vehicles to I-465, diverting travelers to public transit or converting some portions of downtown interstates to toll roads. This would require no capital expenditures. INDOT's study shows, though, that only 10 percent of downtown interstate traffic is through traffic. The other 90 percent of vehicles are traveling to or near downtown.
— Concept 3: Upgrade existing interstates. This option includes reconstructing the north split along with other work later on. Total construction cost estimated at $900 million to $1.6 billion.
— Concept 4: Depressed interstate. This would reconstruct downtown portions of I-65 and I-70 below ground level, with most cross streets passing over the interstate. Construction cost estimated at $1.5 billion to $2.4 billion.
— Concept 5: Replace I-65 and I-70 with six-lane low-speed boulevards on all three legs of the inner I-65/I-70 loop. Estimated construction cost: $500 million to $900 million.
— Concept 6: Boulevard/tunnel combination. This is similar to concept 5, with the addition of tunnels underneath the boulevards. Tunnels would be designed for through-traffic, while the boulevards would be for local traffic. Estimated construction cost: $3.3 billion to $5.5 billion.
— Concept 7: New interstate link. This concept involves building a new interstate link on the west side of downtown to link I-65 at the MLK Boulevard/West Street interchange with I-70 at the West Street interchange. This option would also involve a tunnel. Estimated construction cost is $1.6 billion to $2.6 billion.
Please enable JavaScript to view this content.