Note: IBJ will continuously update this story with the latest developments throughout primary election night.
9:50 p.m.
The email campaign has begun. Republican Mike Braun just sent out an email saying "time to go Joe." And you thought the GOP primary was nasty. Wait until November!
9:36 p.m.
Steve Braun has conceded. With 87 percent of precincts reporting, Republican Jim Baird has 36 percent of the vote and Steve Braun, Mike's brother, has 30 percent of the vote in the GOP primary for the 4th Congressional District. Tobi Beck easily won the Democrat race for 4th District Congressional District. Beck won more than 34 percent of the vote in a six-horse race.
9:28 p.m.
In perhaps a bit of a surprise, the Braun family looks like it could go one up, one down tonight. With 75 percent of the precincts reporting, Jim Baird is leading Steve Braun in the 4th District Congressional race.
9:20 p.m.
Braun clearly seeking support from Rokita and Messer supporters. Braun: "When it comes to Luke Messer and Todd Rokita, it was a difficult decision for many because we were all good conservatives. It can get intense, it can get harsh. I hope they will join me just like I would with them. Our common goal all along was to retire Joe Donnelly."
9:18 p.m.
Braun said he'll take up the fight to repeal and replace "Obama Care." He points out Donnelly voted for Obama Care.
9:15 p.m.
Braun: Joe Donnelly's "record is going to be fleshed out. … Joe Donnelly voted against tax reform …" Braun points out he and his wife are small business owners … "I know Joe Donnelly will come after me and I can't wait …"
9:13 p.m.
Braun states in his victory speech that "our goal all along was to retire Joe Donnelly."
9:10 p.m.
Meanwhile, it didn't take long for the gloves to come off in the Donnelly camp. Democratic Senatorial Campaign Committee spokesman David Bergstein issued the following statement on the results of tonight's Indiana Republican Senate primary: "Representative Mike Braun emerges tonight badly damaged from one of the most divisive primaries in the country, where the candidates focused more on petty political attacks than on Hoosiers. With no more childish primary antics to hide behind, Rep. Braun will be forced to run on his record of self-dealing and using the power of the Statehouse to enrich himself – like when he carved out a tax break for himself while repeatedly raising taxes on Hoosiers – and voters will hold him accountable in November."
9:08 p.m.
Mike Braun takes stage to give victory speech.
9:05 p.m.
The Rockita party has cleared out. And it cleared out quickly after Rokita's concession speech, which ended shortly after 8:45 p.m. Rokita took the stage at his campaign party to applause from supporters shortly before 8:40 pm. He thanked his staff, volunteers and family for their hard work on the campaign and during his time in office. "Thank you for putting your faith and trust in us," Rokita said. "The honor and responsibility will never be forgotten." Rokita congratulated Mike Braun on winning the primary race, but encouraged him to fight for the seat in the fall race against Joe Donnelly, rather than trying to buy the seat—implying that Braun bought the primary race. Ouch! We can hear Republican leaders now: "Can't we all just get along." Rockita concluded: "The result tonight was different than we had hoped but I will continue to fight for you," Rokita said. 
9 p.m.
We know one thing for certain. Mike Braun has lots of money. Incumbent Joe Donnelly has a sizable war chest and didn't have to spend much in the primary. So I know most folks are a little tired of political advertising. So how soon do you think we start seeing Braun and Donnelly launch ads for the general election.
8:56 p.m.
Some Republicans saying that Mike Braun's victory is a vote of confidence for President Donald Trump and shows that Americans (or at least Hoosiers) remain tired of politics as usual and want to see outsiders taking control of political leadership roles.
8:50 p.m.
Meanwhile, it's a different scene at the Braun HQ. Staffers doing mic check, readying for victory speech. Lots of broad smiles as they begin to look forward to the November general election against Democrat incumbent Joe Donnelly.
8:49 p.m.
Messer: "Of course we're disappointed by the result tonight, but I wouldn't take any of it back."
8:47 p.m.
Luke Messer is now telling his supporters "do not be discouraged" in his concession speech on the north side. Messer said it has "been a wild ride over the last 20 years" gives shout out to his wife for support.
8:45 p.m.
Todd Rokita's concession speech plays on TVs at Braun's victory party while supporters wait for him to take the state.
8:44 p.m.
Caleb Bowlin of Delphi traveled to Whitestown for Mike Braun's campaign party after staying in touch with the team throughout the race. He voted for Braun because he's a "Washington outsider just like Trump."
8:42 p.m.
Rokita has entered his campaign HQ in Speedway, speech in hand. He is now giving his concession speech to a group of forlorn looking supporters.
8:41 p.m.
Indiana Republican Party chair Kyle Hupfer is expected to introduce Mike Braun tonight. That is expected within minutes, say Braun's campaign officials.
8:40 p.m.
Mike Braun has not surprisingly dominated in much of southern Indiana, but also has inked convincing victories in the northeast part of the state. He is almost 12 percentage points ahead of Messer and Rokita.
8:35 p.m.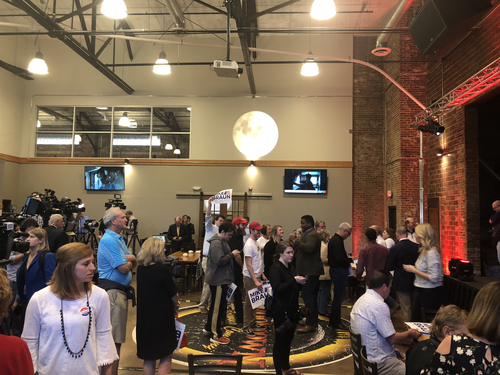 Mike Braun supporters are on their feet as they wait for what they assume will be a victory speech. At Todd Rokita's election night party, supporters are waiting for a concession speech.
8:30 p.m.
A representative of Todd Rokita said Rokita will speak to the gathering at his campaign HQ in Speedway, but there's no word on when that will be.
8:27 p.m.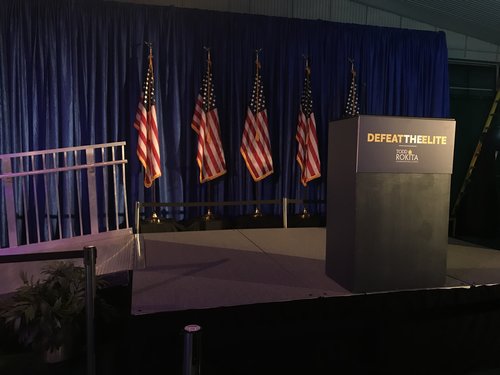 There is still no word from Rokita's team on when (or if) we will hear from him or anyone else tonight.
8:25 p.m.
State Senator Mike Delph has a commanding lead over primary challenger Corrie Meyer in what has been a competitive contest in the Indianapolis suburbs. With 39 percent of the precincts reporting, Delph has 57 percent of the votes to Meyer's 43 percent.
8:22 p.m.
The silence is deafening at the Rokita HQ. There is still no word from Rokita's team on when (or if) we will hear from him or anyone else tonight.
8:20 p.m.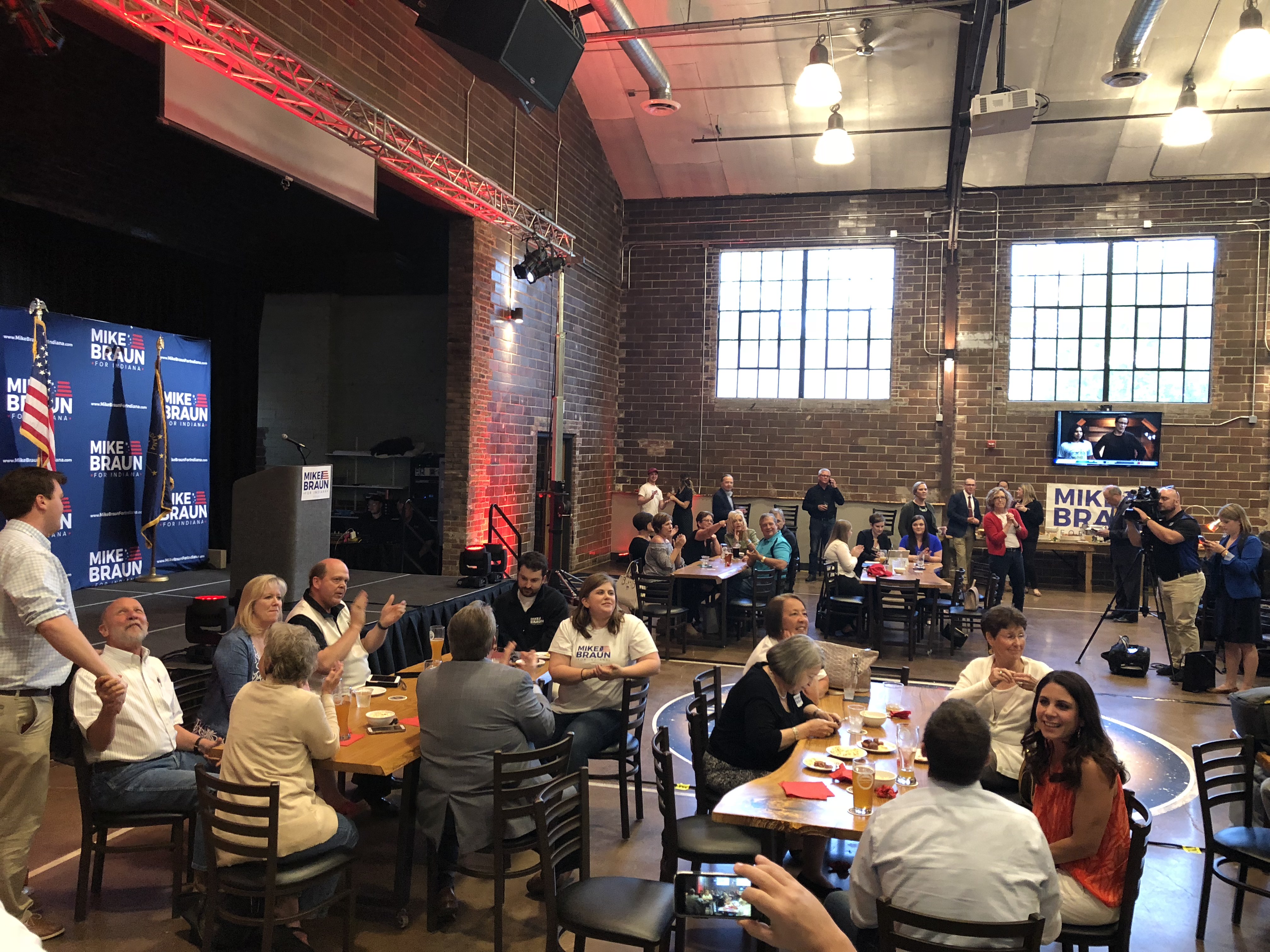 Fox calls Mike Braun the victor over Messer and Rokita and cheers erupt!
8:15 p.m.
Interestingly, despite several national news outlets calling Mike Braun victorious in the GOP U.S. Senate primary, no one at the Braun HQ is doing much celebrating. Our crack reporter on the scene, Samm Quinn, said Braun supporters are merely sitting stoically. 
8:12 p.m.
CNN is projecting that Republican Mike Braun has beat Luke Messer and Todd Rokita in the race to see who will face Democrat Joe Donnelly. 
8:10 p.m.
Two Republicans are locked in what appears to be a competitive race to become the U.S. House nominee for District 4. With 20 percent of the precincts reporting, Jim Baird has 35.4 percent of the vote to Steve Braun's 32.3 percent. Braun is the former commissioner of the Department of Workforce Development. And Baird has served in the Indiana House since 2010. Diego Morales is coming in third with 12.6 percent of the vote. 
8:05 p.m.
Hold the phone, people! Several national news outlets are preparing to call Mike Braun the winner over Luke Messer and Todd Rokita in the GOP primary for the U.S. Senate.
8 p.m.
Liz Watson has secured the Democratic nomination in the 9th Congressional District, the AP reports. Watson defeated Dan Canon and Rob Chatlos and will take on incumbent Republican Rep. Trey Hollingsworth, who easily won the GOP primary. This one could get ugly in November, Watson has already this spring taken a couple shots at Hollingsworth, who is completing his freshman term.
7:53 p.m.
The National Republican Congressional Committee is stepping on the scale to weigh in.  "The NRCC congratulates Greg Pence on receiving the Republican nomination for Indiana's 6th Congressional District. Hoosiers can rest assured they will have a true advocate with real world business experience fighting for them in Congress. We are looking forward to seeing him elected to Congress in November," said Maddie Anderson, NRCC spokeswoman. Pence will face one of five people running in the Democratic primary. Stay tuned for results on the Democrat side.
7:50 p.m.
Todd Rokita's party in Speedway still hasn't filled up. Lots of name tags left to be claimed. But there is a VIP party, so it's possible most of the guests are there. No cheers or tears yet!
7:40 p.m.
Yes, it's early, but so far, the loyalists in the Todd Rokita and Luke Messer camps don't have much to smile about. With 16 percent of the precincts reporting, Mike Braun has nearly 42 percent of the vote. Messer and Rokita have about 29 percent each. But I will say, Messer is building some steam in the eastern part of the state. Hold on, Hoosiers, this one isn't quite over yet.
7:33 p.m.
Holy cow, folks, we have a winner! No, not in the GOP U.S. Senate race. The brother of Vice President Mike Pence capitalized on his famous name and backing from other top Republicans to claim a victory for an Indiana congressional primary against an entrepreneur who mostly self-funded his campaign. 
7:28 p.m.
Hold the phone, folks. No, there isn't anyone declaring victory yet, but the first "Make America Great Again" hat has appeared. In fact, a couple have appeared at Mike Braun's gathering in Whitestown. And the Braun folks seem to be feeling confident, with one saying Mr. Braun will likely address supporters 30 minutes after "someone calls this thing." I don't know about you, but that sounds like bravado to me.
7:27 p.m.
State Sen. Erin Houchin briefly welcomed guests at Todd Rokita's gathering in Speedway and tells guests that election results will be streamed on the main screen at the Brickyard Crossing Green Building.
7:25 p.m.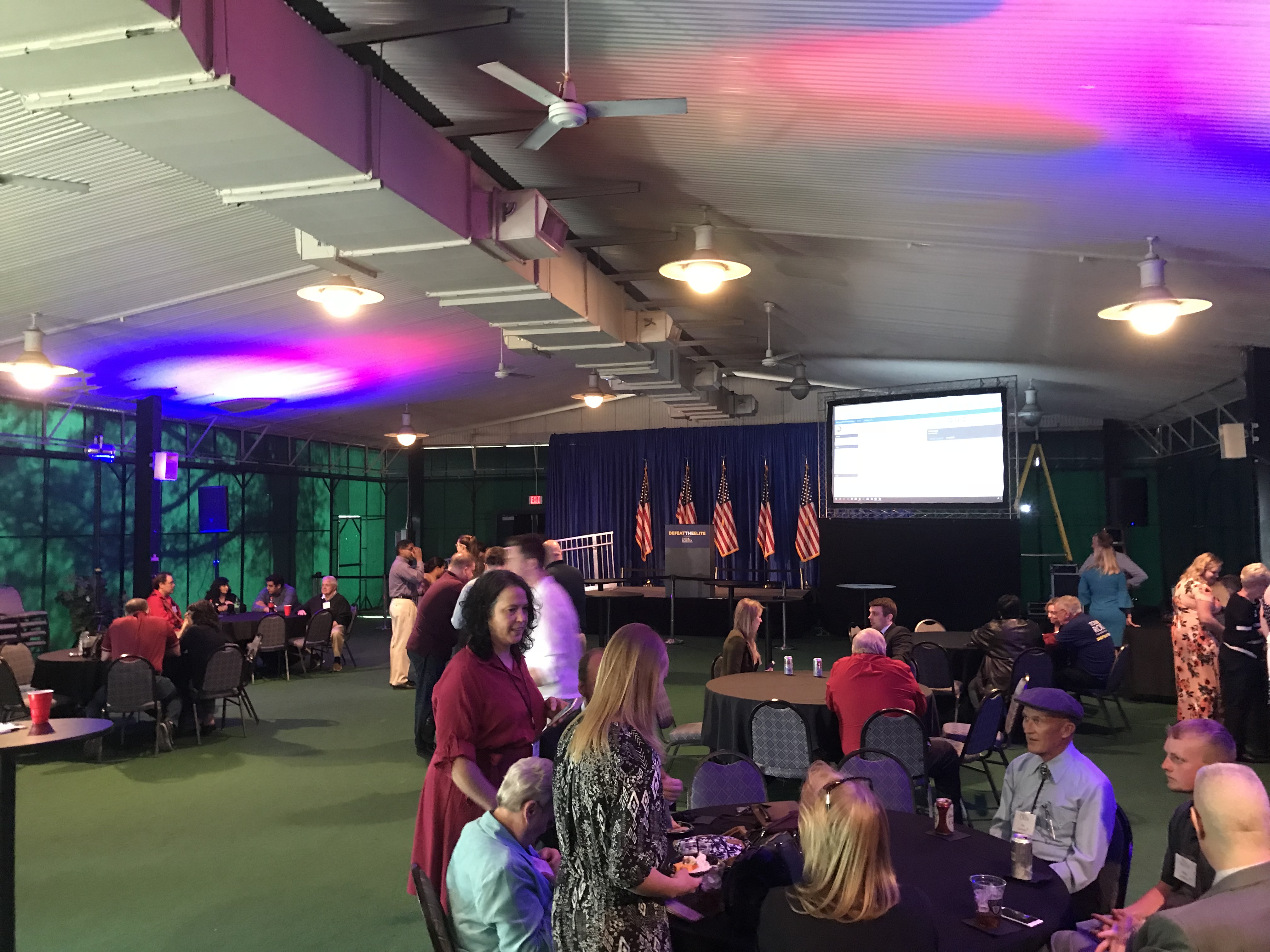 A little after 7 p.m., there is a small crowd of supporters at Todd Rokita's party in Speedway. "Shout" is being played on the speakers, but no one is dancing.
7:15 p.m. 
An interesting trend … the precincts that Messer is winning, Braun is second. The precincts where Rokita is winning Braun is second. Braun also has a good number of precincts where he is winning. The Jasper native is especially strong down south. In Dubois County, for example, Braun has nearly 86 percent of the vote of the precincts reporting there. All those trends combined might give Messer and Rokita reason to worry. Yes, we know, it's awfully early.  
6:55 p.m.
Getting a tiny bit more meat on the bones in the Republican U.S. Senate race. With 4 percent of the precincts reporting, Mike Braun has 43.1 percent, Todd Rokita has 29.4 percent and Luke Messer has 27.5 percent. It's still a long way until celebration time for any one candidate.
6:45 p.m.
With 17 of more than 5,300 precincts reporting, the Associated Press is reporting that Republican Mike Braun is out to an early lead in Indiana's U.S. Senate seat race on the Republican side. Buckle up, folks, it's going to be a long night. This is forecasted to be a tight race, so nothing is settled yet.
6:25 p.m.
Sen. Joe Donnelly, the Democrat incumbent, has declared victory less than half an hour after the polls closed. Of course, he ran unopposed. 
Joe for Indiana Campaign Manager Peter Hanscom said: "Hoosiers in every corner of the state showed today that they're fired up to keep Joe Donnelly in the Senate. It's clear they want a champion for working families in the Senate – one who'll work hard and reach across the aisle to protect their access to affordable health care, defend Medicare and Social Security, and keep good-paying jobs here in Indiana. After having 41 of his legislative proposals signed into law – including 19 during the Trump Administration alone – Joe's the only candidate in the race with a record of delivering on the issues that matter to Hoosiers."
—
6 p.m.
Primary Election Day has come to a close in most of the state, as polls closed at 6 p.m. in all but the northwest and southwest parts of Indiana.
The top race on the ballot is for U.S. Senate. On the Republican side, voters had to choose between three candidates—sitting congressmen Todd Rokita and Luke Messer and former state lawmaker Mike Braun. They're competing for a chance to unseat Democratic Sen. Joe Donnelly.
Republican voters also had contested races for the seats Rokita and Messer are vacating—the 4th and 6th Districts, respectively. 
Donnelly was unopposed in the Democratic primary for Senate, but Democratic voters saw contests in all nine congressional races. 
Half of Indiana's Senate seats and all of the Indiana House seats were also the ballot, along with several county offices, judge positions, prosecutor and some township offices. 
Polls in 12 northwestern and southwestern counties on Central time will remain open an hour later.
Please enable JavaScript to view this content.