"Metastatic breast cancer is relentless," says a woman with a determined expression, looking straight into the camera. "But I'm relentless too."

"MBC doesn't take a day off. And neither will I," another woman says.

Metastatic breast cancer—also known as stage 4 breast cancer—is a tough, crippling disease that claims 40,000 lives a year and has no cure. Nearly three-quarters of all women inflicted with the disease die within five years of being diagnosed.

But a new, 90-second television spot for Eli Lilly and Co.'s latest cancer drug, Verzenio, is pushing a decidedly positive message.

The commercial, which first hit the airwaves on April 15, shows women in their 50s and 60s looking resolute and indomitable, surrounded by smiling friends and family.

It's part of a marketing campaign called "Relentless" and is meant to give voice to metastatic breast cancer patients, and celebrate their strong spirits.

For Lilly, the campaign is a milestone in drug marketing. It is the first time the company has launched an advertising campaign directly to consumers for a cancer drug, even though it has been using television for decades to pitch medicines for diabetes, erectile dysfunction, depression, psoriasis and other ailments.

But the company is getting blowback from critics who say the Verzenio commercial might be too positive and even misleading.

In the ad, upbeat piano music plays in the background as a series of poignant scenes unfold: a mom watching a young daughter on stage at a dance performance, two women baking pies in the kitchen, a family blowing soap bubbles on the patio, and a mom sipping hot chocolate around the fireplace with her daughter.

The scenes show lots of hugs and smiles, mixed in with a few wistful looks. No one is seen in a hospital bed or a wheelchair or strapped to oxygen or an IV stand.

Verzenio, the announcer says, "is proven to help women have significantly more time" without disease progression, when taken along with another drug called an aromatase inhibitor. (Aromatase inhibitors are an older class of drugs used in the treatment of breast cancer in postmenopausal women.) The announcer says that more than half of women "saw their tumor shrink."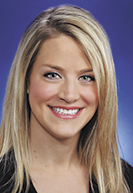 Meadows
Lilly says the commercial is meant to show strong-minded, tenacious women coping with a tough disease. The Indianapolis-based drugmaker spent months talking to hundreds of women living with metastatic breast cancer—a form of cancer that spreads to various parts of the body, including the bone, lungs, lymph nodes, liver and brain.

"It struck us, as we started speaking with this community, how strong and how independent and how relentless this group of women were," said Amy Meadows, senior manager for Lilly's U.S. oncology consumer marketing. "And how motivated they were to learn more about treatment options when facing metastatic breast cancer."

Scrutinizing claims

But Lilly's cancer-drug commercial also is ruffling the feathers of some cancer patients, researchers and consumer advocates. They say the TV spot, with its pleasant music and claims of "significantly more time," implies that the drug can help patients live longer.

Small print on the screen says that Verzenio plus an aromatase inhibitor "delayed progression" of tumors for a median of 28.2 months compared to 14.8 months for the aromatase inhibitor alone.

But the commercial does not say whether the tumors ever grew back or whether the patients eventually got better.

In fact, Verzenio has not been shown to help women live longer, only to shrink tumors in some patients.

At the bottom of the screen, in small type, is Lilly's acknowledgement that Verzenio hasn't been proven to help patients live longer: "Clinical trials are ongoing to determine if there is an overall survival benefit."

Some researchers say because the drug has not been proven to help patients live longer, the commercial could be misleading. Some viewers will hear the ad say the drug can shrink tumors and provide "significantly more time without disease progression" and might jump to the wrong conclusion.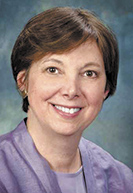 Zuckerman
"Most patients would think that means they would live longer or feel better with the time they have left, but that isn't what it means," said Diana Zuckerman, an epidemiologist and president of the National Center for Health Research, a nonpartisan health think tank in Washington D.C. "Tumors often shrink and then grow back larger than before."

She added that metastatic breast cancer can be stopped momentarily by treatments, including Verzenio. "Yet the patient doesn't live any longer," she said.

Public Citizen, a consumer-advocacy group based in Washington D.C. founded by Ralph Nader, also finds fault. It said Lilly's ad presents an "overwhelmingly positive" message, despite questionable survival benefits. The positive images, the group says, downplay the drug's side effects that include serious liver problems, blood clots and low white-blood cell count that could lead to infection or death.
"We see patients (in the commercial) who are living normal, happy lives, presumably because they've had successful treatment with the drug," said Dr. Michael Carome, an internal medicine physician and director of the organization's health research group. "It's very typical of how drug companies promote their product. They paint their drugs in the most favorable light to consumers."

Some cancer patients also fault the commercial for its upbeat mood and scenes of patients baking pies and blowing bubbles.

Katie Evans Davidson, 33, of Toronto, who was diagnosed with metastatic breast cancer two years ago—just days before her wedding—said much of her life these days is spent in a near-endless series of trips to hospitals and clinics for scans, urine tests, echocardiograms, blood draws and intravenous drips. She is also stuck in bed for days at a time with a deteriorating spine and a fractured hip. None of those physical hardships are shown in Lilly's commercial, she said.

"What we see is people making memories, spending wonderfully smiley time with family and enjoying their day to day," Davidson said. "I can tell you that is not necessarily the average experience."

But another patient, Kelly Shanahan, 57, of South Lake Tahoe, California, who was diagnosed as metastatic breast cancer four years ago, said the Lilly commercial rings true for her. Shanahan, a retired obstetrician-gynecologist, said she generally dislikes drug advertising, but said Lilly's "Relentless" commercial made her cry.

"I think it reflects what we metastatic breast cancer patients go through," said Shanahan, who uses the handle@stage4kelly on her Twitter account. "The wistful looks were perfect. The joy we feel in experiencing the little moments in life. And we are relentless."

She added the commercial has been a topic of conversation in her closed Facebook group. "The majority like this commercial," she said. "Lilly got it right."
Breast Cancer Action, an independent advocacy organization based in San Francisco, said Lilly's commercial was filled with troubling omissions. "While boasting 'significantly more time' without tumor progression, the ad fails completely to say exactly how much time that is and if that means patients will actually live longer," said Karuna Jaggar, the group's executive director. "Nor does the ad, which gives a laundry-list of side effects, provide any information on the frequency and severity of those side effects. It's also striking that at a time when medical debt is the leading cause of bankruptcy, there is no mention of (the drug's) cost."

Several other national breast-cancer advocacy organizations—including Susan G. Komen and the National Breast Cancer Coalition—did not return calls and emails for comment.

Hitting the airwaves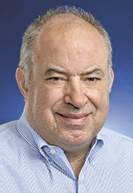 Koustenis
So why did Lilly decide to start pitching cancer drugs on TV? A few reasons. First, unlike all of Lilly's previous cancer drugs, which were administered intravenously in a hospital or clinic, Verzenio is a tablet that patients take at home, twice a day.

"This is Lilly's first oral cancer drug," said Andrew Koustenis, a senior research adviser for Lilly's medical affairs team. "When you're giving drugs on an oral basis, the patient needs to be even more involved in terms of adhering to the medication."

Secondly, Lilly is competing against two other drugmakers that beat it in launching metastatic breast cancer drugs in this class.

Pfizer Inc. launched its drug, called Ibrance, in 2015, and Novartis launched its drug, Kisqali, in March 2017. Lilly didn't get federal approval to launch its drug until last September, meaning it is now trying to catch up. The other drugmakers also beat Lilly to the punch in launching direct-to-consumer marketing campaigns.

"You see momentum in the industry right now," Meadows said. "So this was a timing situation and we are moving forward."

Pfizer's commercial features a middle-aged woman named Julie, who we see waking up one morning to the sounds of birds chirping. She slides out of bed, pets her dog and gets the newspaper from the front porch. After breakfast with her husband, she heads to work as a teacher, looking fit and healthy, smiling the whole time.

"It's an ordinary day for Julie," say words on the screen. "That's what she loves about it."

Novartis' video, meanwhile, is the bluntest of the group. It shows a sequence of women looking dazed and confused.

"I'm scared," one woman says. Another woman, overcome with emotion, wipes away tears. "When you find out you have metastatic breast cancer, you struggle."

All three drugs belong to the same class—called CDK inhibitors—which work by blocking overactive enzymes that would otherwise allow cancer cells to proliferate. The drugs are prescribed for women with a type of breast cancer called HR positive/HER2 negative, where the cancer has spread to other parts of the body.

Lilly tested the drug in numerous clinical trials but has not done head-to-head studies against the competing new drugs by Pfizer or Novartis, Koustenis said.

Verzenio's main selling point is that it is the only one of the three CDK inhibitors on the market that is approved for daily use—twice a day, every day—to try to fight the tumors. The Pfizer and Novartis drugs are approved only for intermittent use, as needed.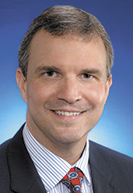 Schelman
"These are patients who have active cancer, metastatic cancer," said Dr. William R. Schelman, senior director of Lilly's global medical affairs for Verzenio. "So in order to maximize the treatment effect, which we define as shrinking the patient's tumor and improving outcomes—and to continue our ability to target cancer cells wherever they appear in the body—the thought was we could optimize treatment by dosing continuously."

Lilly's commercial plays up that fact several times.

"I treat my MBC with new, everyday Verzenio, the only one of its kind that can be taken every day," one woman announces to the camera, moments before she is shown sitting on a piano bench, laughing as a man next to her plays and sings for her, and then she holds him closely.

Another selling point is that Verzenio can be given as a standalone treatment to patients, unlike Ibrance or Kisqali.

In September, the Food and Drug Administration approved for use alone and in combination with fulvestrant, an injectable drug, in women whose disease has progressed after hormone therapy. In February, the FDA approved Verzenio for use alongside an aromatase inhibitor in previously untreated, postmenopausal women with HR-positive, HER2-negative breast cancer.

"This is an area of high, unmet medical need, so having choices is good for physicians," Schelman said.

High hopes

Even though Verzenio is the last drug of its kind out of the gate, Wall Street seems to have confidence it will catch on. Analysts expect the Lilly drug will reach $1.23 billion in annual sales by 2021, according to predictions compiled by Bloomberg.

The drug rang up sales of $21 million in the fourth quarter of last year, following its launch, and $29.7 million in the first quarter of 2018.

"The feedback from physicians is good," Sue Mahony, president of Lilly Oncology, told analysts at a Cowen & Co. health care conference in Boston in March. "It's strong. Our focus clearly is on making sure that patients and physicians get a good experience as they start using this drug and we are hearing that that is happening."

Like most drug commercials, Verzenio features paid actors who are hired in casting calls. Lilly said one of the women who was hired for the commercial actually has metastatic breast cancer, a fact the company discovered after she was cast for the spot.

The drug costs $10,948 per month, but with a savings card program, eligible insured patients can get the first three months of therapy free, then pay no more than $10 per month for up to 12 months.•