Should the state impose a commuter tax to benefit places where people work but don't live?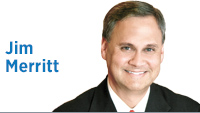 June marks the 160th anniversary of Abraham Lincoln's nomination to run for Senate against Stephen Douglas, kicked off with the famous biblical quote, "A house divided against itself cannot stand."
While melodramatic, I can't think of a better way to frame the challenges facing Indianapolis. IBJ's Hayleigh Colombo recently wrote about the stark differences in affluence and access to economic opportunity in Indianapolis. I see similar divisions in District 31, spanning Hamilton and Marion counties, including neighborhoods with poverty rates less than 5 percent and neighborhoods where nearly half of residents live below that line.
Indianapolis has one of the fastest-growing tech sectors and one of the fastest-growing poverty rates. Companies like Infosys plan to hire thousands, while our largest school district—filled with our future workforce—struggles to stay solvent.
Should taxpayers in Carmel or Greenwood care about the plight of places like Martindale-Brightwood? Is the future of a startup in Fishers linked to a potentially vacant brownfield in Marion County? Should a commuter from Zionsville be invested in urban neighborhoods that intersect his daily route to work?
The answer is "yes," based not solely on ethics, but also economics. Metro regions are winning the competition for talent and investment. According to the Brookings Institution, the largest hundred metros account for virtually all the nation's tech-job gains and business starts over the last decade.
Employers evaluate us as a region. Look at Amazon's HQ2 requirements as a proxy for what high-growth companies value—metropolitan areas with populations over 1 million and a pipeline of skilled workers.
Indianapolis fits the bill and provides urban living as well as historic neighborhoods and comfortable communities that are dynamic and entrepreneurial. We succeed as the "Indy region," not a patchwork of competing localities.
Public officials value regional collaboration—but there's no support for a new tax on commuters. And the Indianapolis mayor hasn't built support for a change income tax distribution based on commuting patterns.
Instead, officials want to cooperate to solve problems, such as mobility. The next phase of the Red Line rapid-transit route will tie together three of the four largest cities in the region, while Plainfield already created an Economic Improvement District to fund bus routes, bringing much-needed workers from Marion County to their growing logistics cluster.
The defining challenge of our local governments is maximizing the talents and potential of our shared population. When our urban core struggles, it affects every corner of the metro area.
Our agenda must be an one of inclusion—it's why I authored legislation to help ex-offenders qualify for SNAP, because helping them return to productive work is more important than continuing punishment for past mistakes. Job-readiness programs, early-learning initiatives and neighborhood redevelopment are regional priorities that need state support.
Indianapolis' success isn't sustainable if a growing number of residents are isolated from opportunity and upward mobility. A region divided against itself cannot prosper.•
Click here for more Forefront columns.
__________
Merritt is a Republican member of the Indiana Senate from Indianapolis, representing District 31.Send comments to ibjedit@ibj.com.
Please enable JavaScript to view this content.