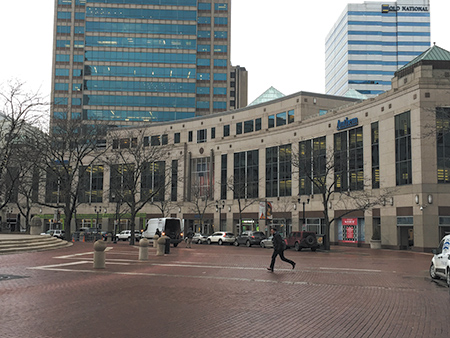 Dispelling rumors that it might move its corporate headquarters out of Indianapolis, health insurer Anthem said Tuesday morning it will keep its longtime home here and invest $20 million to renovate its huge campus on Virginia Avenue, just south of downtown.
The company said once the renovations are complete in the fourth quarter of this year, its headquarters will house more than 2,600 employees, in addition to more than 2,300 employees who work in other locations around the state or at home.
"Indianapolis has been Anthem's home since our company was founded nearly 75 years ago," said Gail K. Boudreaux, the company's president and CEO. "Our employees live and work here and we are part of the community."
In January, Anthem announced it would vacate its longtime corporate headquarters at 120 Monument Circle when its lease expired at the end of the year. The company occupies much of the 213,600-square-foot building on the Circle but said at the time it planned to fold its headquarters into its operations center on Virginia Avenue.
But at the time, it did not say whether the corporate consolidation would be temporary or permanent.
Rumors that the company might eventually move its headquarters out of town intensified this spring, when the company broke ground on a soaring, 21-story office tower in Atlanta called the Anthem Technology Center. The $150 million project, announced last year, will include outdoor terraces, a fitness center, tech bar, hangout spaces on every floor, and nearly 8,000 square feet of retail. That building will house much of Anthem's technology operations.
In recent months, Anthem officials and spokesmen had repeatedly declined to say it planned to keep its corporate headquarters in Indianapolis.
But Tuesday's announcement made it clear that Anthem is committed to keep its corporate headquarters here, in a renovated campus known as the Ben Lytle Center on Virginia Avenue, named after the previous CEO who helped build Anthem into a national player through a series of acquisitions in the 1990s. That building has been home for years to Anthem's Indiana Blue Cross Blue Shield operations.
The announcement did not spell out the scope of the renovations or say whether it would include any new buildings on the Virginia Avenue campus.
Anthem did not say if it was getting any public incentives to keep its headquarters here but praised city and state officials for helping.
"We appreciate the support from the City of Indianapolis and the State of Indiana as we worked through the process to finalize our plans," Boudreaux said in a statement. "We are excited that our new headquarters will be a state-of-the art building that reflects our proud history and creates a dynamic work environment that will support our goal of leading our industry through continued growth, innovation, and, most importantly, providing a healthier future for all Americans."
"Anthem is a great partner to the state of Indiana, and we're thrilled by the company's affirmation of its long-term commitment to Indianapolis," said Indiana Governor Eric Holcomb. "Anthem's new headquarters will be a magnet for talent attraction and retention, and we look forward to their growth here in the Hoosier state."
Please enable JavaScript to view this content.