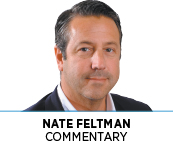 A year into Robert Mueller's investigation into whether President Trump colluded with Russia, many people have tuned out. For personal reasons, I have not.
Russia has been a big part of my life since I was a teenager fascinated by the Cold War and President Reagan's efforts to end communism and expand freedom.
By the time I enrolled at Indiana University in 1988, relations between the U.S. and the Soviet Union had thawed and Gorbachev was trying to modernize and liberalize his country. I decided to study business and Russian language, thinking just maybe this thaw could lead to something much bigger. … I was right.
I spent the summer of 1990 in the Soviet Union studying Russian, went back in 1994 during law school, and then returned to get a master's degree in Russian law. I joined an international law firm in Moscow, where I practiced until 1998.
In 1994 a young lawyer by the name of Jamison Firestone visited our international law class in Moscow. A few years before, Jamison and his Tulane Law School classmate Terry Duncan had decided to move to Moscow and open a law firm (Firestone Duncan) to represent U.S. companies that wanted to do business in the former Soviet Union.
Jamison told thrilling stories of practicing law in Russia and discussed the tragic death of his law partner, Duncan, who was killed the previous year by a sniper's bullet at the Ostankino television station during the Russian constitutional crisis.
I stayed in touch with Jamison, who soldiered on and built a highly successful law firm until 2008, when tragedy struck again.
Firestone Duncan represented Hermitage Capital, an investment firm run by American-born British citizen Bill Browder that invested in Russian companies. A Russian lawyer who worked at Jamison's law firm, Sergei Magnitsky, uncovered a tax fraud scheme whereby companies owned by Hermitage Capital were taken over by Russian criminals who then manipulated the weak Russian judicial system and obtained court judgments in the form of fraudulent tax refunds in amounts totaling $230 million.
Magnitsky testified against the criminals and government officials involved in the scheme. In 2008, he was arrested and imprisoned for 11 months, a period in which he was tortured and eventually killed for not recanting his testimony.
Jamison and Browder lobbied Congress to target the Russians responsible for Magnitsky's death. In 2012, Congress passed the Magnitsky Act, which froze the assets of Russian officials believed to be involved in the murder and barred them from entering the U.S. In response, Russia banned Americans from adopting Russian orphans.
These events are documented in Browder's book, "Red Notice."
Fast forward to the infamous June 2016 meeting between Donald Trump Jr., Paul Manafort, Jared Kushner and Russian lawyer Natalia Veselnitskaya, the now-admitted Russian informant.
According to released emails, Veselnitskaya had offered to share potentially incriminating information about Hillary Clinton. According to statements by those in attendance, Veselnitskaya had something else on her mind at the meeting—the repeal of the Magnitsky Act.
The final chapter of the Russian collusion story has yet to be written. But maybe the most important aspect of the whole ordeal is the international spotlight it has put on Russian corruption and the continued struggle for a more free and just Russia.•
__________
Feltman, an attorney and former secretary of commerce, is a shareholder in IBJ Corp. To comment, send email to nfeltman@ibj.com.
Please enable JavaScript to view this content.