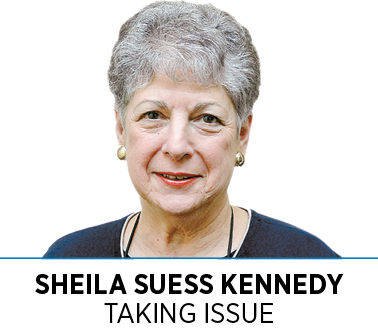 Bureaucrats get a bad rap. They are often portrayed as faceless, uncaring cogs in an organizational machine—especially if they work for government. When I worked for the city, I was disabused of that stereotype; I came to appreciate the expertise, hard work and commitment to the public good that city workers exhibited.
That said, I also found reason to appreciate a longtime public servant's sardonic comment that everyone should work for government for two years (in order to understand the complexities and challenges) but not more than four (in order to avoid becoming stubborn and sclerotic).
Which brings me to the Indiana Department of Transportation and "Rethink I-65/70."
Indianapolis' downtown interstates are at the end of their useful life and are becoming unsafe. INDOT bureaucrats have made it clear they see no reason to deviate from the approach they've used for 50 years: Prioritize concrete over livability and treat in-city infrastructure no differently than interstates crossing rural cornfields. They've treated downtown residents and civic leaders who want to use this opportunity to correct 50-year-old mistakes as annoying interlopers.
Indianapolis wasn't the only city in which thoughtless downtown highway construction disrupted street grids, depressed commercial activity and destroyed once-vibrant neighborhoods. Urban planners point to a half-century of research documenting the resulting damage to health, air quality and public safety in cities throughout the country. In addition to very high maintenance costs, these structures play havoc with nearby property values and remove acres of prime real estate from the tax base.
San Francisco, Milwaukee and Portland, Oregon, have replaced downtown interstates with boulevards, saving billions of dollars, increasing property values on adjacent land, and restoring urban neighborhoods. At least 10 other cities are in the process of doing so. Concerns that traffic flow would be hampered have proved unfounded—exits from interstates are limited, while boulevards allow access to the grid, so traffic moves more evenly.
Unfortunately, Indianapolis doesn't get to choose among available alternatives. The state controls the process, and resistance from INDOT has been intense—and disingenuous.
When local residents first objected to INDOT's proposal to add lanes and erect towering walls as its "fix," the agency insisted illustrations produced by the Rethink committee didn't reflect the agency's plans, which it said were unfinished. Yet when INDOT finally unveiled its version, it was identical to those illustrations.
INDOT has been dismissive of the boulevard alternative, which would be far less expensive to build and maintain than INDOT's proposed repairs and additions to the existing Interstates.
This stonewalling reflects a bureaucratic lack of openness—a disinclination to genuinely consider the proposed alternatives or take into account concerns about impact on the urban fabric. Even more troubling is the speed with which INDOT is moving this project through the required hearings, in a transparent effort to forestall any changes to its standard, cookie-cutter approach by getting the project too far along to be changed.
Indianapolis residents will have to live with whatever "fix" is chosen for another 50 years. Surely, doing it right—learning from mistakes, from the available research and from the experience of cities that have creatively addressed these issues—is worth moving a few stubborn bureaucrats out of their comfort zones.
We have to hope Gov. Holcomb agrees, because INDOT isn't listening to us.•
__________
Kennedy is a professor of law and public policy at the School of Public and Environmental Affairs at IUPUI.
Please enable JavaScript to view this content.