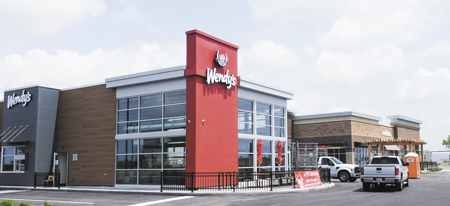 It wasn't all that many years ago that Exit 130 off Interstate 65 was surrounded mostly by cornfields.
There were a few gas stations, sure. In 2006, a CVS and Lowes moved in, but retail growth in Whitestown moved slowly as leaders waited for Anson, a massive development approved back in 2004, to really take off.
The tipping point finally came a decade later, when Meijer opened in late 2014—and it's been like gangbusters since.
Meijer is part of the retail section of Anson, which also includes industrial and housing in the thousand-acre project that hugs I-65 in Whitestown and is now transforming the small Boone County community.
More of everything is coming, town leaders say.
The $1 billion development led by Indianapolis-based Duke Realty Corp. stretches along the interstate between exits 130 and 133. Retail occupies the southern portion, with housing in the middle and industrial to the north.
In coming weeks, the Shoppes at Anson, a roughly 30,000-square-foot, four-building retail center at the intersection of Perry Worth Road and Whitestown Parkway, opens for business.
It features Panera Bread, Wendy's, Starbucks, Qdoba and Chick-fil-A, among smaller tenants. Midland Atlantic Properties, which has offices in Indianapolis and Cincinnati, is marketing another 12 acres for sale or lease slightly northwest of the Shoppes at Anson.
And construction has already started on a 300,000-square-foot retail development on roughly 33 acres across the street.
Called the Shoppes at Whitestown, the development—north of Perry Worth Road and south of Central Boulevard west of Main Street—features eight lots that are already 90 percent leased, said Jeffrey Poole, RealtyLink's Indianapolis-based vice president.
Among its tenants—according to marketing materials and town documents—are Hobby Lobby, Burlington Coat Factory, Five Below, TJ Maxx, Kirkland's, Ulta, Ross Dress for Less and an Ashley Furniture Homestore.
A Denny's diner is also included in site plans.
The retail center is expected to open in spring 2019.
The stores join more than a dozen businesses that have opened at Anson since 2015.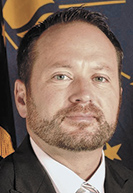 Norton
Town Manager Dax Norton said retail buildings have been "sprouting up like dandelions," since Meijer opened its long-awaited store at Whitestown Parkway and Main Street.
"This has all really happened in the past three years," Norton said.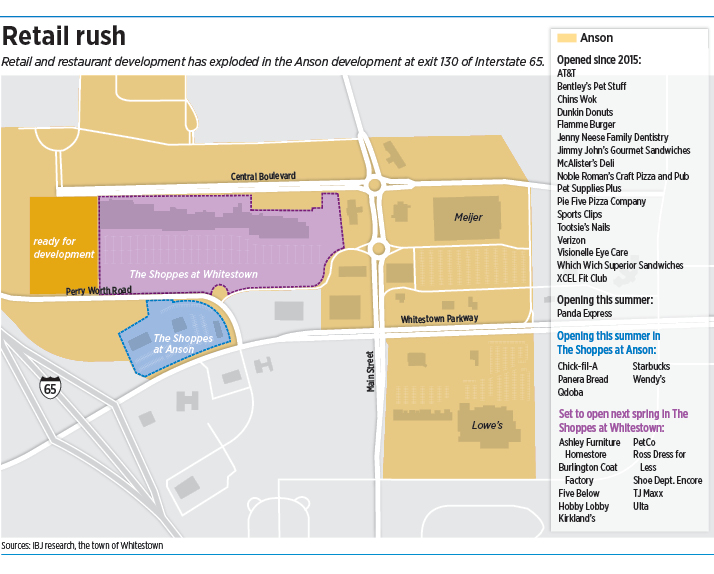 Whitestown spokeswoman Tanya Sumner, who moved to the area in 2011, remembers exiting I-65 into Whitestown and seeing nothing but farm fields.
"I thought, 'I'm not buying a house in the boonies; there's nothing here,'" she said with a laugh. "Little did I know."
Duke Realty started working on Anson in 2004, back when the proposal was for 1,700 acres of development.
But the Great Recession in 2008 hit the project hard and put it years behind schedule.
Duke scaled back to eliminate a town center planned for the middle of the development.
Now, the project encompasses about 1,000 acres, Norton said.
Progress picked up about six years ago in the industrial and residential portions of the development. In 2012, Amazon.com Inc. finished a roughly 400,000-square-foot expansion, bringing its total space to more than 1 million square feet.
Called AllPoints at Anson, the 600-acre industrial park near I-65 and Albert S. White Boulevard now features 10 buildings, including two spec buildings. Four more are expected to be completed this year, Norton said.
The industrial park has space for up to 20 buildings totaling 8.1 million square feet.
Duke worked with Whitestown in 2006 and 2007 to install the needed infrastructure at the industrial park, and since then, the sites have been shovel-ready.
Now, the economy is in better shape, and businesses are more likely to make big moves, Norton said.
"Companies are in such a very good financial position right now that, when they pull the trigger, they do it very quickly. Speed to market is important," he said.
"We have a reputation for being easy to work with from a government-regulation perspective," he said. "And location, location, location."
"It was bound to happen," Sumner added.
"We have great interstate access. We're at the crossroads of America," she said. "We're close to everything."
And success in the industrial park has helped spur projects in the retail and residential areas, while adding to the town's tax base, Sumner said.
Anson's residential projects include Clark Meadows, Clark Neighborhoods and the Woodlands Luxury Apartments.
The bustling Anson South retail district, at I-65 and Whitestown Parkway, features both retail and residential.
Indianapolis-based Revel & Underwood Inc., which built a 75,000-square-foot self-storage facility there in 2013, began constructing several smaller buildings known as Village 1, 2, 3 and 4.
Village 1 opened first, in May 2015, featuring a Verizon—which is moving to the Shoppes at Anson—Sports Clips, Visionelle, a nail salon and Chen's Wok.
Village 2 followed with three businesses: Pie Five Pizza, AT&T and Which Wich Superior Sandwiches. Village 3 features a Dunkin Donuts, Classic Cleaners, Flamme Burger and XCEL Fit Club.
And work on Village 4 was finished late last year, when Noble Roman's Craft Pizza and Pub opened at the corner of Main Street and Whitestown Parkway. It's joined by locally owned Sisters' Nails & Spa, Bentley's Pet Stuff, Jenny Neese Family Dentistry and Jimmy John's Gourmet Sandwiches.
Also, McAlister's Deli and Pet Supplies Plus recently opened in Anson, and a Panda Express is under construction on the south side of Whitestown Parkway near the Marketplace at Anson.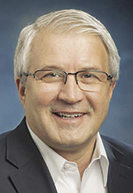 Podell
Now that momentum is at full speed in Anson's retail district, that section is finally reaching full buildout, said Charlie Podell, senior vice president for Duke Realty's Indiana and Ohio regions. Most lots have been sold and are just waiting for development to start.
"For us, that's really big to accomplish now that the market is better," Podell said. "It's been great."
Now, Whitestown leaders are waiting for the town's next big development.
Earlier this year, the Indiana Department of Transportation agreed to construct an exit off I-65 between exits 130 and 133 in 2019.
The town requested the exit in part to accommodate its burgeoning population, which has now reached about 9,100. By 2030, that number is expected to be 25,000, Norton said.
The new exit will pave the way for a roughly $200 million proposed mixed-use development that would include high-end outlet stores to be built near County Road 550S between Anson's industrial and retail sections.
The town announced late last year it had been in talks with a developer about the project, expected to occupy about 1 million square feet.
So far, no plans have been filed with the town, but Norton said the project's initial stages are trucking along.
The project would be developed by Gershman Partners.
Gershman's retail projects include the 674,000-square-foot Hamilton Town Center in Noblesville, which it co-developed in 2008 with locally based Simon Property Group Inc., and the $100 million Bridges project in Carmel, which boasts 63 acres of mixed-use development at West 116th Street between Illinois Street and Spring Mill Road.•
Please enable JavaScript to view this content.