When Chris and Ally Benedyk moved Love Handle from East 10th Street to Massachusetts Avenue, they knew just the kind of atmosphere they wanted for the eatery in its new location.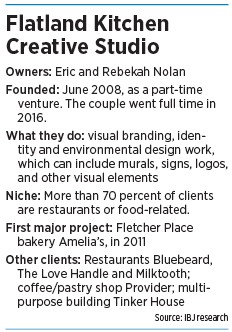 "We wanted the space to look kitschy, retro, a little bit whimsical," said Ally Benedyk.

That's the reason for the mural inside the front door: animal legs of indeterminate species kicking in glee. It's why there's a bold green-and-white fish-scale mural on the back wall of the restaurant, and hand-painted wall signs advertising "Fish Fry Dayz" and "Ally's Cheez Cake."

All of it is the work of Flatland Kitchen Creative Studio, owned by Eric and Rebekah Nolan of Irvington. The firm creates logos, designs menus, hand-paints signs and murals, and offers other visual design services to help local businesses create and convey a unique brand.

More than 70 percent of Flatland Kitchen's clients are restaurants or food-related businesses, including a host of hot local eateries: Milktooth, Bluebeard and neighboring bakery Amelia's, the newly opened Mass Ave coffee/pastry shop Provider, and others.

Good food matters, of course. But a strong brand and sense of space also go a long way toward a restaurant's success, Flatland Kitchen's owners say.

"Your food can be great, but if people don't like the space, they're not going to go there to eat," said Eric Nolan. "It's an experience—it's not just a sandwich."

One of Flatland's first big clients was Amelia's, which opened in 2012.

Charlie McIntosh, one of the bakery's owners, said Flatland took a holistic approach to the project.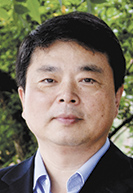 Cai
"I feel like they look at the bigger picture. They're not just trying to design a logo for somebody," McIntosh said. "When you meet with them, they want to know your vision for the business."

Amelia's vision, McIntosh said, is to offer a "clean, simple" menu of made-from-scratch and high-quality items. The bakery specializes in sourdough bread and also offers a selection of other breads and baked goods.

Flatland helped the bakery come up with a logo that reflects those values. It's a simple black-and-white image: a black circle containing the name of the bakery in white block lettering. Amelia's uses the logo at its entrance, in a large painted mural on the side of the building, and on its fleet of bakery vehicles.

Having a strong logo, McIntosh said, is part of a "visual sell" that helps create a subconscious message about a company in the mind of its customers. "I feel like it makes the whole thing cohesive."

The Nolans say their job is to help clients convey their business's philosophy and goals through visual means.
They also help owners separate their personal preferences from their business goals.

"We're just constantly reminding them, 'This is what you want,'" Rebekah Nolan said.

A business owner, for instance, might love floral upholstery and bright colors, but that decor probably wouldn't be right for a steakhouse.

"Not every business should feel like the business owner's home," Eric Nolan said.

Proper branding is a crucial part of success in the restaurant industry, experts say.
Visual branding—logos, signs, decor—can help a restaurant stand out from the crowd and attract customer attention, said Liping Cai, a Purdue University professor and director of the university's Tourism and Hospitality Research Center.

From there, "the hope is that attention could be translated into purchase," Cai said.

One way branding can help do that, he said, is to create an emotional connection.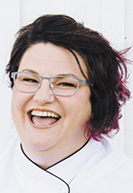 Ebacher-Grier
"When you open up an establishment, you need to express through your marketing and branding who and what you are," said Susanne Ebacher-Grier, an adjunct professor of baking and pastry arts at Ivy Tech Community College, where she teaches bakery merchandising. "It's not just the product that you're trying to sell. It is the name and the environment."

Likewise, a mismatch between the restaurant and its brand can hurt the business.

"It's not just, 'How good is the food?'" Ebacher-Grier said. "When your environment doesn't express what you're trying to do, it doesn't support the effort that you're putting on the plate."

The Nolans met as students at IUPUI's Herron School of Art + Design, and they formed Flatland Kitchen in 2008. The couple, who had their first child that same year, operated the business part time while Eric held a succession of jobs to support the family. He hand-painted signs for a local sign shop, worked at a scenic shop that created items for conventions and events, and sold insurance for a few years.

The couple took Flatland Kitchen full time in 2016. They declined to reveal financial information other than to say the business has been profitable since its start, and that revenue has grown to the point that they can support their family with it.

To date, much of Flatland Kitchen's work has come through word of mouth or personal connections. McIntosh grew up with Eric Nolan in Paoli, and the Benedyks at Love Handle are also friends.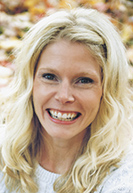 Dikos
But the firm has gained other clients, too, including Field Brewing in Westfield, owned by Jackie and Greg Dikos. The couple is working to open a two-building restaurant/brewery space on property they own at 303 E. Main St.

Jackie Dikos said she found Flatland Kitchen online. After interviewing several marketing firms, the Dikoses settled on Flatland. "We were looking for that artistic component," Jackie Dikos said. "We really felt like they could offer us something more unique."

Originally, the Dikoses had planned to incorporate existing buildings into their project, which was formerly called Fields Artisan Brewery. But plans changed, and the couple decided to tear down the existing buildings in favor of new construction.

The goal is to create the atmosphere of a Seattle neighborhood brewery: a welcoming, all-ages space that reflects the unique character of its community.

Flatland Kitchen has helped Field Brewing keep its eyes on the larger vision through all the changes over the past several years, Jackie Dikos said.

"They've been with us the whole time and they know what we're shooting for," she said. "I think they do a really nice job of really hearing what we're trying to go for, and really adhering to that."

To date, Flatland Kitchen has helped Field Brewing with its logo, an interior mural, outside signage, and wayfinding artwork and signs that will guide traffic flow between the buildings and adjoining outdoor spaces.

Back at Love Handle, the Benedyks say they're delighted with what Flatland Kitchen has done for them and with the firm's guidance in creating the right vibe.

"They really know how to take a vague idea … and really make it work," Ally Benedyk said.•