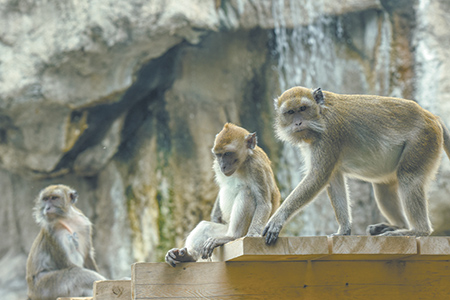 A gang has taken over the former polar bear spot at the Indianapolis Zoo—and the members are nothing like the former resident.
These newcomers—immigrating from North Carolina but with family roots back to southwest Asia—have both a rigid set of rules and a distinct sense of play. And with 29 of them, they are the largest such group in an accredited zoo in the country.
The animals are long-tailed macaques (pronounced muh–kaks). And, according to Peggy Hoppe, the zoo's curator for primates and deserts, they constitute "a fully functioning social group."
That means "you're going to have good and bad. If you put 29 people in a room and told them to stay together all day, you'd run into some issues," she said. Most of those problems are resolved by the group's clear hierarchical structure, with Graham being the top dog, er, monkey.
"If Graham doesn't go out, the rest don't go out. If he doesn't come in, the rest won't come in," Hoppe said. And if you see one macaque lounging while others groom him, chances are that's Graham.
Grooming is important to the macaques. And their distinct facial hair, including idiosyncratic moustaches and beards, should help visitors differentiate the 22 males and seven females on display. Look, too, for a wide range of facial expressions–including their control over their facial muscles as they attempt to scare off others. "A simple look in their eye and you'll know what you should or shouldn't have done," Hoppe said.
And they floss, too. Don't be surprised if you see one running a blade of grass between his teeth. (And, unlike humans, those who skip flossing won't get scolded twice a year by their dental hygienist.)
To make it even easier for their personalities to pop with visitors, each macaque has a name–a few selected by donors, some named after retired zoo workers, and most selected from suggestions provided by school groups. Keepers matched those ideas with their observations of the macaques' personalities, which led to dominant female Mango, baby girl Ren, and cheek-stuffing Paul Grayson.
With birth-control measures in effect, you are unlikely to see babies anytime soon—although there's room for more in the exhibit. But if you've seen "Jurassic Park," you know that nature sometimes finds a way. "Sometimes things happen that you don't plan on," Hoppe acknowledged.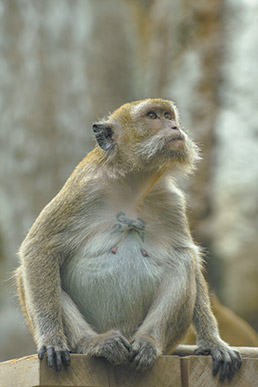 (IBJ photo/Eric Learned)
The macaques are housed near the Oceans area, because macaques are one of the few monkey species that spends time in the water. The monkeys use it not only to escape predators and to cool off, but also to play. Macaques can hold their breath up to 30 seconds. Early visitors—the exhibit opens over Memorial Day weekend—are unlikely to see deep dives because it will take some time for the macaques to get used to their new space.
It's not just the primate residents who are new. The formerly icy-looking habitat has been transformed with new plant life, including Japanese forest grass, Chinese ginger, autumn ferns, dwarf flowering almond and azalea shrubs, and yellow groove bamboo. The entire project carried a price tag of $2.5 million.
While macaques might be fascinating to us as creatures at a zoo, elsewhere, there's a wide range of feelings about them, from reviled to revered.
"Some people hate them," Hoppe said. "Like raccoons or coyotes, certain people don't want them in their neighborhood. They steal food. They'll even steal items knowing they can exchange them for food.
"Then again, in other places, they are revered," she said. "At some Buddhist temples, they make offerings to them."
As with just about everything at the Indianapolis Zoo, the underlying issue is conservation.
"The question is, how do we live together?" Hoppe said. "It's their world, too."•
Please enable JavaScript to view this content.