Picking up a 200-pound helicopter engine, turning it around and then upside down is just not a realistic way for future mechanics to get a good look at the machines they'll eventually be working on.

Neither is it practical for that engine to be taken apart and then put back together over and over quickly throughout the day.

At least not when you're dealing with the real thing.

But what if it's a virtual engine?

What if, using a VR headset, that trainee could slide the engine out of the back of a helicopter, then pull apart the engine's dozens of components and examine them—all without interacting with the real thing?

That's just what Rolls-Royce, an international corporation with operations in more than 50 countries, is enabling its trainees to do. It's among a growing number of businesses using virtual and augmented reality to improve employee and customer education and communication.

The company recently partnered with Indianapolis-based VisionThree to create a virtual reality landscape to train the technicians working on Rolls-Royce 300 helicopter engines.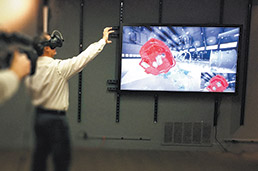 The VR software VisionThree developed for Rolls-Royce allows a user to virtually grab and move engine parts.
When users put on the special headset, they're transported to an aircraft hangar, where an R66 Turbine helicopter sits. From there, they can interact with the helicopter's engine, using their hands to select from a variety of menu options.

They can watch hot and cold air flow through the engine or view a cross-section of the engine's interior, two aspects technicians wouldn't be able to see in real life. The software allows mechanics and trainees to watch complex procedures completed in tight spaces before they need to perform them in real life.

"This gives them an environment where they can have a sandbox, a playground where they can perform a task before they're actually hitting their knuckles on the hardware," said Jack Eliker, advanced visualization innovation specialist for Rolls-Royce.

The company has a regional customer training center in Indianapolis, where the people charged with maintaining Rolls-Royce engines go to receive education. But getting there can be costly and difficult for customers living far from Indy, Eliker said.

But sending them a headset and connecting them to the virtual reality landscape created by VisionThree can provide some early training that isn't as cost-prohibitive, he said.

It's "maybe not quite as good as touching the real hardware but gives them a level of training they otherwise wouldn't receive," he said.

Eliker first pitched bringing virtual reality to Rolls-Royce to his bosses three years ago. A friend completing a doctorate program was studying the way NASA uses virtual reality to train astronauts and telling Eliker about all he had learned. "I told him, 'We have high-stress situations here; it would be great if Rolls-Royce could do that,'" he said.

Selling his bosses on it was fairly simple, once he created a demo and they were able to experience the power of seeing in three dimensions.

Now, virtual and augmented reality are used in many divisions of the business, including sales and design.

Karen MacKay, head of IT for defense, said using digital technology, including virtual reality, is key for Rolls-Royce. Innovation is the lifeblood of the company, she said, and young employees today expect their workplaces to embrace technology.

"The future talent need this; this is how they live," she said. "We want to use what they know outside of work and bring it in to improve our business."

Eliker said that, as time passes, working in a virtual reality realm is going to become the norm.

"It's no longer going to be the wow or the difference," he said. "It's going to be, 'I have to have this or I'm going to be distracted by the old methods,'" he said.•