Indianapolis-based condominium developer Onyx+East has expanded into Florida with a $15 million project—its first outside the local market in the two years since the upstart firm was founded.
Onyx+East, which spun out of prolific apartment developer Milhaus Development Inc., began operations in June 2016 and and already has broken ground on several condominium projects in Indianapolis.
Now the company has entered the Florida market with the purchase of property in the heart of South Tampa's Hyde Park neighborhood.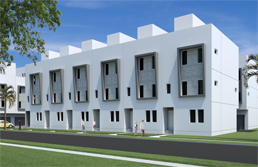 Units in Views at North Hyde Park will start in the $400,000 range. (Image courtesy Onyx+East)
Dubbed Views at North Hyde Park, the new construction will feature 37 two- and three-bedroom town homes ranging in size from 1,697 square feet to 1,965 square feet. Units will start in the $400,000 range.
John Bain, executive vice president of Onyx+East's national operations, said the first unit should be available in October.
Bain joined Onyx+East in December and is responsible for overseeing developments in all of the company's markets. He previously served as the Indiana division president of mechanical contracting firm R.T. Moore Co. and was instrumental in growing its revenue last year to $100 million.
"It came down to the attractiveness of that market," Bain said of Tampa. "And secondly, Tampa's a market that our sister company, Milhaus, has a good foothold in, so there certainly were some synergies that came into play."
Closer to home, Onyx+East has targeted the Carmel market and is building the Village of West Clay's aptly named Uptown at West Clay.
Located on Pettigru Drive in the southwest quadrant of Towne Road and West 131st Street, the $12.5 million project will feature 52 town homes starting at about $280,000. Two- to four- bedroom floor plans are available ranging in size from 1,715 square feet to 2,010 square feet.
All town homes will be built with 9-foot ceilings, stainless steel appliances, quartz or granite countertops, smooth finish ceilings and modern interior doors and trim.
Onyx+East held a grand opening the past weekend for Uptown at West Clay, where visitors could tour a model town home. The first building is complete and features five units.
"We certainly have very good interest and leads that we're working," Bain said of the project. "We're very optimistic about it."
Both the Tampa and West Clay projects represent Onyx+East's growth beyond the downtown Indianapolis market, where most of its building activity has occurred.
In January 2017, it announced three projects on downtown's near-north side totaling more than $15 million. In July 2017, it embarked on an $18.4 million project to overhaul a 103-year-old building in the Herron-Morton area for condos and offices.
In February, the company received approval from the city's Metropolitan Development Commission to demolish two buildings at 777 Bates St., between South College Avenue and Interstate 65, to construct 35 town homes in a project valued at $9.5 million.
Onyx is purchasing the 1-acre site from a local investment ownership group called 777 Partners LLP, a part of the Acorn Group real estate firm, according to county assessor records.
The property is just inside the northern border of the revitalized Fletcher Place neighborhood, south of the former Milano Inn restaurant and east of a parking lot that bounds College and Bates.
Please enable JavaScript to view this content.