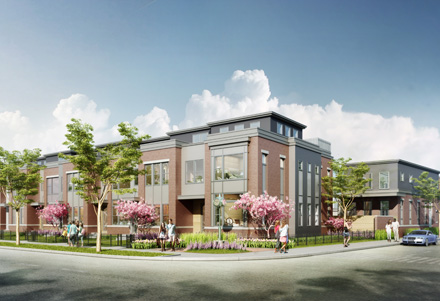 Onyx + East, the local housing developer that was spun off last year from Indianapolis-based Milhaus, has three for-sale housing projects in the pipeline downtown, two of which are set to break ground in the first quarter.
At the corner of North Street and Fort Wayne Avenue—just north of the Minton-Capehart Federal Building and adjacent to the Cultural Trail—the developer is planning 12, two-bedroom units in a two-building development. The $3.6 million project will include townhouses and flats ranging from 1,340 to 1,667 square feet and priced from the low $300,000s.
The condos will be spread between a three-unit building facing Fort Wayne and a nine-unit building along North. The project is the first by Onyx + East to include a hybrid layout. Hybrids feature private first-floor parking for each of two units above: a flat on the second floor and a single townhouse on the third and fourth floors.
The building site is currently a parking lot. Onyx + East has the property under contract and expects to close on the purchase in February and start construction in March, said Eric Jefferson, director of sales and marketing.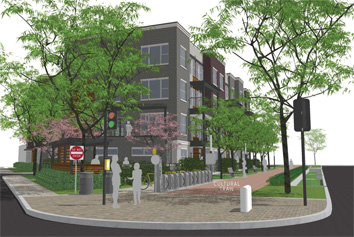 The project closest to downtown's core would come to a point at Fort Wayne Avenue and North Street. (Image courtesy Onyx + East)
Jefferson said the inventory of for-sale housing is low downtown. His company's first project, Park Ten, is a full city block of 69 condos between 10th and 11th streets and Broadway and Park Avenue. Only 12 units remain in that project, which is a mix of flats and townhouses and is beginning the presale of its last phase.
The project at Fort Wayne and North is a block south and a few blocks east of another site Onyx + East has under contract. That property, at 727 N. Illinois St., would house 32 condos in a mix of hybrids and traditional townhouses. Construction on that $8.5 million project is expected to start this summer, Jefferson said.
The Illinois Street condos will start in the high $200,000 range. The site, a full acre with frontage on both Illinois and St. Clair streets, is immediately north of where the Phoenix Theatre will begin construction of its new theater this year.
"There's a terrific upside to that area," and the theater will make it even more attractive to prospective buyers, Jefferson said.
The Illinois Street project is located in the northwest quadrant of downtown, which is populated with numerous vacant lots and low-rise industrial buildings. The quadrant has been the slowest downtown area to develop, said Abbe Hohmann, a commercial real estate broker and owner of Site Strategies Advisory who represented the private family trust selling the Illinois Street property.
But investment in the area has been on the rise, Hohmann said. The planned Phoenix Theatre, the northwest quadrant's connectivity via the cultural trail and its close proximity to IUPUI and the expanding IU Health Methodist complex at 16th Street and Capitol Avenue all add to its appeal for investors.
"It speaks to the continued demand downtown and where there are available properties," Hohmann said.
A third Onyx + East project is slated for an empty parcel on the southwest corner of 16th Street and Central Avenue in the well-established Old Northside historic district, where the developer will break ground this month on seven row houses and one single-family house, with pricing starting in the $400,000s.
The $3.3 million project will feature detached two-car garages and private backyards and rooftops. The land currently is empty.
Please enable JavaScript to view this content.