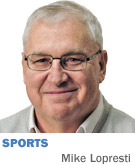 Is your sunburn from the Indy 500 gone yet? No? Too bad, but the ticket renewal deadline will still be here soon, since it's only 343 shopping days until the 103rd running.

Which brings us to the honor squad that will always have the Indianapolis 500 as a member. The All-Attendance Club. To qualify, a sports event has to be something special at the box office. The crowds must be enormous, or the season-ticket wait list must look like a phone book, or the demand must be so high, the scalpers think it's Christmas.

Since the Indy 500 is more or less a permanent member of the list—even in the dark times, the Speedway was filling more seats than any other event does on a single day— maybe a review of the AAC is in order.

Indy 500 …

We start close to home, where the race just attracted upwards of 300,000. Or was it 299,999 and one Will Power? "Another one of those amazing Indianapolis 500 crowds," IMS President Doug Boles called it. As for the exact number, only the Speedway accountants know for sure, but this much is certain: On race day, the population of the Indianapolis Motor Speedway is greater than that of 37 different state capitals. And no other one-day sports event can say that.

Green Bay Packers at Lambeau Field …

The last time the Packers did not sell out Lambeau, it wasn't even called Lambeau. It went by City Stadium in 1959, and the new coach was named Vince Lombardi.

The Packers have sold out 334 regular-season games in Green Bay since, and think of how many of those required ski caps, long underwear, thermal mittens and a willingness to sit in single-digit wind chill.

Want to get your name on the season-ticket waiting list? Hope you're patient. It has more than 115,000 names. Check back in about 2050.

Nebraska football ...

It took only 90 working days to build Memorial Stadium back in 1923. Maybe they were in a hurry because they knew so many customers were waiting. The last non-sellout Cornhusker football game in Lincoln was 1962, or 361 home sellouts ago. In the interim, Nebraska has won five national titles and three Heisman trophies.

In truth, they have had to hustle to fill all the seats during the recent downturn in Nebraska football, but former Cornhusker quarterback Scott Frost is the new coach, and the buzz should keep the streak rolling. On game-day Saturdays, Memorial Stadium will still be the third-largest city in Nebraska.

Duke basketball ...

OK, Cameron Indoor Stadium ain't exactly 16th Street and Georgetown, with only 9,314 seats. But you still have to admire a sellout streak that goes back 438 games, to the George H.W. Bush administration, 28 years ago.

More pertinent, it's the Mike Krzyzewski administration, and all those Cameron crowds seldom have gone home unhappy on his watch. As remarkable as the sellout streak are the 139 consecutive non-conference games the Blue Devils have won at home. They haven't lost in Cameron to a non-ACC opponent since the year 2000. Butler, Evansville, Indiana and Valparaiso have all contributed to that streak, by the way.

Notre Dame football ...

They keep enlarging the house that Rockne built, but the seats stay full. The last home game not to sell out was a Thanksgiving Day contest with Air Force in 1973, which had moved dates because of television.

That's the only under-capacity crowd in South Bend since 1964, when tickets to watch Ara Parseghian's teams were going for $5.50, meaning the Irish have sold out 310 of their last 311 games. Not even losing at home to South Florida or Duke has killed the demand. In 2005, the school returned $5.2 million in unfulfilled requests for its ticket lottery.

And one other thing about all those full houses. It's happening at a school with an enrollment of under 9,000.

Denver Broncos football ...

The NFL came of age as the 1970s started, with the merger with the AFL, the blossoming of the Super Bowl, and "Monday Night Football." Broncomania has been in session since, with 1969 the last non-sellout. First, Mile High Stadium. Now, Sports Authority Field. Once, John Elway. Then, all the quarterbacks who followed. Even Tim Tebow.

Dallas Mavericks basketball ...

They opened American Airlines Center in 2001, and they're still waiting for the first home game not to sell out. That's pretty impressive given the recent struggles of the Mavs. No wonder owner Mark Cuban doesn't have a problem paying his fines when he gets in trouble with the NBA.

Dirk Nowitzki just finished his 20th season, all of them in the same uniform. He has never played at home before an unsold seat as a Maverick.

Dayton Dragons baseball ...

We're talking the Cincinnati Reds' Class A affiliate, but the sellout streak is major, major, major league. At the end of the last home stand, it was 1,277 games, average attendance of more than 8,000. At Single-A. Gulp.

The streak goes back to April 27, 2000, the first game in franchise history. In other words, the Dragons are in their 19th season, and STILL haven't had a non-sellout at home. Fifth Third Field in downtown Dayton hosts maybe 15 high school games a year, six charity walks, a 5K, and a bundle of corporate picnics. But Dragons games are what keeps the turnstiles clicking ... and clicking ... and clicking.

The Masters ...

The gold standard for high-demand tickets. Several times, the wait list has grown so long at Augusta, they just stopped taking names. There was a story not long ago of how excited a man was to finally get his series badges—after waiting 24 years.

Augusta National now has a ticket lottery for both practice and tournament days and the entries roll in by the tens of thousands. You'd find out the home phone numbers of the CIA before you'd find out exact attendance numbers from the Augusta folks, but suffice it to say, they could sell 150,000 Masters tickets a day without breaking a sweat. But they won't, wanting to keep the ambience intact. If it's herds of people you want, go to the U.S. Open.

Or maybe the Indy infield in late May. Yeah, the concession lines can get bad, but that's the price to pay for being on this list.•

__________

Lopresti is a lifelong resident of Richmond and a graduate of Ball State University. He was a columnist for USA Today and Gannett newspapers for 31 years; he covered 34 Final Fours, 30 Super Bowls, 32 World Series and 16 Olympics. His column appears weekly. He can be reached at mjl5853@aol.com.