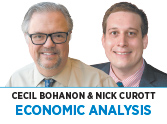 A central principle of economics is the law of demand. Formally stated the law asserts that ceteris paribus, or all other conditions held constant, the utilization of any resource, good or service by an economic agent is inversely related to the cost of use to that agent. In more stark terms: people respond to price.
It is easy to see why this is a very important point for for-profit businesses to keep in mind. So the law of demand is central to business education. But it is also very important for those who toil in the charitable sector. This is especially true if the goal of the philanthropic effort is to give not just a handout but a hand up.
Many well-meaning American donor organizations have organized and financed community water projects in poorer nations. Too often these efforts have failed. Water projects are initially successful, but after a few years no longer function. However, the Indianapolis-based Companion Community Development Alternatives (COCODA) has developed a water provision model that is proving sustainable. The model has been embraced and supported by numerous Central Indiana Rotary Clubs.
COCODA's solar powered water projects provide Central American villages with water pumped into individual users' homes. The water pumping system does not rely on expensive fossil fuel, but on sunshine, a natural resource in super-abundance in Central America. The villagers themselves install the solar panels, pumps and pipes. They also administer the water system. Local people are trained to maintain the system. Once the system is up and running the villagers are not reliant on distant Hoosier philanthropists.
However, the linchpin of COCODA's model is this:
"Each home's usage is measured. This encourages water conservation and allows for equitable distribution of financial responsibility for the system. Those who use more water, contribute more."
Many water projects have failed because local users have had no incentive to limit their consumption of water. Many water projects have also failed because if water is provided at zero user price, there is no direct mechanism to cover the costs necessary for maintenance and repair of the water system. Charging a price per unit—or stated another way, being attentive to a first principle of economics: the law of demand—overcomes these two obstacles. It is also important to note that pricing by use is consistent with basic notions of equity and fair play. Price works. The law of demand is central to economics and all well-functioning social systems.•
__________
Bohanon and Curott are professors of economics at Ball State University. Send comments to ibjedit@ibj.com.
Please enable JavaScript to view this content.